Hey there! Some links on this page are affiliate links which means that, if you choose to make a purchase, I may earn a small commission.This does not influence my evaluations. My opinion is my own.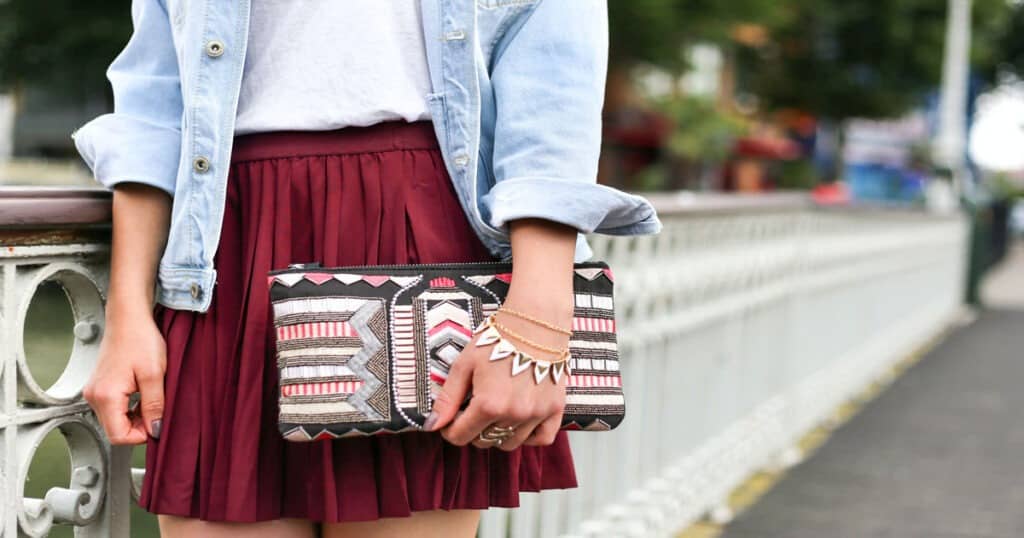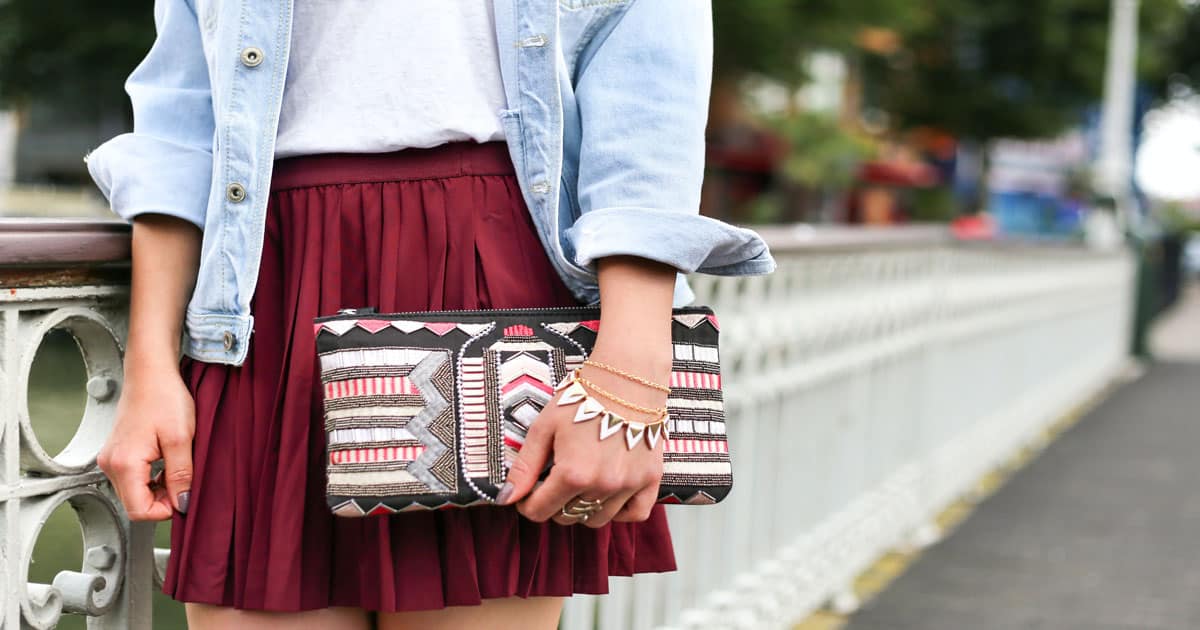 Some women love skirts and some love pants, whichever you choose, not just any will do. I want to talk about different kinds of skirts today for beginners, that will help you when trying to purchase your next fashion buy.
So, let's talk drive straight into the skirt types you'll love.
How do you know the types of skirts available to you? And how do you choose them?
Keeping in mind, there are so many different kinds of skirts to confuse you?
Below, I'll take you through all kinds of skirts for women. Some you may have heard of before, and others you'll learn about today.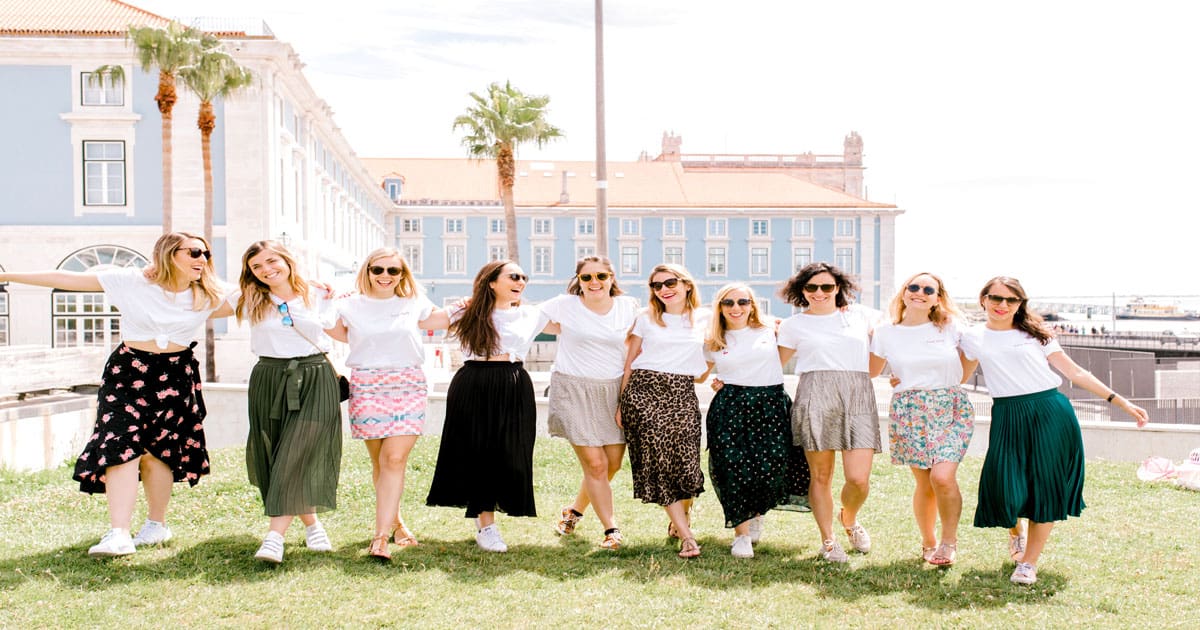 What Types Of Skirts Are There?
A-line Skirt
Circular Skirt
Maxi Skirt
Mini Skirt
Wrap Skirt
Midi Skirt
Tulip Skirt
Godet Skirt
Gypsy Skirt
Straight Skirt
Pencil Skirt
Bubble Skirt
Layered Skirt
Pleated Skirt
High Wasted Skirt
Tutu Skirt
Asymmetrical Skirt
Mermaid Skirt
Peplum Skirt
Tiered Skirt
Tartan Skirt
Peg-Top Skirt
Bell Skirt
Culottes (split skirt)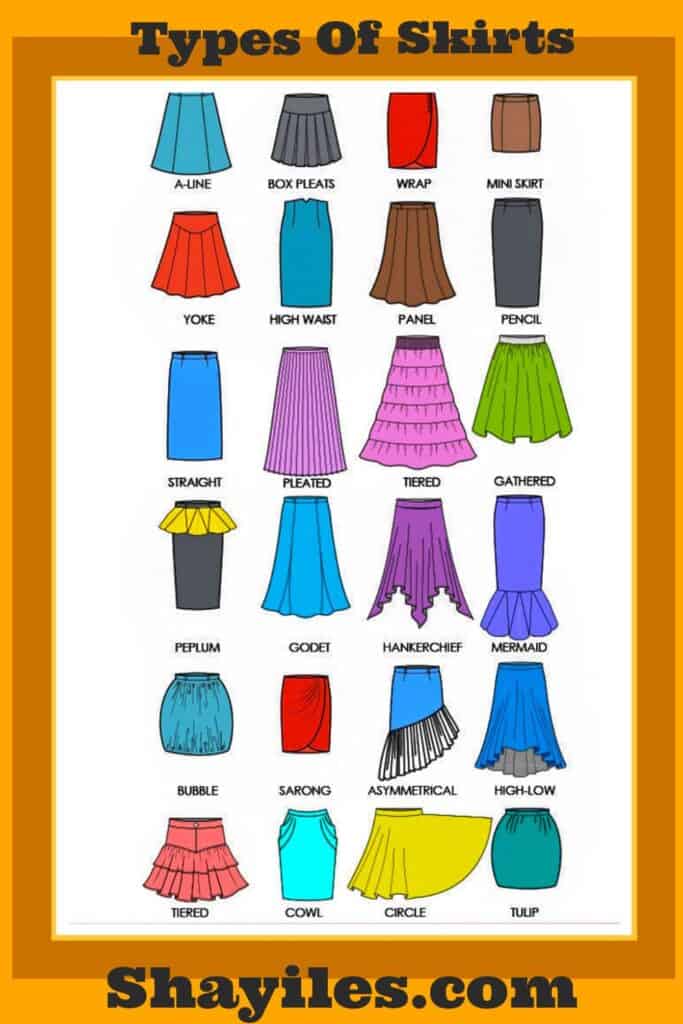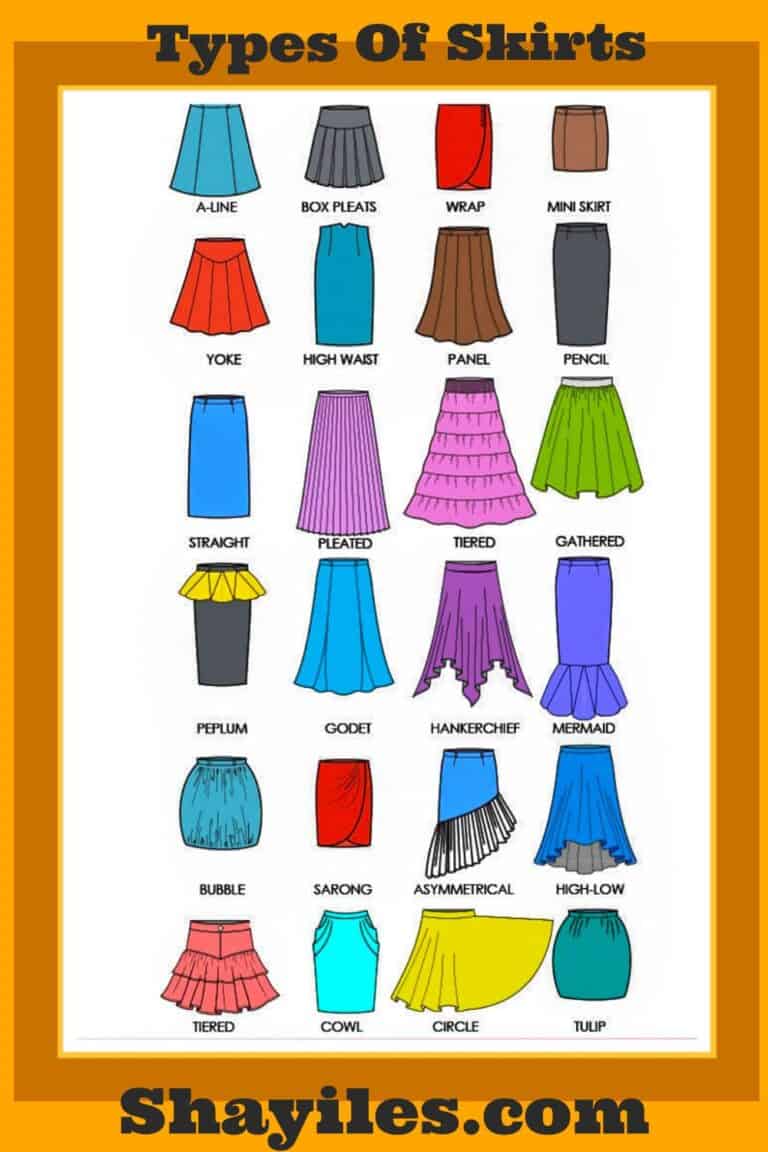 What Are The Various Types Of Skirts For Women
A-Line Skirt
The A-line skirt, named for its shape, resembles the Uppercase letter A.

A-line skirts are a kind of skirt that are usually knee-length and do not usually come with extra features like embellishments, pleats, or slits.

A proper fit would be wider at the lower hip than at the waist.
Circular Skirt
This skirt is cut from half, complete, or multiple circles of fabric.
The circle skirt originally came alive in the 1950s. It's also called by the name skater, too.
But then, not all circle skirts are skater skirts.
A skater skirt is often short and made from a circular skirt, but not all circle skirts are skater skirts. A truly original style circular skirt will not have darts, pleats, or gathers.
It's made in a circular shape and flares out at the hem. The popularity of this skirt came from rock and roll music.
Maxi Skirt
This type of skirt is long and falls to the ankle. The perfect hem length for this type of skirt is either at the ankle if you are a tall woman, or just touching the floor if you are a petite woman
This skirt is usually flowy in nature and elegant to the eye when wearing it.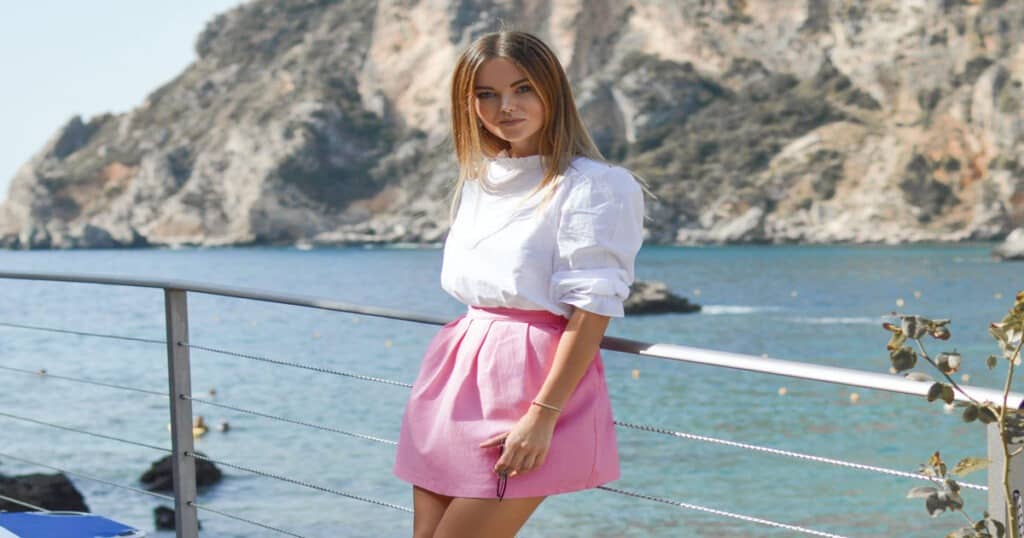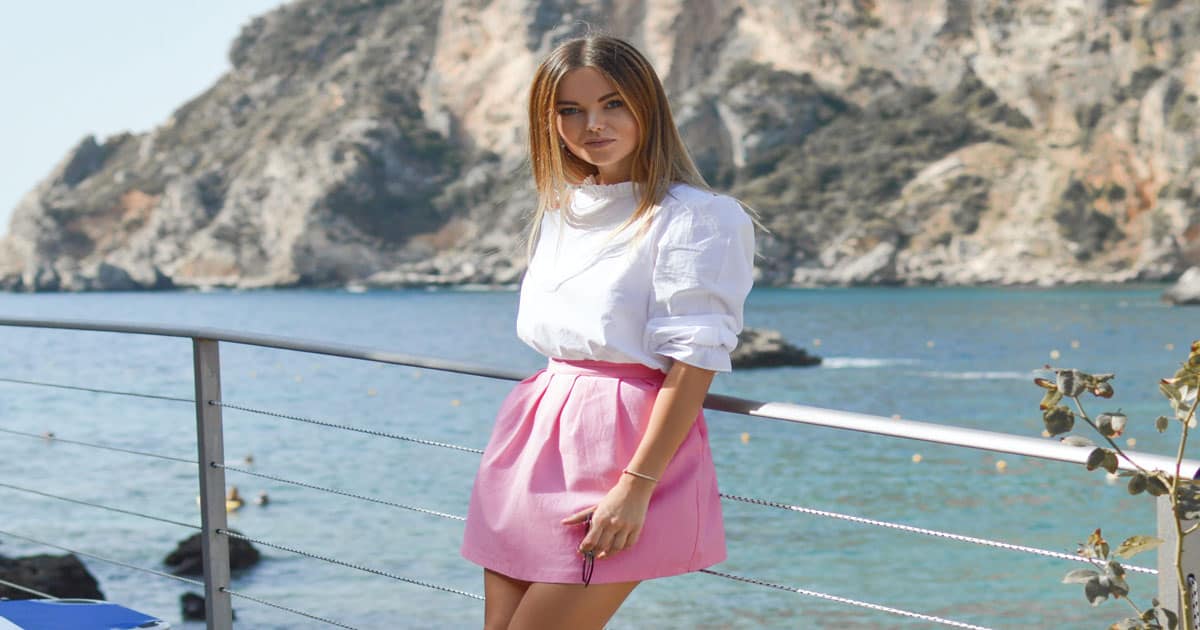 Mini Skirt
A mini skirt is a skirt that has its hemline well above the knee. An average mini skirt measures between ten and fourteen inches, from the waist and the hem.
For taller girls, a mini skirt that will hang lower on the hips is a better option, if not all your bum will show.
For shorter ladies, length is not so much of a problem, you can go for styles that fit your natural waistline.
Wrap Skirt
A wrap skirt is exactly what the name says. It's a skirt with two vertical edges open from the waist to the hem, wrapped and overlapped around the body. Fastened at the waist with two ties or buttons.
It's a really versatile skirt, and you can wrap it across the front or the back.
A perfect wrap skirt has enough material in the front to cover you up without it flying open.
Midi Skirt
The midi skirt drops to the shin of your legs traditionally, or just below your knees.
Tulip Skirt
This skirt is fitted at the waist and is in the shape of a tulip at the hem. It's similar to the wrap skirt in the way it overlaps in front.
Godet Skirt
The Godet skirt hugs the hips and has a triangular piece of fabric called godets that add fullness halfway down or below the knees
The idea behind the skirt is to allow enough movement when walking and the more the triangular godets, the more the flare and then movement.
Gypsy Skirt
Gypsy skirts are long flowing circle skirts that came about because of the Roma gypsies.
They wore skirts that were long because they wanted to cover the lower part of their bodies, they believed that it was not moral to be exposed, especially during menstruation and pregnancy.
Straight Skirt
This skirt is slim, straight, and fitted at the waist with darts or pleats, and usually, it would have a waistband.
It is also referred to as a sheath skirt or slim skirt.
The straight skirt, should not be confused with the pencil skirt although similar, This skirt Is straight at the hips and falls loosely by the knees.
Pencil Skirt
A pencil skirt is a slim-looking skirt that is fitted, usually at the knees or just below. The skirt usually has a vent at the back or the sides so that it does not restrict movement when walking.
It is popularly known as a formal style skirt for office dress code and is a staple design of skirt in most ladies' closets.
It can be worn dressed up or casually depending on the occasion and fabric used.
Bubble Skirt
A bubble skirt is gathered at the waistline and has fullness gathered into a band at the hemline.
The style of this skirt is for it to be fitted at the waist and flared or puffed out at the hips and fitted again at the hem to form itself into a bubble shape.
Layered Skirt
A layered skirt is designed by sewing several fabrics together continuously, forming its volume in the process.
Pleated Skirt
A pleated skirt is a skirt with fullness added by one or more folds of fabric.
Box, inverted, or knife pleats with the folds held in place by the waistband are called unrestricted pleats. Or the pleats may be held in place by edge-stitching.
The stitching may reach the hip or thigh.
Examples of types of pleated skirts, box, accordion, kick, inverted, and knife.
Designed to flatter all body shapes, this fabric skirt elongates the silhouette, while the waistband adds significance to the slimmest part.
High Waisted Skirt
The high-waisted skirt is just as the name states. It gives the wearer a taller look as well as accentuates the waist.
You have to make sure you balance your figure with this skirt design.
Tutu Skirt
A tutu skirt is a tulle skirt (Tool) made from lightweight fabric, that is normally nylon or polyester. The skirt is sewn with several layers of tulle and finishes off with a fluffy look.
The inspiration for this skirt comes from the world of ballet and is widely used as a bridal fabric for gowns as well as veils.
Asymmetrical Skirt
An Asymmetrical skirt is a skirt that is designed with unequal parts to it. If the left is short the right could be longer. In the case of a mini skirt, the asymmetrical design will be shorter in the front. This skirt has a variety of shapes and lengths.
Mermaid Skirt
A mermaid skirt is a long skirt shaped to be fitted at the waist and knees and flared out at the bottom in the form of a mermaid's tail.
Peplum Skirt
The peplum skirt is a style designed loosely to sit over another skirt, and dates as far back as ancient Greece times.
The peplum skirt will give you a feminine look and take all the attention from your waist.
Tiered Skirt
This type of skirt has ruffles or tiers, which are pleated, shirred, or flared with each getting larger than the last tier from the waist to the hem.
Tartan Skirt
This skirt is of Scottish origin. It is a knife-pleated skirt at the back, designed like a wrap-around with the front panel unpleated and fastened with leather straps, buckles, or decorative pins.
Peg-Top Skirt
This skirt is pleated, tucked, or gathered at the waist and hips at the waist but tapered into a narrow hem.
Bell Skirt
This skirt gathers or is pleated at the waistline, slightly flared and stiffened with crinoline to form its bell shape.
Culottes
This pant is a type of split skirt. It is cut to skirt length with a fullness that resembles a skirt. A shorter version of this style is skort.
Quotes About Skirts
Style is wearing a type of skirt that hugs you in the right places
The idea with the type of skirts I wear, is to make a statement, to inspire someone
With the right accessories, a great skirt can look like a million bucks
I love skirts
I've worn different types of skirts for so many years because they are versatile and so easy to throw on.
You never want to look as if the type of skirt you have on, is swallowing you up.
Just find a type of skirt that fits your mood at that very moment, or the kinda mood you want to be in.
At the waist, a skirt reveals diet, at the hips it reveals a "wow" moment
Like a good bartender, have at the ready a glamorous skirt for the perfect style look
Before a vacation, lay every type of skirt out on the bed, and think real hard before you pack it away.
Fit is important. Doesn't matter whether you're big, small, fat, or thin. Any type of skirt shouldn't own you.
You have to decide whether that type of skirt is worth it and then commit.
Great skirts appear more revealing in pictures, so get the camera out.
I'm always observing people with great skirts, how they walk, how they carry themselves, how they pose.
A type of skirt can determine a pose or a walk.
If your hair is pink, don't wear a pink skirt
Of course, different types of skirts come in all different sizes, but just because a skirt comes in your size doesn't mean that it suits you.
Always think personal style when buying a type of skirt
A skirt makes a woman look elegant and stylish
If you ruin a woman's favorite skirt, and she still talks to you with excitement and respect, Trust me, she's a friend for life.
A type of skirt is not just any old skirt
Don't put all types of skirts in one shopping basket, think classy lady
A perfectly fitted skirt is mysterious and chic.
Miniskirts, gain 20 pounds, and they betray you in a heartbeat.
Stylish women know how to choose the perfect type of skirt.
Hardly anyone can pull off a very short skirt with a very high heel without looking like a tramp
A good tailor can make any type of skirt look expensive.
Every time I see a woman with a poorly fitted skirt, I do not envy her.
Some of them are wearing skirts that I'm pretty sure are supposed to be belts. — Adam Selzer
A query letter should be like a skirt. Long enough to cover everything, but short enough to be exciting. – Andrea Brown
It's not really a shorter skirt, I just have longer legs — Anna Kournikova
I will be a president in a skirt, but I will wear the pants. — Josefina Vazquez Mota
I'm not changing to the point where suddenly I wear floor-length skirts and start playing the violin; I'm just growing up a little bit, I guess. — Denise Van Outen
Right now, I'm hankering for new adventures… Ninety percent of the time, I'm having romantic-comedy fantasies in which I'm wearing little pencil skirts and hurrying down to the subway. — Mindy Kaling
My fashion icons are Audrey Hepburn, Grace Kelly and Ava Gardner. Their classic looks and clean lines should be the cornerstones of your wardrobe — white cotton shirts, black Capri pants, pencil skirts and ballerina skirts — Marie Helvin
What Kind Of Skirt Looks Good On Me?
We all know the saying "It's not having what you want, it's wanting what you've got."
If you want to look good and stylish in a skirt, your best option is to choose the right one for your body type. 
The kind of skirts that will look good on you depends on your body type. 
If you have a pear shaped body, flared skirts will look good on you. If your waist is thick and upper body is thin, pencil skirts are best for you.
1. Pear-shaped bodies Skirt
For the pear-shaped figure, choose A-line or flared skirt styles that provide volume at the hips and let it taper down towards the knees or below. 
This is to balance out your lower half with your upper body.
2. Rectangular bodies skirt
The straight skirt is an ideal style for women who have a rectangular shaped body, as it can help create curves at the hips and waist. For example, wearing a pencil style would be more suitable.
3. Triangle bodies Skirt
If you have a triangular body shape, wear skirts that create volume around the waist and hips only. 
A-line or pencil skirt styles with nipped in waists are great for triangular figures. For example, wearing an A-Line skirt is better than wearing an A-Line dress because dresses with no waistline will only make your figure look more triangular.
4. Inverted triangle bodies Skirt
Inverted triangle shaped women should wear skirts that create volume and fullness at the hem line and make proportions seem balanced, such as flared skirts and circle skirts.
Wear a skirt with a darker color on top to help enhance your bottom half.
5. Apple shaped bodies Skirt
Women with an apple shaped body should choose pencil, sheath or A-line skirt styles that create the illusion of a long torso rather than short.
For example, wearing A-line skirts will make your waist appear smaller in comparison to your hips. This is because of how straight it's cut on both sides without any tapering at the side seam.
Why Are Skirts So Attractive?
They come in different styles, shapes, and designs
They are versatile
They have different lengths
They are feminine
They are comfortable
Suitable to every body type
Suitable for every occasion
Should You Wear Skirts Without Underwear?
The answer to this question is a personal preference to you. Some people have reasons why they like to wear underwear and they could be because,
It absorbs discharge
It keeps you warm when it's cold
Makes you feel sexy
Protects your outerwear
There are so many pretty underwear available and the choices are too many to resist, so why not wear them?
You can have the feel of different fabrics, silk, nylon, cotton, and satin, on your bottom

And finally, just in case you have a Marilyn Monroe moment, you'll be more than prepared for the outcome in nice underwear.
Are Skirts In Style?
Skirts are always in style, they are just more of a seasonal thing how you wear them.
In the winter, you may have to wear panty hose to keep you warm when you wear them .
In the summer, it is hot so people don't want anything on their legs,  
I have a few suggestions for you to know what skirts are in style all year round:
1. Look at your favorite fashion magazine:
Like Vogue, Instyle Magazine, Glamour, Harper's Bazaar, Seventeen, Teen Vogue, Elle Girl or CosmoGirl.
2. Look Online:
You can always look at your favorite stores that you buy clothes from and see what skirts they carry to get an idea of the season's style.
For example, if you like to shop at Shein, Macy's, take a gander at their site and see what's actually in style.
3. Look at department store sites:
This is a great link to use to find all the skirts that Nordstrom has available online .
4. Look on Amazon:
Amazon has a pretty terrible website when it comes to what skirts are in style, but it's super convenient if you are looking for something specific, like knee length pleated skirts. A line skirt, etc.
They have beautiful quality skirts at Amazon.
Check out their selection here .
5. Finally, check out your local mall/department store:
You can always look at what other people are wearing around you and get a good idea of what's in style from there.
As well as asking the opinion of someone you know who is fashion minded to help give you an idea of what skirts are in style.
Are Skirts In Style in 2022?
Oh, Yes, skirts are definitely in fashion and always be.
They are a staple fashion item in most women's closets.
What Skirts Are In Style For 2022?
These are the skirts in style
Mini Skirts
Tiered Ruffle Skirt
Tennis Skirts
Midi Denim Skirts
A-Line Skirts
Leather Skirts
Fringed Skirt
Satin Slip Skirts
Slit Skirts
Bandage Skirts
Tulle Skirts
Sequin Skirts
Pleated Skirts
Wrap Skirts
Sheer Skirts
Are long skirts in style?
Yes, Midi and Maxi skirts are always in fashion and these are skirts that are flattering to most body types.
Are Pencil Skirts In Style?
Pencil Skirts are a type of skirt that will always be in style because they can be dressed up or down very easily.
It is also a popular dress code used in offices as formal wear.
Types Of Skirts Conclusion
Now that I've taken a look into the types of skirts available, you now know what you have to work with when you are looking for stylish skirts.
Skirts are a fashion trend that will always find itself on the runway in different styles and designs.
Your job is to choose those skirts that fit you properly at your natural waistline and not your hips, so you don't have them spinning around and shifting while you walk in them.
I think it's important to allow yourself to play and have fun with fashion.
In the meantime, be sure to check out my other posts for even more ideas regarding Elegant Style, Fashion Tips, Quotes, Affirmations, Bible Verses,  Realities Of Life, and general Self Empowerment topics uplifting women daily.