These inspiring positive working mom quotes celebrate the love, support, and resilience that working moms find themselves in each day.
They'll bring you humor, strength, and motivation on a journey that is relatable to so many mothers.
Working Mom
Being a working mother is a multitasking role, it's that beautiful balance between career and family.
Working moms are the backbone of their homes, providing steadfast love, self-love affirmations, indispensable support, and a listening ear to everyone.
They manage school work, family meals, baby time, personal time and become the facial savior after a long day.
The strength of a working mom is undeniably priceless because you have them juggling so many responsibilities with grace and determination.
Today we are celebrating #workingmoms all over the globe with these working mom quotes.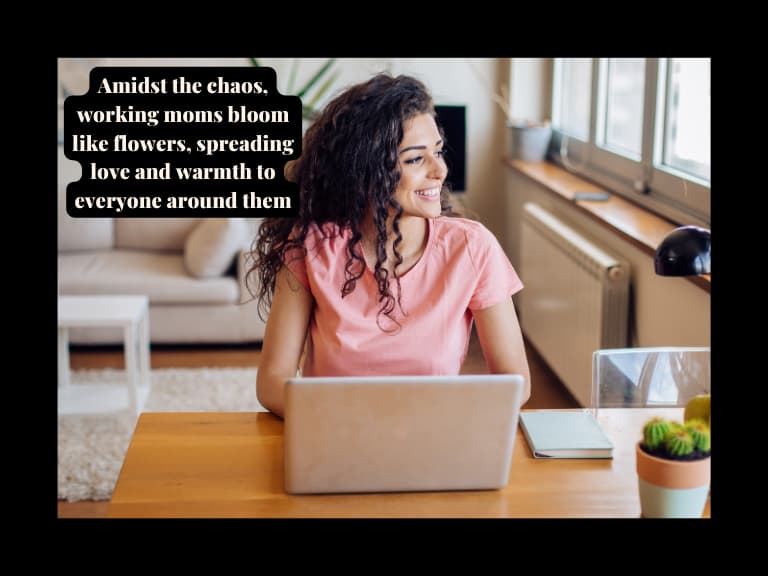 Working Mom Quotes
All our working mother quotes are our own creations, written to motivate and uplift you daily.
Working moms; are our unsung heroes who support their families with love.
A working mom's love is a beacon, guiding her family through life's storms.
I couldn't do it without the help of my fellow working moms.
A working mom's day; school work, meetings, and endless love.
Every working mom needs a listening ear, a friend, and a facial savior.
Working moms wear many hats, but their heart is always the biggest.
A working mom's love is the glue that holds her family together.
Financial assistance or not, working moms are the ultimate providers, ensuring their children's dreams have no limits.
Protectors, prayer warriors, and dinner ladies, working moms wear many hats with unwavering dedication.
A busy day for a working mom includes being a protector, flower-giver, and heart-warmer, all in one.
A working mom's heart is like a computer, storing endless love and memories, powering the family with unlimited strength.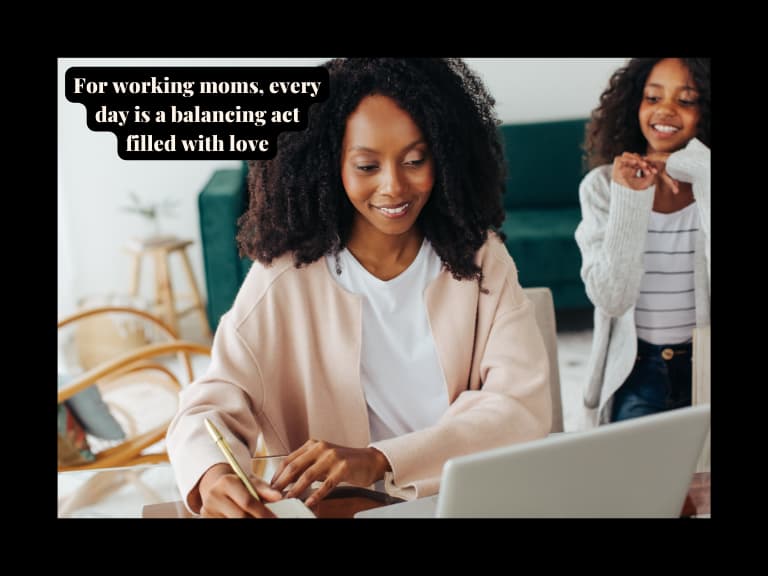 Stay at Home Mom Quotes
Stay at home moms turn ordinary moments into extraordinary memories.
From early riser to late-night planner, a stay-at-home working mom's office duties never cease, driven by love and determination.
Before morning breaks, stay-at-home working moms rise, embracing the quiet hours for personal growth and workouts.
Affirmations echo in the morning air as stay-at-home working moms chant positivity, setting the tone for a productive day.
In the quiet moments before all the chaos, stay-at-home working moms find peace, strength, and the courage to face the day's challenges.
From emails to play dates, stay-at-home working moms plan a world of responsibilities, leaving their mark with love and determination.
Double-checking school bags and dreams, stay-at-home working moms ensure their kids have everything they need for their daily adventures.
In a stay at home mom's hug, the world feels warm and secure.
Funny Working Mom Quotes
As a working mom, my daily workout is chasing after my dreams and my toddler!
Working moms, have accepted sleep is overrated, and coffee is a lifeline!
Being a working mom means having an invisible cape and a coffee addiction.
Working moms have mastered the art of multitasking; we can change a diaper while on a teams call.
The secret to being a successful working mom? Embracing the chaos and loving every moment!
A working mom's to-do list; conquer the world, one tantrum at a time!
Motherhood; where every day is a new adventure, and sanity is optional!
Life as a working mom is like juggling flaming swords, thrilling, slightly terrifying, and incredibly rewarding!
Single Mom Working Quotes
In the hustle of life, a single mom stands tall, proving that love knows no limits and strength knows no boundaries.
Being a single mom means being the rock, the shoulder to lean on, and the guiding star, all at once.
Single moms; juggling bills, bedtime stories, and dreams, but never dropping the love they have for their children.
Single moms are like stars, shining bright in the darkness, bringing light and hope to their children's lives.
With every step, single moms pave the way for their children, teaching them resilience and determination by example.
Single moms turn ordinary moments into extraordinary memories, proving that love and laughter can thrive even in the face of challenges.
Life throws curveballs, but single moms catch them all, turning obstacles into stepping stones for a better future.
Single moms are the embodiment of love's strength, proving that love alone can conquer all hurdles and uncertainties.
Working Mom Quotes For Istagram
With coffee in hand and dreams in heart, every working mom conquers the day's challenges with a smile.
From board meetings to bedtime stories, a working mom effortlessly balances both worlds, showcasing the art of multitasking.
She's a master chef by night, a problem solver by day. Working moms whip up success in the office and love in the kitchen.
In heels or sneakers, a working mom marches forward, embracing every step with grace and determination.
She's the CEO of her career and the queen of her household, ruling both domains with love, patience, and unwavering dedication.
Working moms wear capes beneath their blazers, juggling meetings and bedtime rituals, proving that superheroes exist in real life.
She's the office problem-solver and the homework helper, effortlessly switching hats to fulfill every role.
With a heart full of love and a schedule full of tasks, a working mom's embrace can heal any wound and warm any soul.
In the midst of chaos, a working mom finds peace, nurturing dreams both in the workplace and at home, proving that balance is an art.
She's the architect of dreams, building futures at work and creating everlasting memories with her family, one day at a time.
Her day starts before the sun rises, and her night ends after everyone's asleep. A working mom's dedication knows no bounds.
Common Working Mom/Mother Questions Answered
What is the best quote for a mother?
The best quote for a mother captures the unconditional love and boundless strength she possesses, reminding us of her irreplaceable role in our lives.
What is a priceless quote about mothers?
A priceless quote about mothers emphasizes their selfless love, patience, and continuous support, portraying them as the heartbeats of our families.
What never to say to a stay at home mom?
Never undermine a stay-at-home mom's work; her dedication, patience, and love are immeasurable. Instead, acknowledge and appreciate her tireless efforts.
Are working moms happier?
Well, happiness is different for everyone. But many working moms find happiness in managing their jobs and families. They show amazing strength and determination in doing so.
What is a little quote for a mom?
Love knows no limits, especially when it comes from your mother's heart.
What is a sweet and short caption for a mom?
Blessed to have a mom as wonderful as you. May your days be filled with love and joy, just like the love you've given us. Amen.
Working Mom: Day In The Life Of Video
If you'd like to watch a typical day from a working mom, watch this video from Chelsea Hansen.
Extra Resources For Working Moms
Working Mom Support Group: Working Mom Kind, is a supportive community of working moms sharing experiences, tips, and inspiration for navigating the challenges of motherhood and careers.
Parenting Tips for Working Moms: Better Up explores practical parenting advice tailored for working moms, addressing common concerns and offering helpful tips on how to be a working mom for work-life balance.
Self-Care Ideas for Busy Moms: Hayley Jena of What to Expect has self-care routines specifically designed for busy moms, promoting mental, emotional, and physical well-being amid their hectic schedules that are not just about taking a shower.
Online Meal Planning Services: For my USA readers, Homechef makes life easy by simplifying your life with online meal planning services, offering convenient recipes, for busy working moms. For my UK readers, Gousto makes life easy with their mouth watering home cooked meals made from organic British produce.
Time Management Strategies for Moms: Learn how to use effective time management techniques to optimize your daily routine, allowing working moms a great head start on balancing work, family, and personal pursuits effortlessly.
Working Mom Quotes
These working mom quotes capture the amazing strength and love of mothers. The quotes honor their hard work, whether they work at home or outside the home.
When you read these quotes, remember you're not alone. Moms everywhere share similar experiences. Your journey, filled with challenges and victories, is creating a wonderful legacy.
Each quote is like a guide, helping you. Your efforts don't just impact your home; they make the world better.
Our website has more posts and wisdom to lift your spirits. Share these words with other moms to build connections and support each other.
Remember, you're not just a mom; you're a superhero, spreading love and courage.
Embrace your journey, and let it empower you to shine and love more. Let's celebrate the strength of working moms and light up the world with our love.