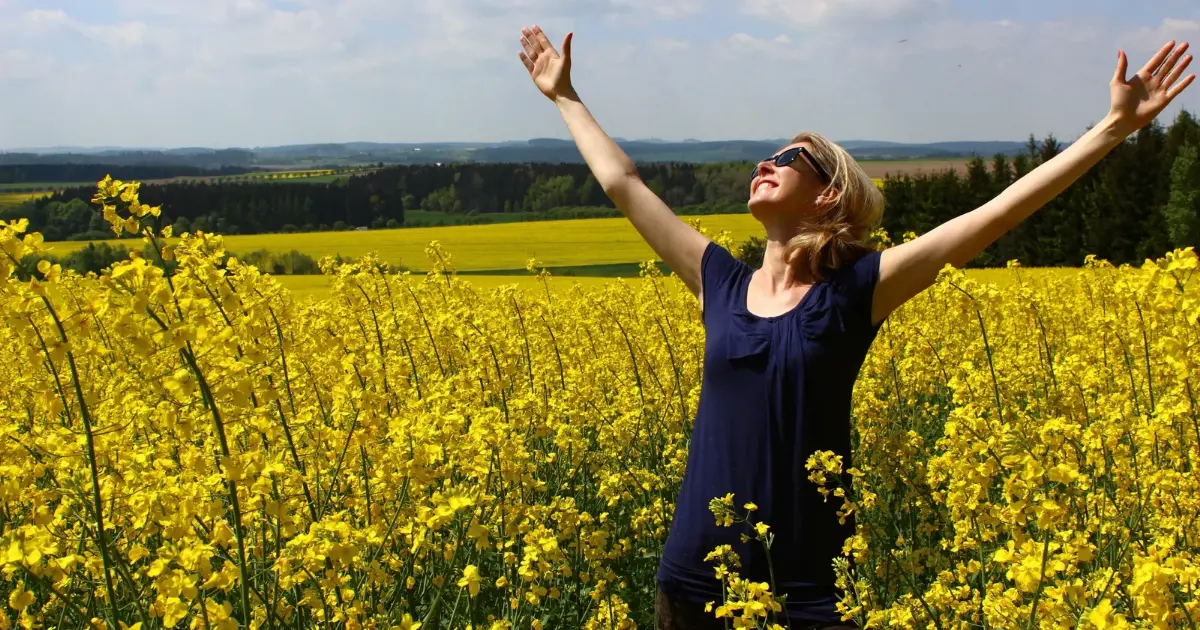 God is always blessing you, even when you do not realise it. These blessings from God bible verses speak on the power of his love.If you are feeling blessed today, here are bible verses to remind you some more that God loves you!
Blesssings From God Bible Verses
And this same God who takes care of me will supply all your needs from his glorious riches, which have been given to us in Christ Jesus –
Don't be afraid, for I am with you. Don't be discouraged, for I am your God. I will strengthen you and help you. I will strengthen you and help you. I will hold you up with my victorious right hand. –
Isaiah 41:10
If you fully obey the Lord your God and carefully keep all his commands that I am giving you today, the Lord your God will set you high above all the nations of the world –
Deuteronomy 28:1
All praise to God, the Father of our Lord Jesus Christ, who has blessed us with every spiritual blessing in the heavenly realms because we are united with Christ. –
Bring all the tithes into the storehouse so there will be enough food in my Temple. If you do," says the Lord of Heaven's Armies, "I will open the windows of heaven for you. I will pour out a blessing so great you won't have enough room to take it in! Try it! Put me to the test! –
Malachi 3:10
God blesses those who patiently endure testing and temptation. Afterward they will receive the crown of life that God has promised to those who love him.
James 1:12
Taste and see that the Lord is good. Oh, the joys of those who take refuge in him!
Psalm 34:8
The blessing of the Lord makes a person rich, and he adds no sorrow with it.
Proverbs 10:22
For I know the plans I have for you," says the Lord. "They are plans for good and not for disaster, to give you a future and a hope.
Jeremiah 29:11
But joyful are those who have the God of Israel as their helper whose hope is in the Lord their God.
Psalm 146:5
But to you who are willing to listen, I say, love your enemies! Do good to those who hate you
Luke 6:27
Bless those who curse you. Pray for those who hurt you
Luke 6:28
I will make you into a great nation. I will bless you and make you famous, and you will be a blessing to others.
Genesis 12:2
Bless those who persecute you. Don't curse them; pray that God will bless them.
Romans 12:14
Then, turning to his disciples, Jesus said, "That is why I tell you not to worry about everyday life—whether you have enough food to eat or enough clothes to wear,for life is more than food, and your body more than clothing
Luke 12:22-23
Don't repay evil for evil. Don't retaliate with insults when people insult you. Instead, pay them back with a blessing. That is what God has called you to do, and he will grant you his blessing.
1 Peter 3:9
How great is the goodness you have stored up for those who fear you. You lavish it on those who come to you for protection, blessing them before the watching world.
Psalm 31:19
The master was full of praise. 'Well done, my good and faithful servant. You have been faithful in handling this small amount, so now I will give you many more responsibilities. Let's celebrate together!
Matthew 25:21
My people will again live under my shade. They will flourish like grain and blossom like grapevines. They will be as fragrant as the wines of Lebanon
Hosea 14:7
Blessings From God Showing You God's Bessing To You
Jesus told him, "I am the way, the truth, and the life. No one can come to the Father except through me
Honor your father and mother. Love your neighbor as yourself.
Matthew 19:19
God blesses those who are poor and realize their need for him, for the Kingdom of Heaven is theirs.
Matthew 5:3
God blesses those who mourn, for they will be comforted.
Matthew 5:4
God blesses those who are humble, for they will inherit the whole earth.
Mathew 5:5
God blesses those who hunger and thirst for justice, for they will be satisfied.
Mathew 5:6
God blesses those who are merciful, for they will be shown mercy.
Mathew 5:7
God blesses those whose hearts are pure, for they will see God.
Mathew 5:8
God blesses those who work for peace, for they will be called the children of God.
Mathew 5:9
God blesses those who are persecuted for doing right for the Kingdom of Heaven is theirs.
Mathew 5:10
God blesses you when people mock you and persecute you and lie about you and say all sorts of evil things against you because you are my followers.
Mathew 5:11
The Sovereign Lord is my strength! He makes me as surefooted as a deer, able to tread upon the heights.
May the Lord bless you and protect you.
Numbers 6:24
May the Lord smile on you and be gracious to you.
Numbers 6:25
May the Lord show you his favor and give you his peace.
Numbers 6:26
And God will generously provide all you need. Then you will always have everything you need and plenty left over to share with others.
2 Corinthians 9:8
Whatever is good and perfect is a gift coming down to us from God our Father, who created all the lights in the heavens.. He never changes or casts a shifting shadow.
James 1:17
Wherever you go and whatever you do, you will be blessed.
Deuteronomy 28:6
He will love you and bless you, and he will give you many children. He will give fertility to your land and your animals. When you arrive in the land he swore to give your ancestors, you will have large harvests of grain, new wine, and olive oil, and great herds of cattle, sheep, and goats.
Deuteronomy 7:13
But the Holy Spirit produces this kind of fruit in our lives: love, joy, peace, patience, kindness, goodness, faithfulness, gentleness, and self-control. There is no law against these things!
Galatians 5:22-23
My God is my rock, in whom I find protection. He is my shield, the power that saves me,and my place of safety.He is my refuge, my savior, the one who saves me from violence. I called on the Lord, who is worthy of praise,and he saved me from my enemies.
2 Samuel 22:3-4
God blesses the one who reads the words of this prophecy to the church, and he blesses all who listen to its message and obey what it says, for the time is near.
Revelation 1:3
You prepare a feast for me in the presence of my enemies. You honor me by anointing my head with oil. My cup overflows with blessings. Surely your goodness and unfailing love will pursue me all the days of my life, and I will live in the house of the Lord forever.
Psalm 23:5 -6
May the grace of the Lord Jesus Christ be with your spirit
Philippians 4:23
Similarly, teach the older women to live in a way that honors God. They must not slander others or be heavy drinkers.Instead, they should teach others what is good. These older women must train the younger women to love their husbands and their children, to live wisely and be pure, to work in their homes, to do good, and to be submissive to their husbands. Then they will not bring shame on the word of God.
Titus 2: 3-5
God blesses you who are hungry now, for you will be satisfied. God blesses you who weep now, for in due time you will laugh.
Luke 6:21
Blessings From God Conclusion
As we grow and learn, it's important to remember that blessings come in many shapes and sizes. 
The gospel of Luke reminds us that "Blessed are you who hunger now; for you shall be satisfied" Luke 6:21. 
And the book of Psalms teaches us how God can bless those who remain faithful even when life gets tough. 
These blessings from God, bible verses offer a great reminder that no matter what happens, if our faith remains strong, we will never go without. 
Sign up to my newsletter below to receive great posts like this that uplift women daily.
Newsletter