These Bible verses about growth are designed to inspire and guide you as you walk with God.
Bible Verses About Growth
Romans 5:2-3
Because of our faith, Christ has brought us into this place of undeserved privilege where we now stand, and we confidently and joyfully look forward to sharing God's glory.
We can rejoice, too, when we run into problems and trials, for we know that they help us develop endurance.
2 Peter 3:18
Grow in the loving-favor that Christ gives you. Learn to know our Lord Jesus Christ better. He is the One Who saves. May He have all the shining-greatness now and forever. Let it be so.
Hebrews 5:12-14
By now you should be teachers. Instead, you need someone to teach you again the first things you need to know from God's Word. You still need milk instead of solid food. 
Anyone who lives on milk cannot understand the teaching about being right with God.
He is a baby.  Solid food is for full-grown men. They have learned to use their minds to tell the difference between good and bad.
2 Corinthians 13:5-7
Put yourselves through a test. See if you belong to Christ. Then you will know you belong to Christ, unless you do not pass the test. 
I trust you see that we belong to Him and have passed the test. 
We pray to God that you do no wrong. We do not pray this to show that our teaching is so great, but that you will keep on doing what is right, even if it looks as if we have done much wrong.
Psalm 1:1
Happy is the man who does not walk in the way sinful men tell him to, or stand in the path of sinners, or sit with those who laugh at the truth.
Ephesians 4:13-16
All of us are to be as one in the faith and in knowing the Son of God. We are to be full-grown Christians standing as high and complete as Christ is Himself. 
Then we will not be as children any longer. Children are like boats thrown up and down on big waves.
They are blown with the wind. False teaching is like the wind. False teachers try everything possible to make people believe a lie.
1 Timothy 4:15
Practice these things, immerse yourself in them, so that all may see your progress.
James 1:2-4
My Christian brothers, you should be happy when you have all kinds of tests. 
You know these prove your faith. It helps you not to give up. 
Learn well how to wait so you will be strong and complete and in need of nothing.
John 12:24-25
For sure, I tell you, unless a seed falls into the ground and dies, it will only be a seed. If it dies, it will give much grain. 
Anyone who loves his life will lose it. Anyone who hates his life in this world will keep it forever.
Hebrews 6:1 
So let us leave the first things you need to know about Christ. Let us go on to the teaching that full-grown Christians should understand.
We do not need to teach these first truths again. You already know that you must be sorry for your sins and turn from them. You know that you must have faith in God.
Proverbs 1:5
A wise man will hear and grow in learning. A man of understanding will become able.
Matthew 6:33
Seek the Kingdom of God above all else, and live righteously, and he will give you everything you need.
1 Peter 2:2
Like newborn babies, you must crave pure spiritual milk so that you will grow into a full experience of salvation. Cry out for this nourishment,
Job 8:7 
And though you started with little, you will end with much.
Philippians 1:9
I pray that your love will overflow more and more, and that you will keep on growing in knowledge and understanding.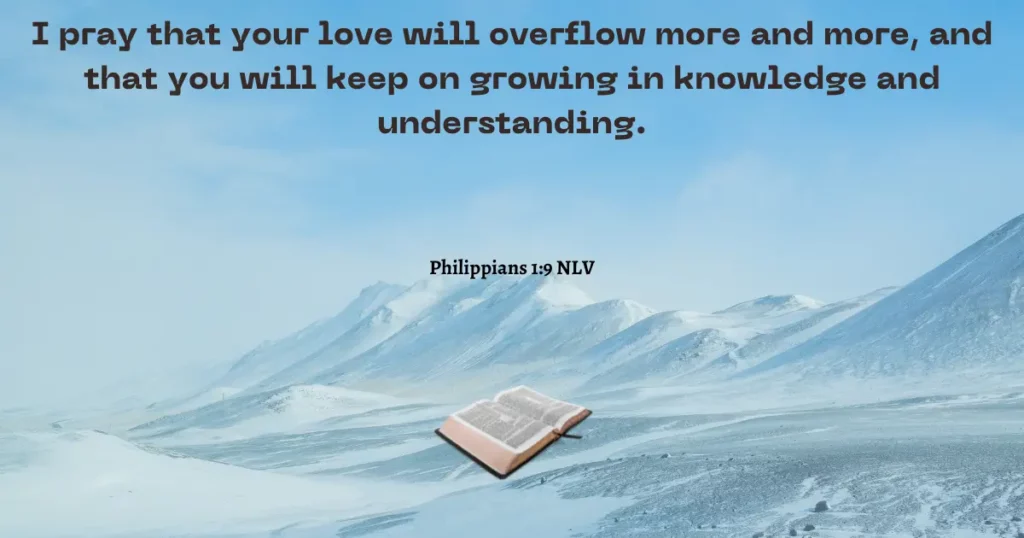 Growth Bible Verses
2 Corinthians 9:10
For God is the one who provides seed for the farmer and then bread to eat.
In the same way, he will provide and increase your resources and then produce a great harvest of generosity in you.
Galatians 6:9
And let us not grow weary of doing good, for in due season we will reap, if we do not give up.
John 12:24-25
I tell you the truth, unless a kernel of wheat is planted in the soil and dies, it remains alone. But its death will produce many new kernels—a plentiful harvest of new lives. 
Those who love their life in this world will lose it. Those who care nothing for their life in this world will keep it for eternity.
John 7:14-18
Then, midway through the festival, Jesus went up to the Temple and began to teach. 
The people were surprised when they heard him. "How does he know so much when he hasn't been trained?" they asked.
So Jesus told them, "My message is not my own; it comes from God who sent me. 
Anyone who wants to do the will of God will know whether my teaching is from God or is merely my own.
Those who speak for themselves want glory only for themselves, but a person who seeks to honor the one who sent him speaks truth, not lies.
Romans 12:2
Don't copy the behavior and customs of this world, but let God transform you into a new person by changing the way you think.
Then you will learn to know God's will for you, which is good and pleasing and perfect.
James 5:11
We give great honor to those who endure under suffering. For instance, you know about Job, a man of great endurance.
You can see how the Lord was kind to him at the end, for the Lord is full of tenderness and mercy.
1 Peter 1:6
In this you rejoice, though now for a little while, if necessary, you have been grieved by various trials.
They will do things to make it look as if they are Christians. But they will not receive the power that is for a Christian. Keep away from such people.
John 3:16
For God so loved the world that He gave His only Son. Whoever puts his trust in God's Son will not be lost but will have life that lasts forever.
Exodus 20:12
Honor your father and mother. Then you will live a long, full life in the land the Lord your God is giving you.
1 Chronicles 16:11
Search for the Lord and for his strength, continually seek him.
Matthew 5:3-5
God blesses those who are poor and realize their need for him.
God blesses those who mourn, for they will be comforted.
God blesses those who are humble, for they will inherit the whole earth.
Matthew 4:17
From then on Jesus began to preach, "Repent of your sins and turn to God, for the Kingdom of Heaven is near.
Romans 1:16
For I am not ashamed of this Good News about Christ. It is the power of God at work, saving everyone who believes—the Jew first and also the Gentile.
Romans 12:6-8
In his grace, God has given us different gifts for doing certain things well. So if God has given you the ability to prophesy, speak out with as much faith as God has given you.
If your gift is serving others, serve them well. If you are a teacher, teach well.
If your gift is to encourage others, be encouraging. If it is giving, give generously.
If God has given you leadership ability, take the responsibility seriously. And if you have a gift for showing kindness to others, do it gladly.
1 Corinthians 6:19-20
Don't you realize that your body is the temple of the Holy Spirit, who lives in you and was given to you by God? You do not belong to yourself, for God bought you with a high price. So you must honor God with your body.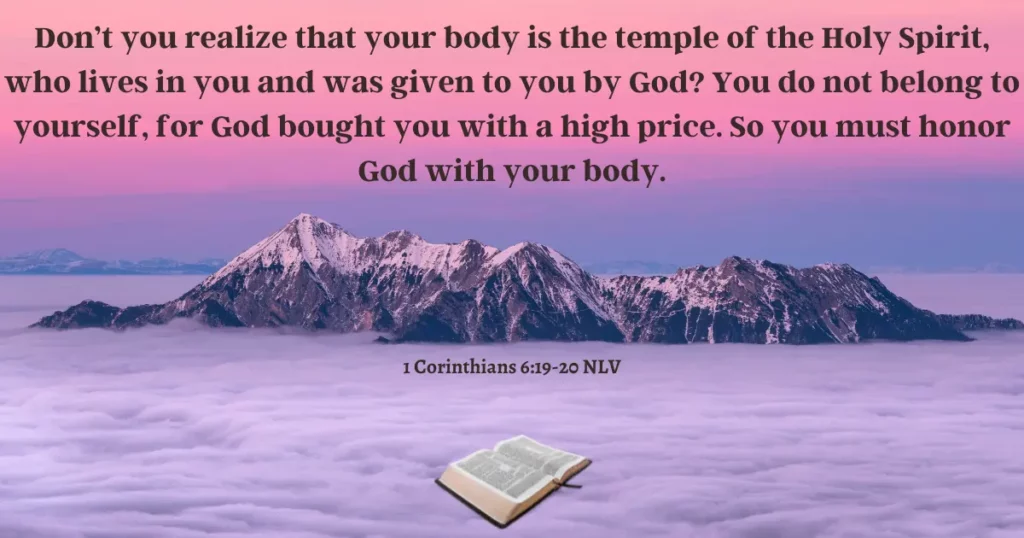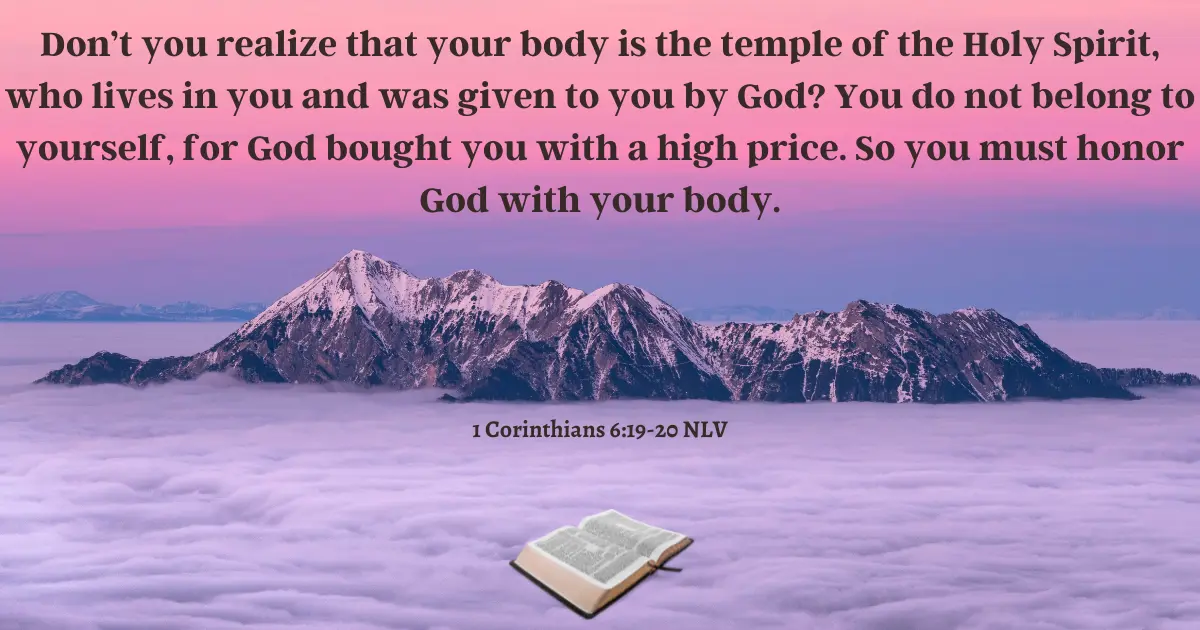 Bible Verses On Spiritual Growth
Colossians 1:9-10 
So we have not stopped praying for you since we first heard about you. We ask God to give you complete knowledge of his will and to give you spiritual wisdom and understanding. 
Then the way you live will always honor and please the Lord, and your lives will produce every kind of good fruit. All the while, you will grow as you learn to know God better and better.
2 Timothy 3:16-17
All Scripture is inspired by God and is useful to teach us what is true and to make us realize what is wrong in our lives.
It corrects us when we are wrong and teaches us to do what is right. 
God uses it to prepare and equip his people to do every good work.
Philippians 1:6
And I am certain that God, who began the good work within you, will continue his work until it is finally finished on the day when Christ Jesus returns.
2 Peter 1:5-8
In view of all this, make every effort to respond to God's promises.
Supplement your faith with a generous provision of moral excellence, and moral excellence with knowledge.
And knowledge with self-control, and self-control with patient endurance, and patient endurance with godliness, and godliness with brotherly affection, and brotherly affection with love for everyone.
The more you grow like this, the more productive and useful you will be in your knowledge of our Lord Jesus Christ.
Titus 2:11-12
For the grace of God has been revealed, bringing salvation to all people. And we are instructed to turn from godless living and sinful pleasures.
We should live in this evil world with wisdom, righteousness, and devotion to God.
Hosea 4:6
My people are being destroyed because they don't know me. Since you priests refuse to know me, I refuse to recognize you as my priests.
Since you have forgotten the laws of your God, I will forget to bless your children.
Bible Verses About Growth Conclusion
Bible verses about growth are some of the most encouraging passages in scripture. They teach us truths that we can apply to our own lives, whether it's seeking spiritual or personal growth or remembering God's faithfulness through adversity. 
I hope this blog post has been helpful. If you want to learn more about bible verses, sign up for my newsletter below and I'll  send you posts like these directly to your inbox!
Newsletter