Hey there! Some links on this page are affiliate links which means that, if you choose to make a purchase, I may earn a small commission.This does not influence my evaluations. My opinion is my own.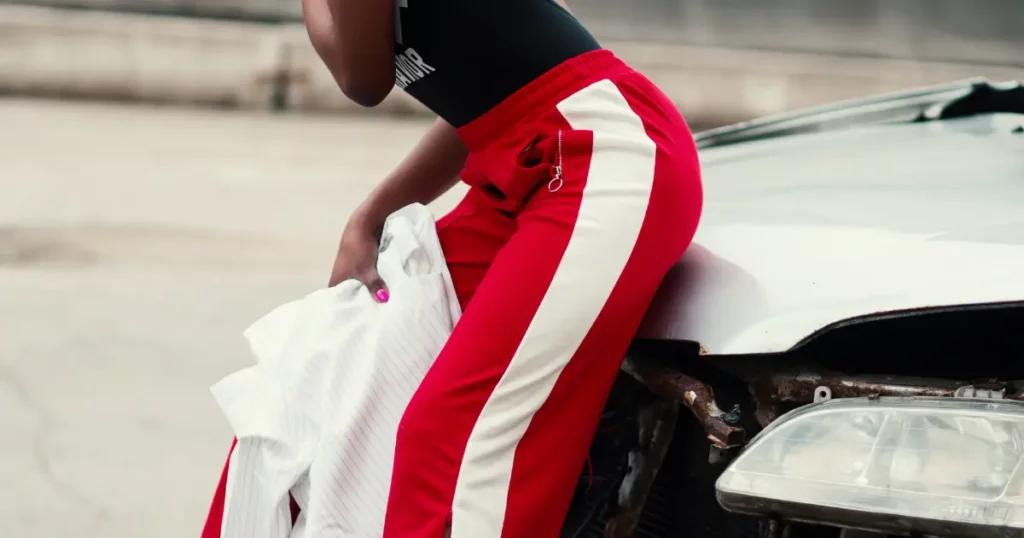 There are so many types of pants for women that it can be hard to know which is the best for you. Do you want something comfortable and casual for everyday wear? Or perhaps a pair of dress pants that will make you look polished and professional with great style?
No matter what your needs, I've got you covered.
Below I give you a selection of women's pants that includes everything from yoga pants to slacks to jeans.
So learn what they are so that you can find the perfect pair for your next day of looking good, polished, and elegant!
Types Of Pants For Women
Yoga Pants
Yoga pants are a flattering piece that can be worn in many different ways.
They are comfortable, easy to wear, and they work well on most body types.
One of the best things about yoga pants is how versatile they are. You can dress any kind of yoga pants up or down depending on what you need them for.
Wear your yoga pants with a loose-fitting sweater and some boots.
You could also add in a belt and dressy sandals to make the outfit more casual. If you want to dress up this look, add in a blazer and heels.
The possibilities are endless when it comes to what you can wear.
Tracksuit Pants
Tracksuit pants typically have a stripe down the legs or on the side, but may not always.
They can be worn as sportswear for those who enjoy track and field sports such as running, or as casual wear for people with active lifestyles.
Jeans
Everyone knows what jeans are. They come in many colors and sizes that can fit nearly anyone's preferences.
They are comfortable for casual wear and dressy wear and come in a variety of styles depending on what you want.
You can find jeans with rips, tears, patches, high-waisted or low-waisted pairs. They have been around forever.
Jeans are worn by nearly every demographic due to their comfort and durability, and women love how they feel and look if they find the right pair.
Formal Pants
Formal pants are worn for formal occasions. They can be found at many different stores ranging in prices, styles, and colors. They tend to be more expensive due to the quality and wearable lifetime of the pants.
Leggings
Leggings are often made out of a polyester, cotton, or spandex blend.
They are worn as loungewear and can be used under dresses for warmth during the winter months.
Leggings typically have a tight fit and come in many colors and lengths.
Denim leggings are casual wear that can also be used for certain athletic activities such as yoga
Sweatpants
Sweatpants are typically worn during exercise or for loungewear at home. They are made of a thicker material that is not too thin, but also not overly thick to cause discomfort while sleeping.
They typically have pockets on the side and may come with drawstrings, they can be used in the gym and are comfortable and durable, for daily casual activity.
Capri Types Of Pants For Women
Capri pants are often made of breathable material such as cotton or spandex which allows the wearer to be comfortable.
They tend to have pockets on the sides and may come with cuffs at the bottom. Capris can be worn for lounging around the house, casual wear, or even sleepwear.
They are loose-fitting and tend to be worn by many demographics.
High- Waisted Pants
High-waisted pants have been popular for several years now.
They are fitted on the waistline and can be loose from the knees down or tight throughout.
They come in many colors, lengths, and designs depending on preference, and you may find high-waisted jeans or shorts with rips at the bottom as an example.
Shorts
shorts can be found in many different lengths, colors, and designs depending on preference. They range from athletic shorts with mesh or spandex material to short shorts for casual wear.
Athletic shorts are made of breathable material for comfort during exercise
High-waisted shorts are fitted at the waistline and must be worn with a top that covers the stomach
Short shorts are casual wear that can also be used during physical activity such as running or biking
Jeans Shorts
Jeans shorts are often fitted at the waistline and can come in many colors, designs, and lengths. They are not too short to hinder comfort while walking or sitting, but also not long enough to cover your thighs as jeans would.
Jeans shorts can be used for casual wear and formal occasions if paired with a nice top.
Culottes
Culottes are casual wear that can be worn during the day or night for any occasion.
They can be made out of cotton, polyester, spandex or a blend of these materials depending on preference.
They are usually knee-length but may reach the ankle, depending on your height. Culottes are fitted and come in many colors and designs.
They also look nice when worn with a top that matches the color of the pants
Boho Pants
Boho pants are loose-fitting and come in many colors, designs, and lengths. They can be worn casually or formally, depending on preference.
Boho pants are commonly made out of cotton or polyester because they are breathable for comfort. The material is often soft to the touch because it is thin, but not too thin for the flowy effect they have.
They originate from the fashion style of Bohemian or Boho, a culture associated with free-spiritedness and deep creativity.
Tie-Dye Pants
Tie-dye pants are made of spandex or cotton for comfort.
They are casual wear that can be worn for any occasion, although I would recommend casual.
Tie-dye pants, paired with a simple top, will stand out.
Baggy Pants
Baggy pants tend to be loose-fitting and may come with pockets.
They are casual wear that can be worn for any occasion, although I would recommend casual.
Jeggings
Jeggings are Lycra or spandex for comfort.
They can be worn casually or formally depending on preference and come in many colors and designs.
Jeans can be used as a synonym for jeggings but the two cannot be interchanged so it is important to know what you're talking about.
Jeggings are a type of stretch pants, similar to leggings, but made out of denim instead.  Jeggings fit skin-tight all the way from the waistline.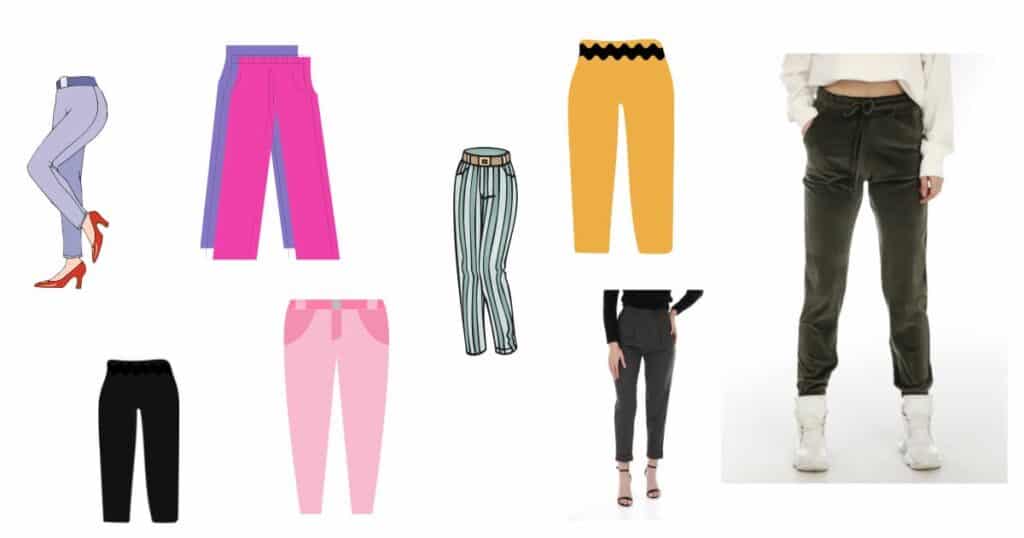 Leather Pants
Leather pants are made of leather for a nice, smooth appearance, and give a very sophisticated look when they match the color of a blazer or top.
Leather pants may come with pockets and sometimes plain with the illusion of pockets depending on preference and design.
They can be worn casually for any occasion and formally when paired with a classy top.
They are pants that are stereotyped with women who love riding motorbikes, but in actual fact look good on women who want to give off an edgy and elegant look.
Linen Pants
Linen pants are typically made from linen but can be blended with other cheaper linen to bring the price down.
They are worn in the spring/summer season and are great for casual occasions because they are usually light and flowy to keep you cool in the summer.
They go best with t-shirts or tops that can be dressed up or down depending on the occasion.
Corduroy Pants
Corduroy pants are made of corduroy, as the name suggests.
They are often considered formal because they are sharp-looking pants that give a great polished look.
Corduroy pants are also worn casually but can be difficult to dress down depending on the occasion.
They go best with boots, heels, blazers, and shirts for formal occasions and t-shirts or flats for casual occasions.
Trousers
Trousers, also known as pants, are a basic staple in every woman's wardrobe. They come in many different shapes and sizes and can be ethically worn casual or formal depending on the occasion.
They go best with heels, flats, sneakers, boots, and blazers to dress them up for formal occasions.
They can be worn with casual shirts, t-shirts, or even dresses depending on the occasion.
Flannel pants
Flannel pants are made from flannel material which is a thick type of cloth. Flannel material is soft, warm and comfortable.
They are very casual, but can also be worn to formal nighttime sleepover events
The best types of tops to wear with flannel pants are t-shirts, or tops that are tucked in at the front (e.g., singlet tops), long sleeve shirts, and sweaters.
Flannel pants can be worn in any season, but they are most suited to the winter months when it is cold, and you need clothes that keep you warm.
You can wear them on a road trip or around your house while relaxing during a cold night with some hot chocolate or a blanket.
Dungarees
Dungarees are a type of casual pants which look similar to denim jeans. They should only be worn for casual activities because they don't go well with dressy tops or formal outfits.
Pajamas
If you're staying in a hotel and there is no room service available, then pajama pants are perfect to wear while dining in your own hotel room (or rented apartment).
Pajama pants can also be worn as sleepwear, or to walk around, to do women's chores (i.e. laundry), etc.
However, you can also wear them on as work attire due to new remote working habits.
According to two Japanese companies, working from home has rubbished the idea of formal dress codes.
Cargo Pants
Cargo pants are great for hiking/outdoors, camping, military training, or as a fashion trend.
Cargo pants are very much in these days, and the comfier you look, the better.
You can wear cargo pants with sneakers, rubber boots, athletic shoes; basically dress down your outfit with something comfortable.
Jodhpur Pants:
Jodhpur is a close-fitting, straight-legged pair of pants. They are said to have gotten their name from the city of Jodhpur, where they were worn by soldiers.
Jodhpurs are typically cotton or synthetic blend stretch pants that are tight around the knees but bell out slightly at the calves.
Jodhpurs sometimes have zippers along the inner calves to help them look more incorporated in riding boots.
They are made for comfort and utility, not style. They are usually used for certain specific types of sporting activities or by riders when they do dressage.
These pants are also called jods.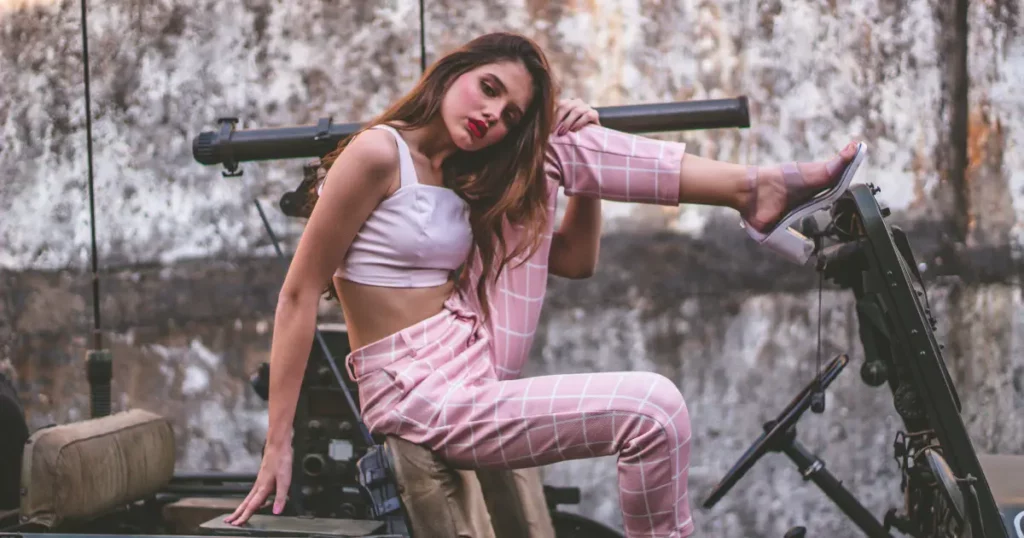 Tuxedo Pants
Tuxedo pants are the informal version of tuxedo pants or formal trousers worn with a tuxedo or dinner jacket for events such as black-tie dinners.
And they look very similar to formal trousers, except they are not accompanied by a tuxedo jacket.
The style is also known as black tie pants.
They come in a variety of weights and weaves such as wool gabardine, cotton pique, silk, linen, or fine rayon blends.
They usually have a flat front panel with no pleats or other tailoring details. Extra fabric is used to allow the wearer to move freely and for ease of long-term use.
Conclusion Types Of Pants For Women
You should now have a better understanding of the types of pants for women and what type is best suited for which occasion.
If you're looking for more uplifting posts, sign up below for my newsletter, so I can keep delivering them to you.
Newsletter