Hey there! Some links on this page are affiliate links which means that, if you choose to make a purchase, I may earn a small commission.This does not influence my evaluations. My opinion is my own.
When you think of elegant and fashionable business casual  for women, what comes to mind? At first glance "business formal" seems similar – but are they really the same thing?
Business casual is actually a subcategory of formal wear.
It evolved from work attire to be less strict with regard to acceptable styles and colors, but it still says that you mean business! 
Here are some tips on accenting your wardrobe with smart business casual outfits for women
Elegant And Fashionable: Business Casual For Women
Business Casual Women Should Wear Higher Cut Necklines
If you have chosen a woman's shirt or blouse with a higher cut neckline, this will be considered appropriate for business casual.
For example, if it has lace trimmings along the top edge it will fit right in.
A turtleneck, however, would be considered inappropriate for business casual attire.
If you are wearing a shirt or blouse with a higher cut neckline, this is when you can bring out a necklace to accentuate more of your outfit.
Knee Length Dresses Are A Great Idea
Business casual dresses typically include knee-length styles made of cotton or silk in solid colors.
You could also choose prints that seem less formal like black and white stripes; these will look great paired with boots!
For heels, stick to closed-toe stilettos (the kind that cover your toes). This style has become more widely acceptable in the last few years too so there's no need to feel self-conscious about your choice of shoes anymore!
Business Casual For Women Has To Include Pants For That Elegant, and Fashionable Look
Women's pants for business casual can be dress pants, khakis, or even a skirt and pants set.
As with the dresses, you'll want to choose solid colors and avoid anything too tight or too flashy.
You might also want to consider your workplace environment and whether or not denim is considered appropriate there – if it's not, go for a dark wash trouser instead!
Jackets Are Great For Looking Casual Smart
A tailored jacket over a blouse or dress gives the appearance of being put together and professional.
Make sure the fit is flattering and that the color goes well with the other pieces in your outfit.
If you're going to wear a suit jacket, make sure it's not too tight – you don't want to look like you're trying too hard!
Accessories Always Look Great
These are a great way to add personality to an otherwise plain outfit. Be careful not to go too overboard, though – you don't want your accessories to outshine your clothing.
Some ideas for accessories include a scarf, statement necklace, or a watch. Just make sure everything is in keeping with the overall tone of your outfit.
Shoes
When dressing for business casual, women have a little more freedom when it comes to shoes.
However, you'll still want to avoid anything too flashy or high-heeled.
Closed-toe pumps or flats are always a safe choice, but if you're feeling adventurous you could try a loafer or even a sandal.
Just make sure it's office-appropriate!
Solid Colors
Styles for business casual clothing for women should always be solid colors.
This includes leather, suede, and other professional materials.
Animal prints are also considered inappropriate in this category so stay away from zebra stripes or leopard patterns.
Professional Materials
As with formal wear, you should choose business casual outfits made of the most appropriate materials for your workplace setting.
For instance, if you work at a company that has casual dress days certain fabrics will not be considered acceptable (like flannel or denim).
You'll want to stick to cotton blends like twill and poplin instead.
Makeup & Hair
Makeup for business casual is usually minimal; tones of nude, taupe, brick reds, and browns are better choices than bright pinks or blues.
Your nails should be kept natural, but you can always add a coat of clear polish for extra shine!
When it comes to hairstyles, avoid anything too trendy – if it's not in keeping with the stylish but conservative look, skip it!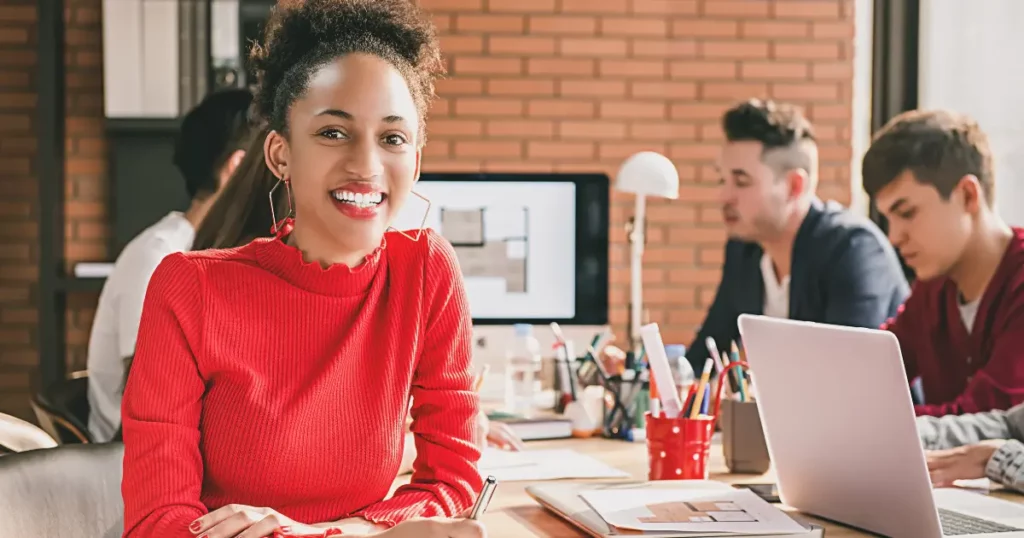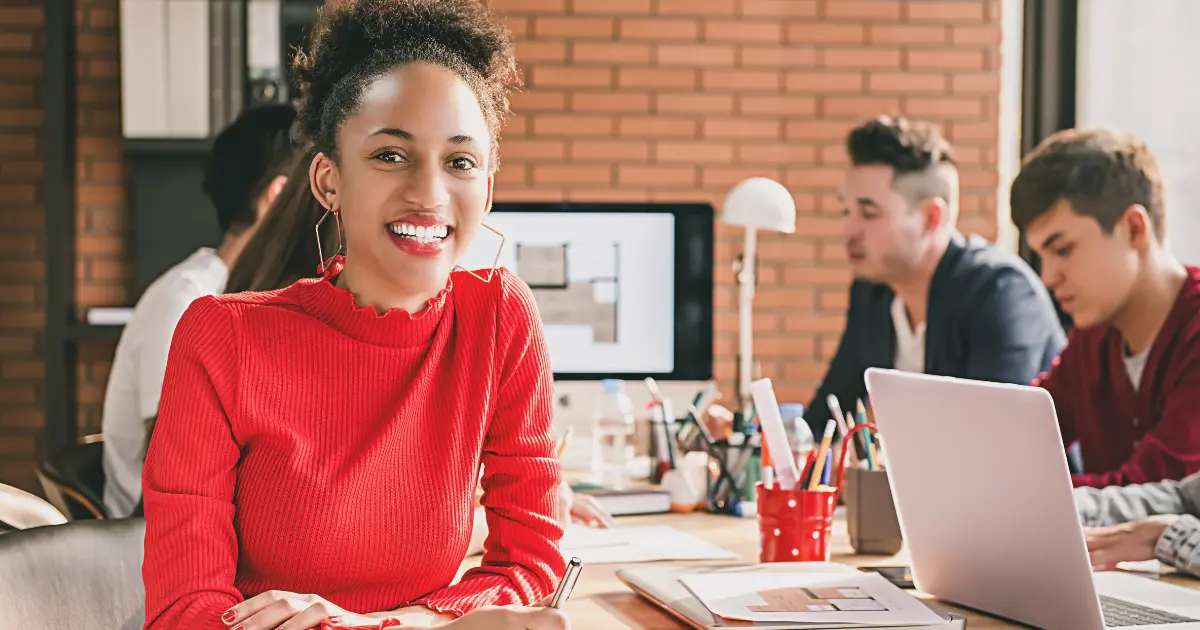 Now that we know what business casual for women is, let's take a look at some tips on how to dress the part.
Elegant And Fashionable Business Casual For Women Tips For Looking Put Together
Start With The Basics
A blazer, collared shirt, and trousers are all good starting points for a business casual wardrobe.
Pay Attention To Fit
Clothes that are too big can make you look frumpy, while clothes that are too tight can call attention to your body in the wrong way.
Make Sure Outfits Are Clean And Pressed
Make sure everything is clean and pressed before leaving your home on casual Fridays. Business casual for women is about looking professional, not disheveled.
Coordinate Your Look
Coordinate but don't match. Business casual outfits can be coordinated with each other, but make sure that they aren't an exact match.
Layer For A More Polished Look
Wearing a camisole top underneath a blouse instead of a T-shirt will give you a more professional appearance.
No To Sneakers
Swap out your sneakers for flats or heels for business casual Friday.
Tone it down with a nice pair of dress slacks instead of jeans
Business casual for women doesn't have to be stuffy, but you should use your best judgement when dressing for work.
Avoid Over Accessorizing
Avoid over accessorizing by wearing a simple watch and a few understated rings or bracelets.
Business casual for women is about looking professional, not flashy.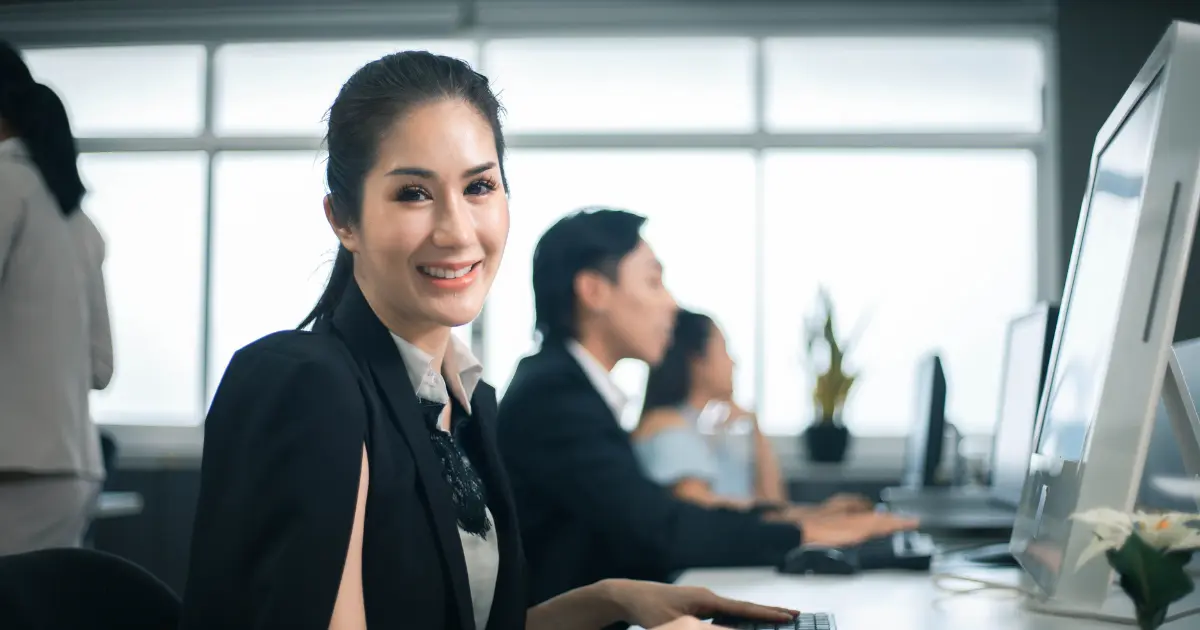 Muted Colors
Business casual doesn't have to mean muted colors, just avoid loud prints and colors that are too bright or distracting.
Business casual for women should be comfortable but also polished.
Experiment With Your Personal Style
Business casual Friday is the perfect day to experiment with your style by trying out a new piece or accessory you've been wanting to try.
Just make sure that it still falls within the boundaries of business casual. Business casual for women doesn't have to be boring.
Not Sure
If you're not sure if something is appropriate for business casual, play it safe and leave it at home.
You don't want to risk looking too casual or too formal.
A Bit Reavealing?
A cardigan or blazer can be a great way to cover up a tank top or dress that's a bit too revealing for work. Business casual for women should be modest and professional.
All Work And No Play
Business casual for women doesn't have to be all work and no play.
Business casual dress codes make it possible to carry over your work outfits to events after hours without looking too formal or out of place.
Business casual is specifically designed for this purpose, you just need to switch out the details and accessories a little.
Hair For Women
Business casual for women hairstyles should be professional and pulled back.
There's no need for elaborate styles or hair accessories when dressing for work.
Make Up Should Be Simple
Makeup should be kept natural and simple, with just a touch of color to brighten up your face.
Business casual for women is not the time to go all out with your makeup look.
Perfume
Perfume should also be kept light and subtle, nothing too overpowering.
Business casual for women is all about being professional, not overwhelming your colleagues with your scent.
Too Tight Or Too Loose
Avoid wearing clothing that's too tight or too loose when dressing for work. Business casual for women should fit comfortably and look put together.
Seasons
Business casual outfits for spring  and summer can include sandals, but keep them closed toed and not too flashy Business casual for women should be professional, yet stylish.
Business casual outfits for fall and winter can include a nice pair of boots Business casual for women should be practical and comfortable while being professional.
Business casual for women who are plus size should stick to clothes that fit well and make them look put together Business casual for women doesn't have to be tailored for petite, thin women. Business casual clothing can accommodate a range of different body types.
Elegant And Fashionable: Business Casual For Women Conclusion
So there you have it – some tips on putting together a great business casual for women wardrobe . By following these guidelines, you'll be sure to look polished and professional without sacrificing your personal style. Good luck!
For more tips and advice uplifting women sign below for my newsletter and receive more helpful tips
Newsletter