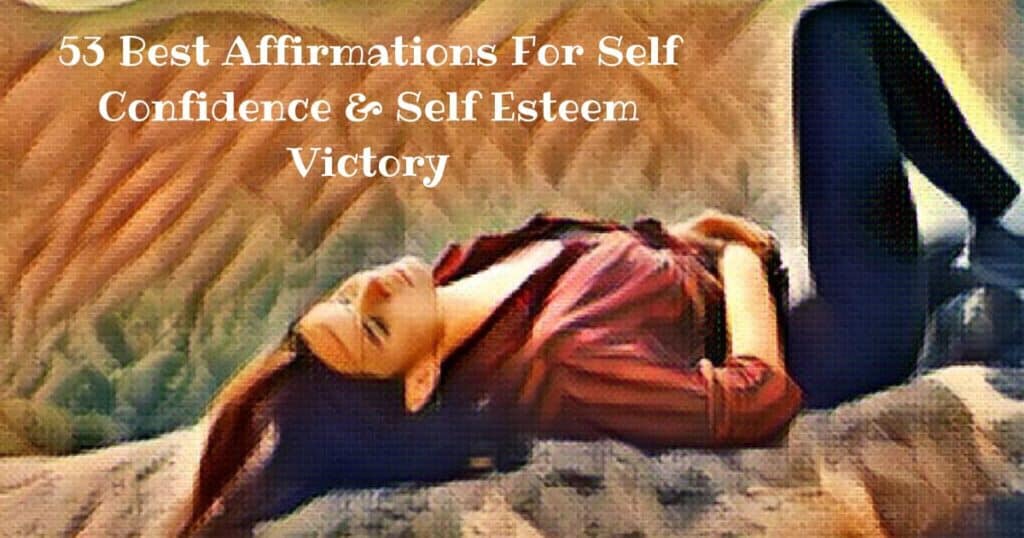 Self Confidence and Self-esteem is a personal journey. It is an understanding of yourself and what you bring to the world.
Some people have high self-confidence and self-esteem, and some have low self-confidence and self-esteem.
Which one do you believe, you have?
Well, at the end of reading these affirmations for self-confidence and self-esteem, which I use interchangeably, you will have both.
Positive affirmations are the right remedy to get you through those days of struggle.
Put them into practice every day. The end goal should be to see yourself as a self-worthy person that is better than the person you were yesterday.
What is Self Confidence And Self Esteem
Self-esteem and Self Confidence are how you feel about yourself as a person. It's the way you look and judge yourself.
Your self-esteem could be a high one, or it could be low, just like your self-confidence, it all depends on how you rate yourself.
If you are a person with high self-esteem and great self-confidence. You are someone who likes yourself the way you are, the good and the bad qualities you have.
You are someone who has good self-worth, self-love, and self-respect for yourself.
The kind of person who doesn't feel the need to impress other people because you know what you bring to the table.
Traits Of A Person With High Self Confidence And Self Esteem
If you have great self-confidence and high self-esteem, you have plenty of love for yourself
You feel confident about everyday tasks
You are happy and confident about yourself
You are able to accept your actions
You create goals and work towards accomplishing them
You appreciate your positive qualities
You take care of yourself physically, emotionally and mentally
You learn from your past issues and look ahead to future accomplishments
You are confident that you can do anything you put your mind to, even if it means trying more than once.
Traits Of Low Self confidence and Low Self-Esteem
If you have low self-confidence and self-esteem, you have very little love for yourself, and you don't respect yourself.
You compare yourself negatively with other people
You worry about things a lot
You are anxious about things
You get stressed out a lot
Lack confidence to speak in public
You lack the confidence to talk to people you do not know
You look at former mistakes and dwell on them often
You don't believe you are worthy
The level at which we embrace ourselves is what shapes our lives. It is what makes us perceive ourselves the way we do, and what makes people perceive us.
When you look at the traits of low self-confidence and self-esteem, you wish to have high self-confidence and self-esteem.
The Truth is, even those with high self-esteem can still improve to be better.
Let's get into our 53 Affirmations for Self Confidence And High Self-Esteem Affirmations
Remember, you are the pioneer of your own life, nobody can take that from you.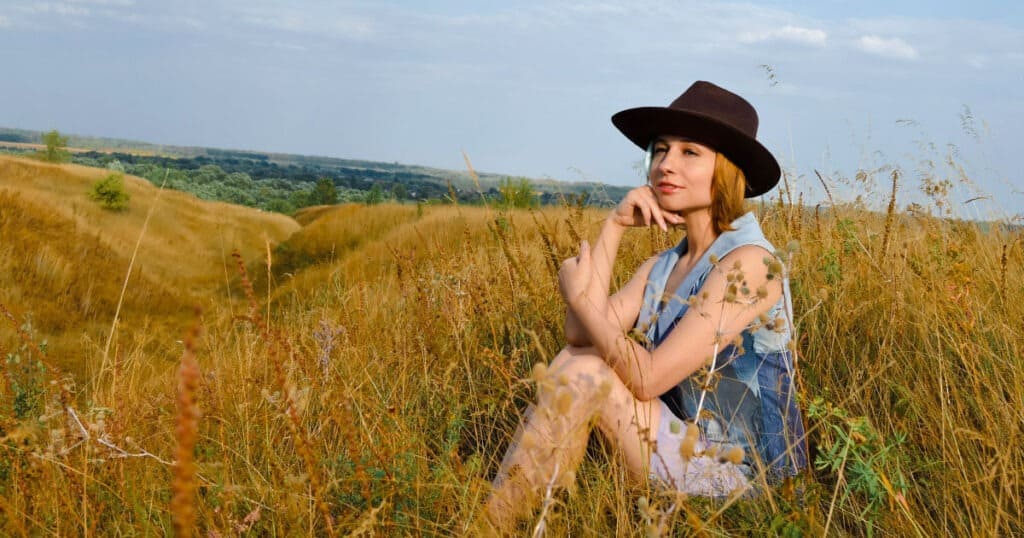 Positive Affirmations For Self Confidence Boost
Practice these random affirmations for self confidence and self esteem victory in different areas of your life.
I am able to express my thoughts and opinions to other people
Only good things happen to me. Every door I knock on opens to me with plenty of joy.
Everywhere I go, I am the head and not the bottom
I am guided towards caring love from a future partner
Everything great that is for me will locate me at its promised time
Everything negative in my subconscious has gone away and from now on there is only positivity in me
I am grateful for all the continuous help I receive
I only eat what is right for me, and I am not attracted to the rest
Everything I read for an exam, I retain easily and succeed in all my exams
My intelligence and memory never fails me
The faith that others have in me is what I have in myself
I am full of blessings, grace, and favor.
I communicate well with all my work colleagues, and we help each other out as much as we can
I have more and more self-confidence, and I am able to see that I am worthy to have respect and love
I am a leader in every aspect of my life
I have so much happiness and love, and I give back as much love and happiness as possible. Not only that, but I get much more of it back.
I am grateful for my life
I have the best job that fits me, and I am grateful for that.
I am self-disciplined, and I am able to organize my study time to my perfection
I am a cheerful person


I have no grudges with people that have offended me. I have left them to God, who is the final judge.
I am chilled and relaxed
My body will guide me towards the foods that are healthy for me
I find it easy to stand up for myself
I am more than enough
I choose to do the things that support my well-being
Only good things manifest themselves at any given time in my life
I now think positive thoughts about myself
I now appreciate being a classy and elegant woman.
I deserve to be loved
I am always prepared ahead of all my exams
I love that I am sophisticated and classy
All knowledge is inside me. I constantly use and benefit from the knowledge and inspiration of everyone who can contribute to this.
I always attract the best kind of relationships and I can keep them perfect. That Is one of my blessings.


What is meant for me in friendships, work, relationships, will act in harmony with my intentions and interests
I expect good things to happen in my life
Every day, the trust I have in myself increases
I am lovable
I am happy being who I am
I am competent at many things
I have the perfect body for me
I deserve to be loved
I am at peace with myself
My life is meaningful
My job is giving me wonderful opportunities, and I am grateful for this
I live in joy and spread joy wherever I go
Unconditional love is my grace. And I see It clearly every day.
I am guided with the faith that anything that does not vibe with my true wishes will be removed from the path of my journey


I radiate love to everyone around me
I am guided towards caring love from a future partner
I choose to be optimistic about life
What is meant for me in friendships, work, relationships, will act in harmony with my intentions and interests
I am grateful for my good health. Everything I need to keep my health in good condition is revealed to me through the tiny whispers.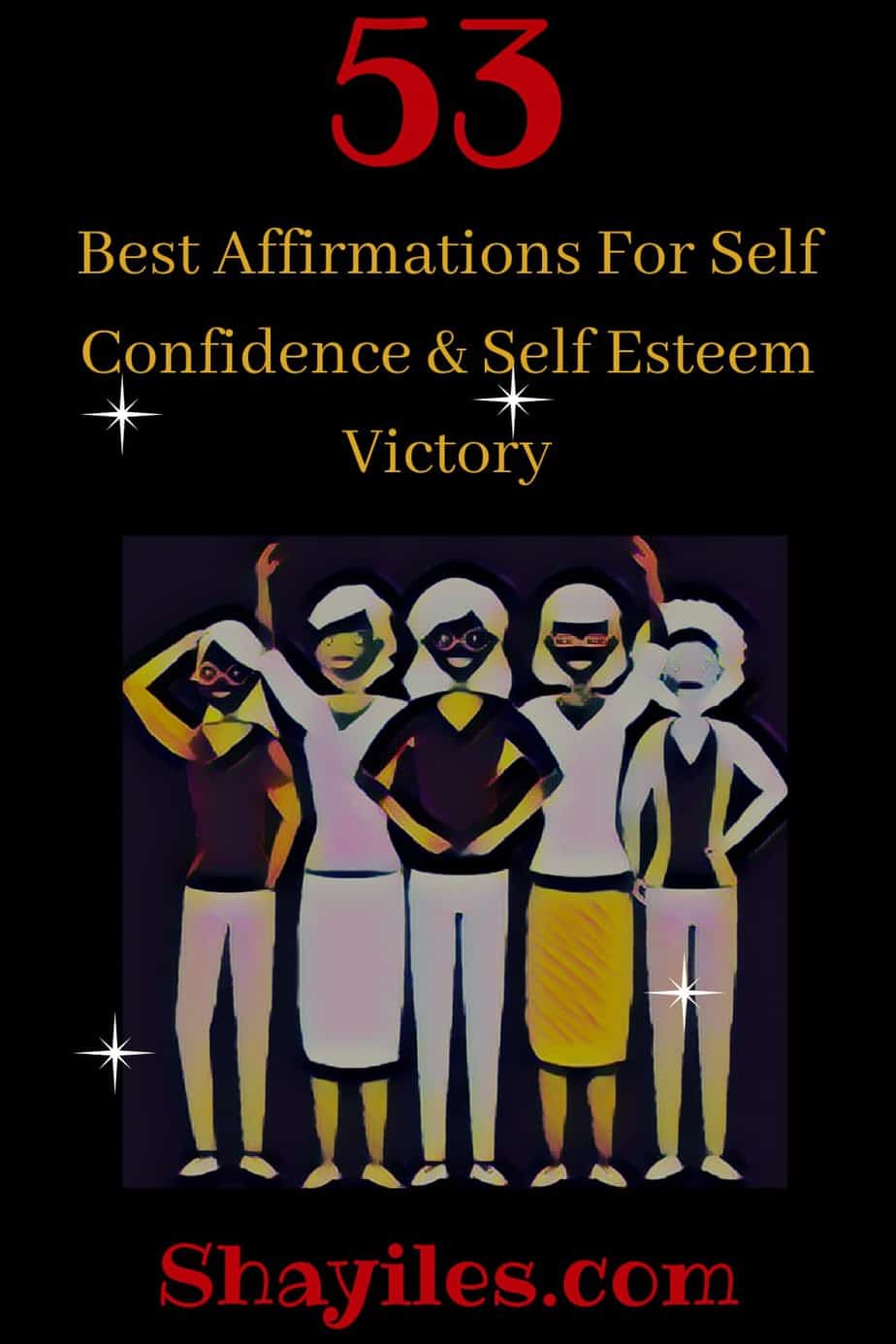 Positive Affirmations For Self Confidence and Self Esteem Quotes
Use these extra quotes as a solution to boost your self-confidence and self-esteem. They will assist you further in overcoming a negative mindset.
What lies behind us and what lies before us are tiny matters compared to what lies within us. – Ralph Waldo Emerson
Never be bullied into silence. Never allow yourself to be made a victim. Accept no one's definition of your life; define yourself. – Harvey Fierstein
You may not control all the events that happen to you, but you can decide not to be reduced by them – Maya Angelou
Respect your uniqueness, and drop comparison. Relax into your being – Osho
Don't let anyone make you feel that you don't deserve the good things that happen in your life – Paulo Coelho
A person's self-esteem has nothing to do with how she looks – Halle Berry
If you don't believe in yourself, no one will do it for you – Kobe Bryant
If you can dream it, you can do it – Walt Disney
If you don't love yourself, nobody will. Not only that, you won't be good at loving anyone else. Loving starts with the self – Wayne Dyer
You're always with yourself, so you might as well enjoy the company – Diane Von Furstenberg
Love yourself. When you love yourself, people can pick up on that: they can see confidence, they can see self-esteem, and naturally, people gravitate towards you – Lilly Singh
You have moments, days, sometimes weeks when you will doubt yourself. Just know, it is all part of the spiritual process –  Iyanla Vanzant
Don't waste your energy trying to change opinions… Do your thing, and don't care if they like it – Tina Fey
Positive Biblical Affirmations for Self confidence and Self esteem
If you prefer to read your Bible each morning. The following biblical affirmations for self confidence and self-esteem will guide you on your journey.
All Bible verses are from the King James Version
Song of Solomon 4:7 – Thou art all fair, my love; there is no spot in thee.
Psalm 139:13-14 – For thou hast possessed my reins: thou hast covered me in my mother's womb.
I will praise thee; for I am fearfully and wonderfully made: marvellous are thy works; and that my soul knoweth right well.
1 Samuel 16:7 – But the Lord said unto Samuel, Look not on his countenance, or on the height of his stature; because I have refused him: for the Lord seeth not as man seeth; for man looketh on the outward appearance, but the Lord looketh on the heart.
1 Peter 3:3-4 -Whose adorning let it not be that outward adorning of plaiting the hair, and of wearing of gold, or of putting on of apparel;
But let it be the hidden man of the heart, in that which is not corruptible, even the ornament of a meek and quiet spirit, which is in the sight of God of great price.
Isaiah 43:4 – Since thou wast precious in my sight, thou hast been honourable, and I have loved thee: therefore will I give men for thee, and people for thy life.
Joshua 1:9 – Have not I commanded thee? Be strong and of a good courage; be not afraid, neither be thou dismayed: for the Lord thy God is with thee whithersoever thou goest.
Jeremiah 29:11 – For I know the thoughts that I think toward you, saith the Lord, thoughts of peace, and not of evil, to give you an expected end.
Genesis 1:27 – So God created man in his own image, in the image of God created he him; male and female created he them.
Matthew 11:28-30 – Come unto me, all ye that labour and are heavy laden, and I will give you rest.
Take my yoke upon you, and learn of me; for I am meek and lowly in heart: and ye shall find rest unto your souls.
For my yoke is easy, and my burden is light.
Psalm 139:14 – I will praise thee; for I am fearfully and wonderfully made: marvellous are thy works; and that my soul knoweth right well.
Proverbs 31:30 – Favour is deceitful, and beauty is vain: but a woman that feareth the Lord, she shall be praised.
Philippians 4:13 – I can do all things through Christ which strengtheneth me.
1 John 3:1 – Behold, what manner of love the Father hath bestowed upon us, that we should be called the sons of God: therefore the world knoweth us not, because it knew him not.
1 Peter 2:9 – But ye are a chosen generation, a royal priesthood, an holy nation, a peculiar people; that ye should shew forth the praises of him who hath called you out of darkness into his marvellous light;
Ephesians 2:10 – For we are his workmanship, created in Christ Jesus unto good works, which God hath before ordained that we should walk in them.
Luke 12:7 – But even the very hairs of your head are all numbered. Fear not therefore: ye are of more value than many sparrows.

Conclusion Affirmations For Self Confidence
Say these, Positive affirmations for self confidence and self-esteem daily. You will see your life transform in more powerful, more uplifting, and precious ways.
Thanks for reading! To share your thoughts or questions, drop a comment below and sign up to my newletter to receive more great posts like this.
Read my Other posts on encouraging and empowering yourself daily here
Newsletter