What to wear on a first date is a question everybody asks as soon as they know they are off on a date.
You don't want to show up looking like you just rolled out of bed, but you also don't want to wear something so formal that you'll feel out of place.
What should you wear on a first date?
Never fear – my guide will help take the guesswork out of dressing for your first big date. 
Listing tips for the perfect outfit to choose and the right accessories.
I'll make sure you look and feel your best.
What To Wear On A First Date
First dates can be a challenge, even if you have been on many in the past.  
There is a lot of pressure to do everything right and look your best for each date.
Whether it is a candlelit dinner at a fancy restaurant or an afternoon with some friends at the movies, there are certain tips that women should follow to look their best for first dates.
Here are some of the most important things to remember about what to wear on a first date.
1.Dress Comfortably On Your First Date
A vital part of looking great for a first date is feeling comfortable in whichever clothes you choose.  
Wearing comfy clothes that fit well will ensure that your day or night goes smoothly.
Avoid wearing clothes that are too tight, too loose, or anything that would be restricted to you or your date.
2)Be Yourself On Your First Date!      
It is also important not to try too hard when dressing for a first date. 
While it's great if you want to look nice for your date, it can become a problem if you try so hard to impress your date that you forget to have a good time.
Don't let the clothes you want to wear be more important than spending some quality time with a new person.   
3)Wear Appropriate Clothing On A First Date 
In addition, it is vital that you dress appropriately for whatever activity will be taking place on your first date.
Clothing that you would wear for a casual outing is much different from appropriate clothing to wear on a dinner date at an upscale restaurant or theater.
4)Wear Clothing That Makes You Feel Good       
If the event of your first date will be casual, such as going to the movies with some friends or just meeting up somewhere, then feel free to dress casually.
Jeans, t-shirts, and boots are always great choices for casual first dates.
However, if your date is more formal in nature, you should change into clothing that will reflect the type of event you will be attending.
For example, pretend you have a date with a guy that likes to go wine tasting.  
You would follow the informal attire for your first date and then change into something more formal before going on an outing that is very classy.
5)Wear The Right Accessories        
Make sure that you wear accessories that will match your outfit.
For example, if you are wearing a dress that is bright red, then your purse should be something basic and black or brown to avoid clashing with the outfit.   
6)Wear The Right Makeup and Hair Accessories       
When it comes to your hair, choose a style that you know will be easy to maintain for the whole day or night.  
For instance, don't try out a new hairstyle if you're not sure how long it's going to take to get ready before your first date.
Makeup is another important accessory.
You will want to wear some makeup on your first date, but remember that less is more.  
Keep it simple so you don't look like you are trying too hard or have too much makeup on. 
A safe place for makeup would be to wear a natural look or something that enhances your natural features.
7)Exude Confidence On A First Date    
This will help you to feel better about yourself and project this feeling to others.
Your main goal when dressing for a first date should be to make sure that you look beautiful, but in an effortless way.
Try to wear clothes that you know fit well and show off your best features. 
It is also important to keep out of your mind the idea that you are dressing for another person; rather, dress for yourself. 
Choose outfits that you know you'll feel proud to be in when your date is taking place.
8)Wear A Signature Scent               
When it comes to clothing and accessories, choose items that will not only look great on you but also smell good. 
Picking a signature scent can help your chances on a first date as well.
If you wear an outfit that has a great fit and accentuates your best features, and also includes a fragrance of your choosing, it will create the perfect combination for success.   
9)Wear The Right Undergarments On A First Date  
If you are wearing a strapless dress, wear a strapless bra or pasties to avoid exposing yourself during your first date.
Undergarments are an essential factor in dressing for a first date because they can help reduce the risk of embarrassment that comes with any new dating experience.   
10)Wear Red/Black
Studies have shown that wearing red or black can increase your chances for success on a first date.
Red is said to be an attractive color, so wearing this shade during your outing may help you catch the attention of your date and others. 
And since black is considered to be classy and sophisticated, wearing it will show that you are serious about making a good impression with your date.   
11) Wear Silver/Gold
Silver and gold are great choices for women as well. 
Not only will you stand out in a crowd, but these tones also indicate that you have class and sophistication.   
12) Take Note Of What Other Women Are Wearing Before Your First Date
If your date is taking place at a classy restaurant, go to one in the evening and take note of what other women are wearing. 
This will help give you great ideas for an outfit that is fit for the occasion.
13)Dress To Impress          
Unless you sincerely do not care how you come across to others, always dress as if you are going to meet your date's parents for the first time. 
You should dress up in a clean and pressed outfit so that you can be sure that you will catch your date's attention.
14) Dress For The Weather
If you are unsure of the weather forecast, dress in layers so that you can be prepared for any sudden changes. 
You don't want to find yourself having to cut your date short because you're too cold or hot.
15) Wearing Orange May Be A Turn Off
Consider the downsides of wearing orange on a first date.
According to the psychology of color, orange can be a hit or miss for some.
16) Wear Comfortable Shoes
Dress for comfort when you're on your first date because it can be very stressful if you're uncomfortable with what you're wearing. 
Wear shoes that are easy to take off and put back on so that you can feel comfortable at all times.
17) Avoid Clothes That Identify You As Part Of A Group/Team
This means that you should not wear any clothes with sports team logos, college apparel, or other identifying marks because this could be a delicate situation. 
If you do wear any of these items, make sure that they are not logos for teams that your date is a fan of.
It's better to avoid wearing any clothes that could potentially offend altogether.
18) Don't Wear Too Many Trends At Once
When picking out an outfit for your first date, try to avoid wearing too many trends at once because this can have a negative effect. 
Instead of looking stylish, you may look like you are trying too hard to stand out in the crowd. 
Instead, choose one trendy item to wear so that your outfit will appear more classic.
19) Avoid Bright Flashy Colors  
Wearing bright, flashy colors will draw too much attention to yourself on your first date. 
You may find that it is distracting for everyone around you because of how bright your clothes are. 
If you want to wear a bold color, make sure that the rest of your outfit is classy and toned down.
20) Match Your Colors Correctly
You want to make sure that the colors you wear on your date match, but do not overdo it by wearing too many bold colors at once. 
For example, if you are wearing blue jeans and a pink top, don't forget to add accessories in green. 
This will help create a cohesive look instead of shocking eye-catching outfit.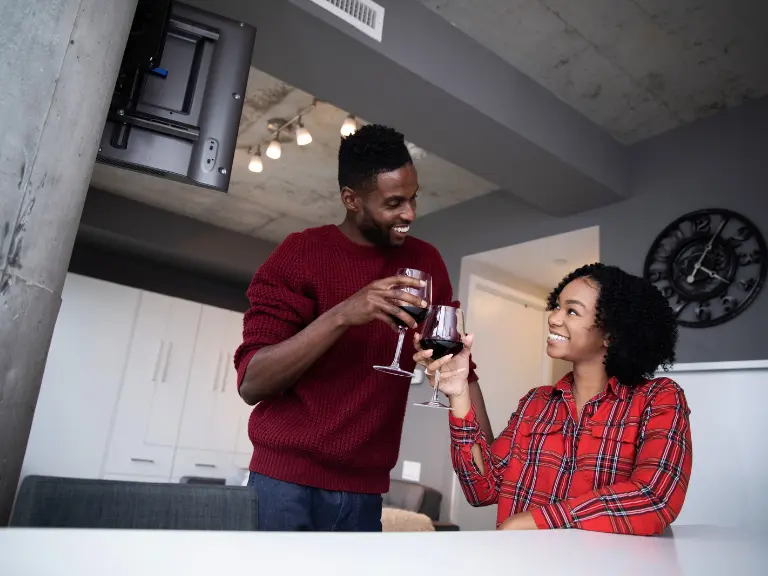 21) Show Off Your Best Assets
One of the best ways to wear first date clothes is to show off your best assets. 
For example, if you have great legs, wear a short skirt or dress that ends just above the knee. 
If you have a great neckline, wear a tight-fitting shirt that allows for minimal cleavage. 
This will ensure that your date focuses their attention on the areas of your body that look great in a decent manner, and makes for a perfect outfit for a first date.
22) Choose Casual Outfits With Class  
Dress in clothing items that are classy and can be dressed up for a date night. 
Choose casual outfits with class so that you can remain comfortable without sacrificing your fashion sense.
23)Don't Wear Clothes With Stains/Spots on them
You want to make sure that you are dressed impeccably for your date, especially if it is your first time meeting this person. 
Wearing clothes with obvious spots or stains can be an easy way to draw negative attention.
24) Stay Away From Overly Sexual Clothing
Even if you are not trying to seduce your date, you still want to stay away from overly sexual clothing because it can be distracting. 
You may find that your date is focused on what you are wearing rather than actually having a conversation with you.
25) Don't Wear Clothes That Are Too big
When picking out clothing for your first date, avoid wearing clothes that are too big or baggy. 
You want to wear something that fits you well because this is a positive reflection on your choice of outfits, especially if it is a first date.
26) Hats, Scarves, and Other Headwear
Hats, scarves, and other headwear can be great accessories for your first date outfit because they are easy to take on and off. 
If you do not like wearing hats or other types of headgear, choose a different accessory instead.
27) Dress Appropriately For Your Age
It can be tempting to try and dress more mature or younger than you actually are when dating. 
However, dressing appropriately for your age is better because it will ensure that you do not look out of place when on a date with a significantly older or younger person in comparison to you.
Conclusion
So, what should you wear on a first date?
The answer is simple: whatever makes you feel confident and beautiful. 
It's important to dress in a way that reflects your personality and style, so you can feel like the best version of yourself. 
If you need some more help getting started, take a look at some of my other elegant style posts for outfit inspiration. 
And remember, when in doubt, go with classic pieces that will always make you look polished and put together. 
Good luck on your next first date!
Be sure to check out my other posts for even more ideas regarding Elegant Style, Fashion Tips, Quotes, Affirmations, Bible Verses,  Realities Of Life, and general Self Empowerment topics uplifting women daily.