Hey there! Some links on this page are affiliate links which means that, if you choose to make a purchase, I may earn a small commission.This does not influence my evaluations. My opinion is my own.
A-line dresses are fitted from the shoulder down into a straight line, then flare out around the knees or below. 
This type of dress is known as an A-line dress because it follows the letter A in shape. 
For practical Tips on how to dress this style read this helpful article.
What Is An A-Line Dress?
A-line dresses are great for all body types because they balance out your top half and bottom half.
It's what you wear when you want to look polished and professional, but fun at the same time. 
The great thing about an a-line dress is that it makes for an easy fit if you're short or tall, skinny or curvy. 
An A-line dress is a classic style of dress that has been around since the 1950s or 1960s. 
How To Wear An A-Line Dress: Practical Tips 
One way to wear this kind of dress is by wearing heels with them for a more formal look that you can also use on night outs or weddings. 
You could even pair high wedges with your favorite A-line dress for casual outings such as going shopping at the mall during the day time! 
Pairing flats with these outfits will give off a very much relaxed vibe so if you want to go for something simple and casual then this is the best way to do it. 
Another practical thing about A-line dresses is they are very versatile, making it easy for you to change up your style every once in awhile! 
You could add different accessories such as scarfs, jewelry and even cute hats if you want to give off a fun twist to this dress style.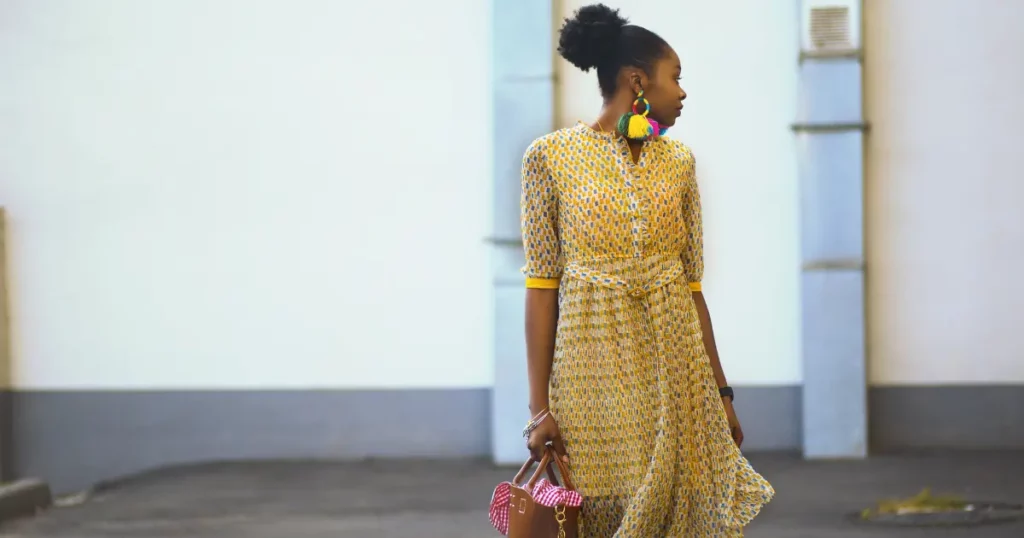 A-Line Dresses can be worn in different seasons! 
Just make sure you wear lighter fabrics during warmer months and heavier materials such as wool or cashmere for the colder weather.
You could also pair your A line dress with a blazer if it is too cold outside to give yourself that extra layer of warmth, but still look fashionable at the same time. 
The last thing I want to mention again about A-line dresses is how they are perfect for all kinds of body types whether large or thin so no matter what shape you have there is an A-Line dress out there for you! 
A good tip to finding the perfect A-line dress is by going online and looking at which ones are trending, this will help you find your style within seconds of starting out.
You could also look on Pinterest for style inspiration for the latest styles and trends! 
If you want to buy an A-Line Dress then try checking out your local boutiques or department stores that sell clothing or Amazon.  
A-line dresses are a classic style, worn by women to every function imaginable.
These kinds of dresses have been around for so long and they aren't going anywhere anytime soon, making them one of the best styles out there for school, church, travel, and weddings!
I like these A line styles so check them out here
A-Line Dresses Conclusion
A-line dresses are a great piece of clothing to own that will help you feel more confident in your daily life. 
They are easy to wear, affordable and can be worn for almost any occasion making them worth the purchase!
If you liked this post and you would like more helpful and uplifting post. Sign up to my Newsletter below.
Newsletter