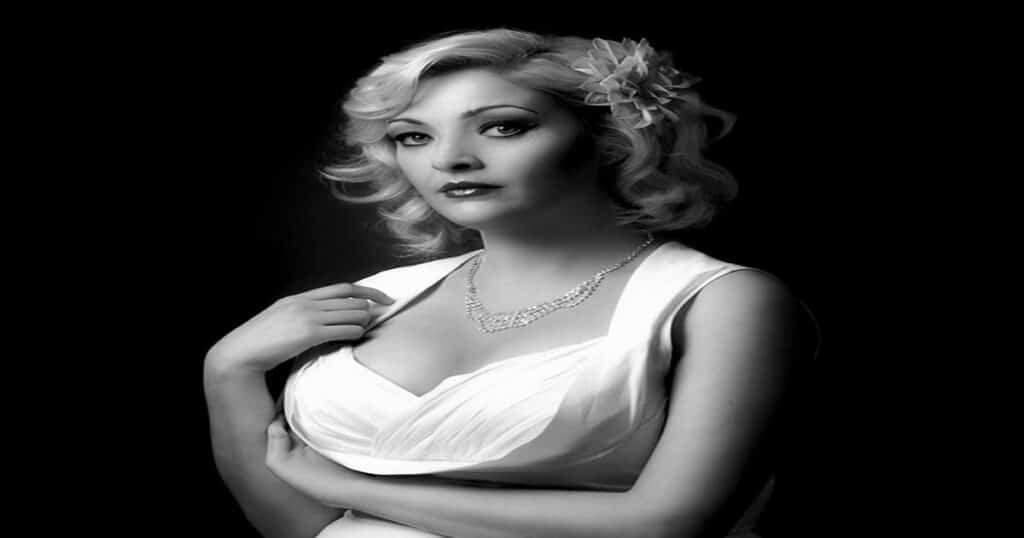 What are the types of necklines? I'm assuming they need to know this, so they can dress and present themselves to the world as a classy and elegant woman with style.
There are many types of women's necklines you can find around in women's clothing.
Online and in the stores, but I'm assuming that you would like to know exactly what they are called so that when you see them around, you can call them by their neckline names.
Below, we will take a look at 21 types of necklines that women purchase on a daily basis, and have in their closets that give them that personal style when it comes to different types of necklines on fashionable outfits.
What Are The Types Of Necklines
Here are 21 different necklines to try
What Are The Types Of Women's Necklines — Camisole Neckline
The camisole, or cami, is a type of neckline just above the bust line. It is held by straps over the shoulder known as spaghetti straps. It has no sleeves and can be worn on its own or underneath clothing.
Camisoles are a winner with women because of their versatile benefits.
Dressed casually or elegantly, it always looks beautiful when worn.
For jewelry accessories, depending on the neckline, of the camisole and whether you are wearing it alone or under something. You can opt for a dainty necklace with a pendant.
And if you're looking for the perfect accessory to wear with a camisole, why not try a pretty scarf?
Scarves can be draped around the neck or shoulders for a bit of extra warmth, or they can be worn as a belt for a fun and flirty look.
No matter how you wear it, a scarf is a perfect way to add a pop of color to your outfit.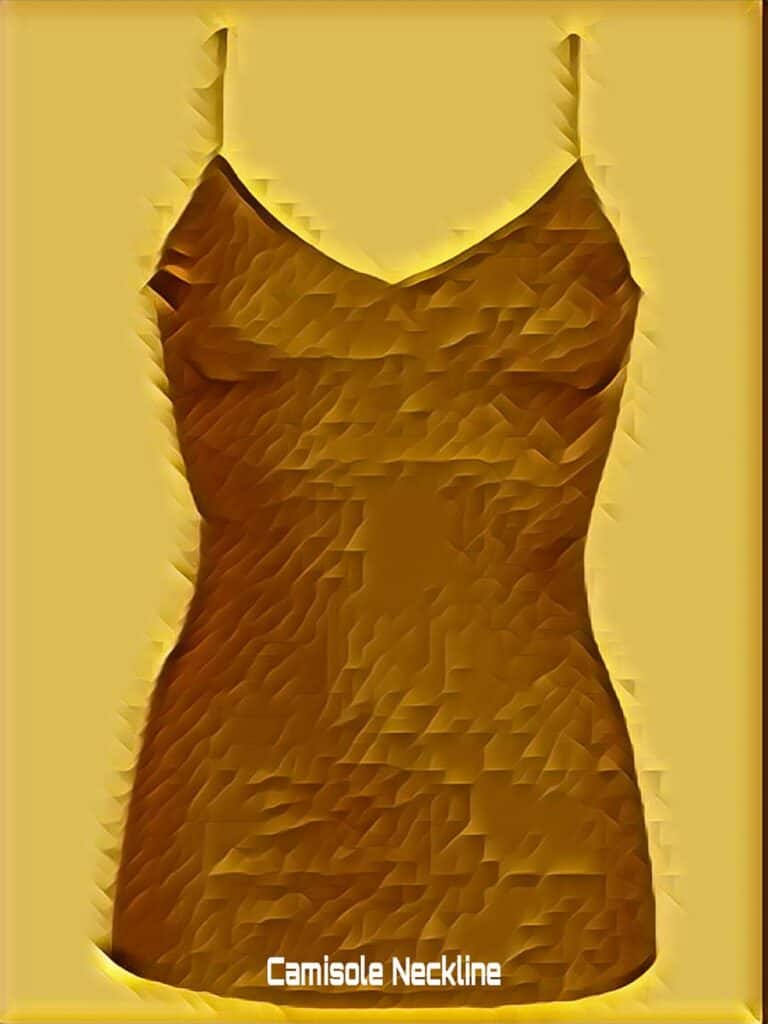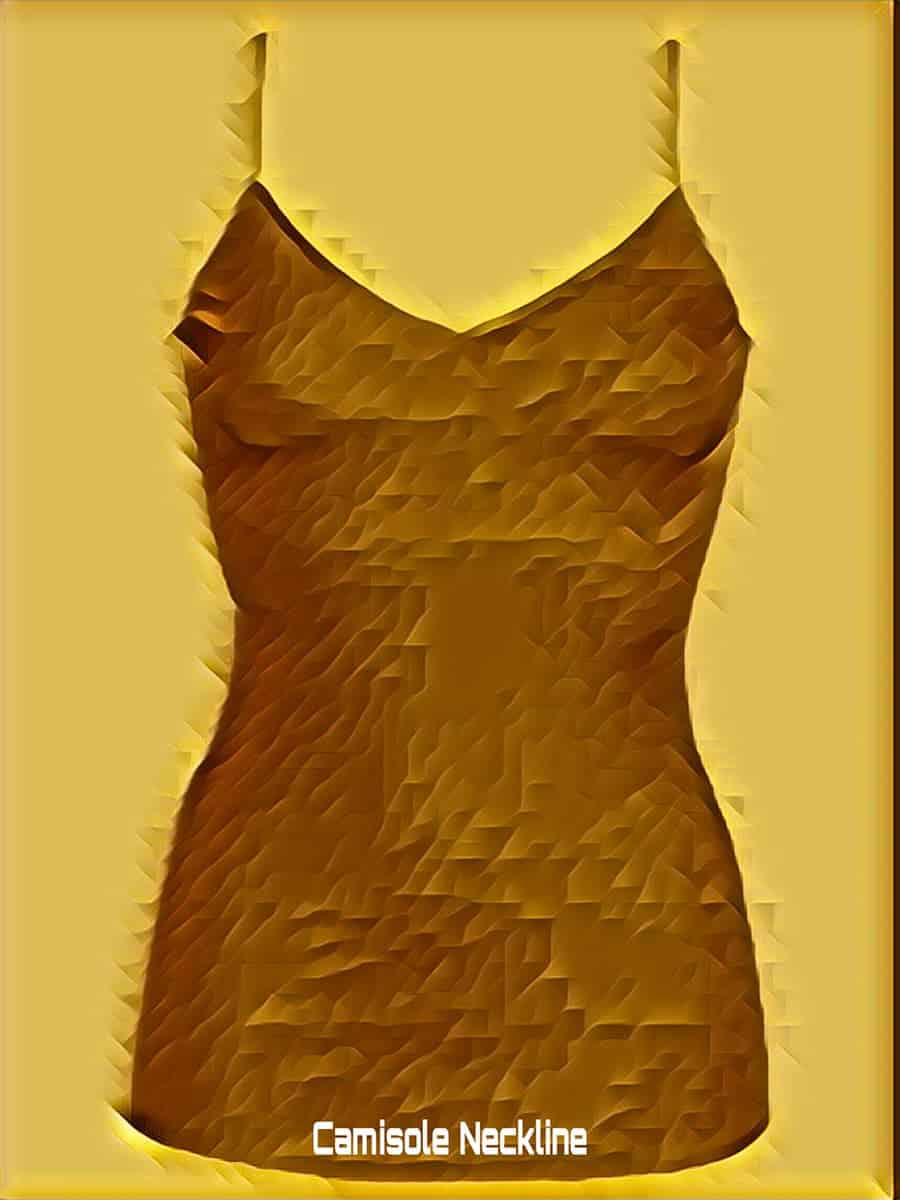 What Are The Types Of Women's Necklines — Cowl Neckline
A cowl neckline is a type that is cut from a bias with enough loose fabric that creates folds either at the back or front of the blouse.
A fashionable neckline that is designed to show off your upper chest area or a little cleavage, all depending on the length of the cowl in front.
If designed towards the back, it elegantly enhances your back area, chic style.
It compliments regular or tall women, but shorter women may have a problem with the way it looks on them around the breast area.
For Jewelry accessories, having an updo hairstyle like a French twist or ponytail would look classy, with dangle earrings.
If you decide on wearing a neckpiece, a good choice would be a short, dainty, or statement necklace that starts from the neck area and sits on the collarbone. Or drops just before the cowl to make its presence known and not look clumsy.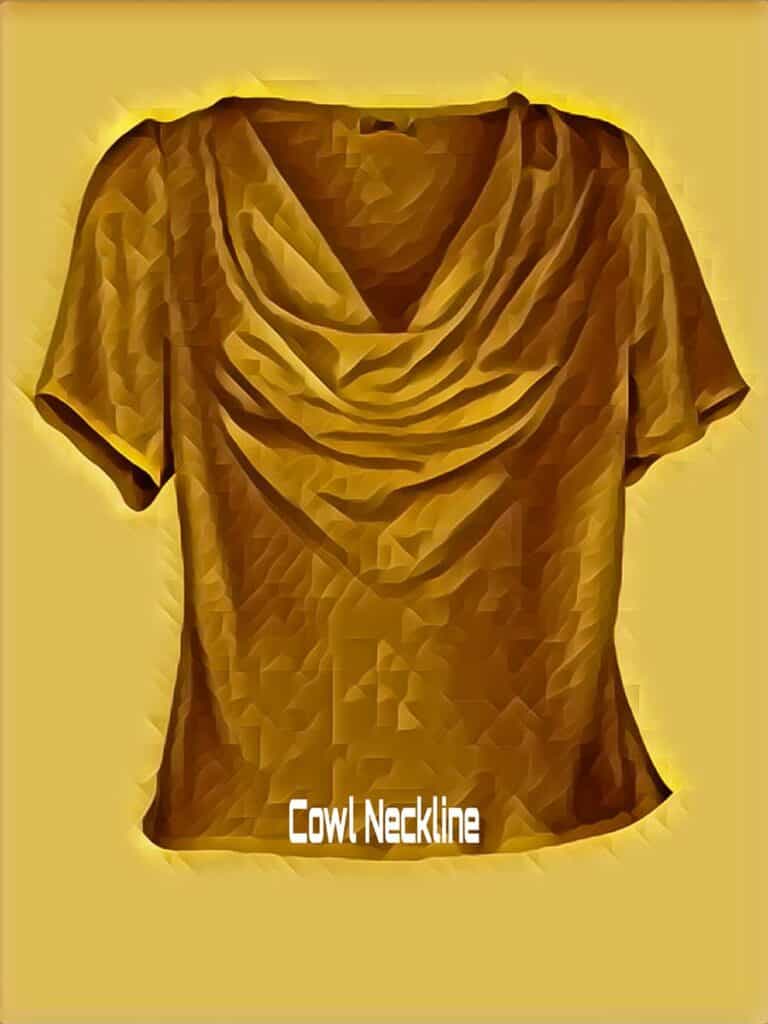 What Are The Types Of Women's Necklines — Bib Neckline
A bib neckline has a section of the clothing in the front designed intentionally into a square or oval shape going down to the waist, midway, or just below the collar bone designed with a round or collar shape.
For jewelry, a stylish updo with dangle earrings is enough to make the neckline stand out.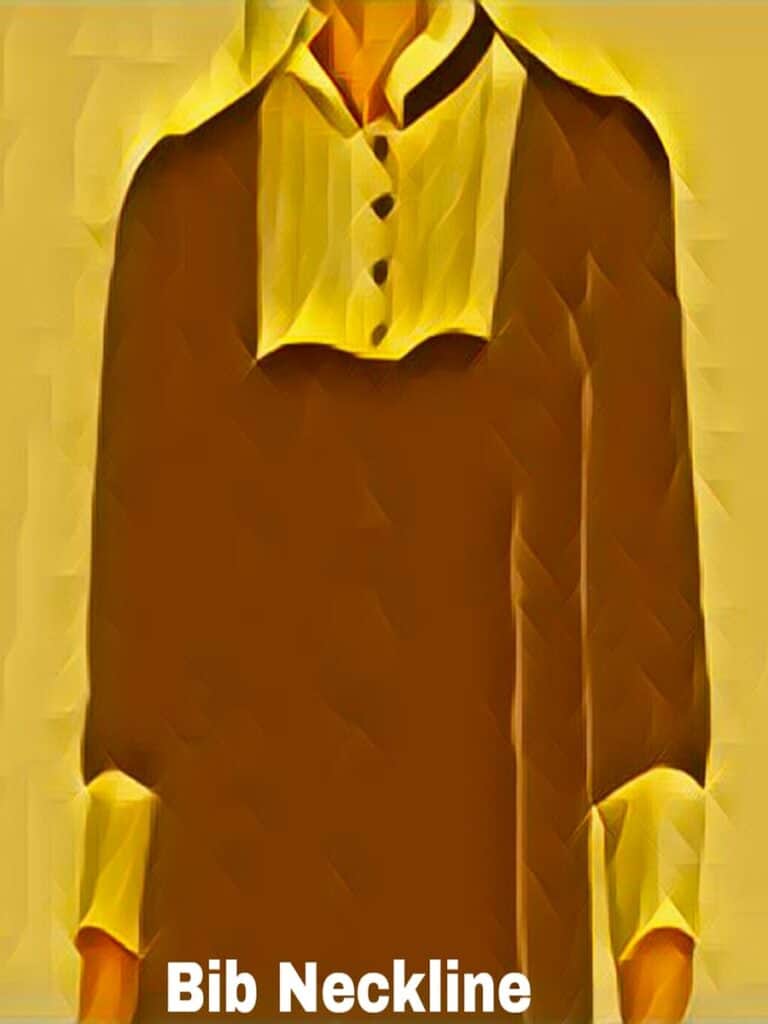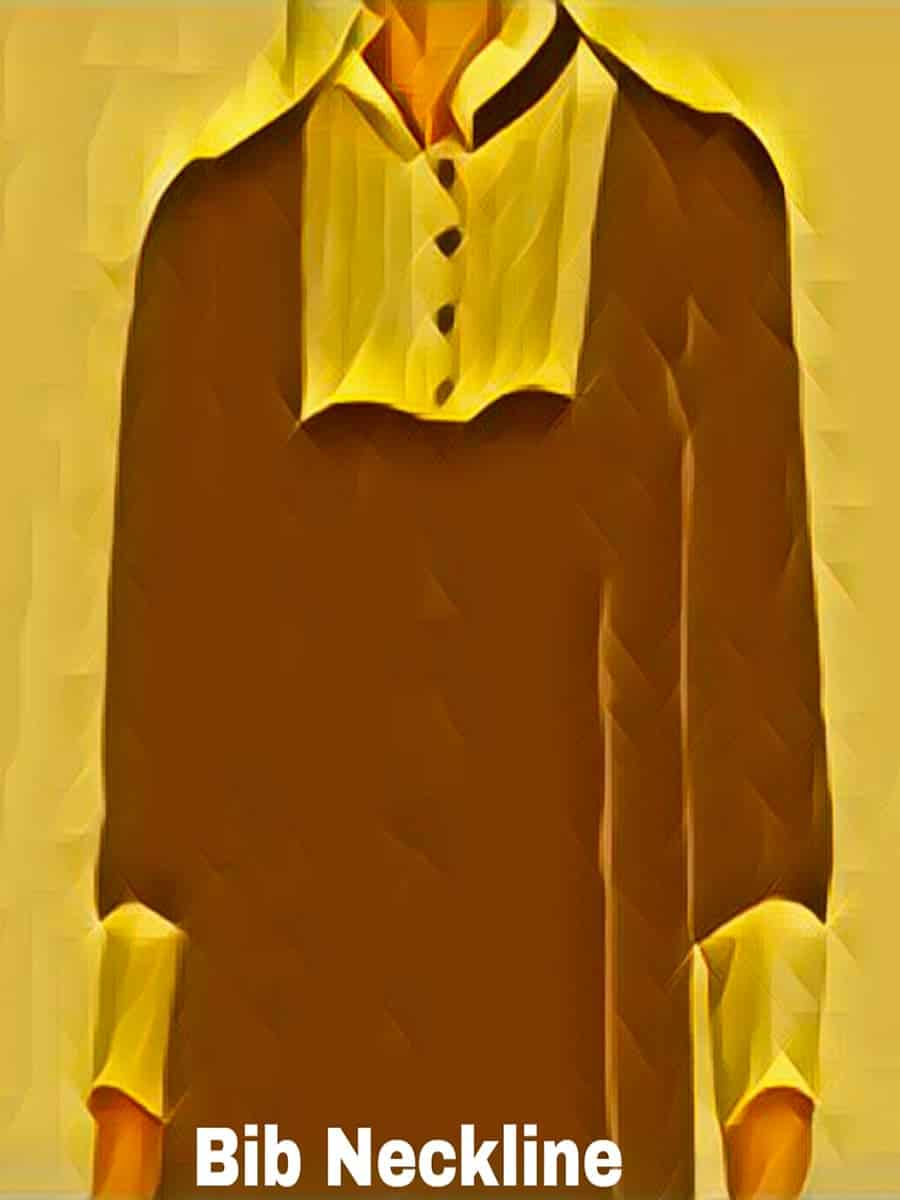 What Are The Types Of Women's Necklines — Drawstring Neckline
A drawstring neckline has a fabric gathering around the neck hem that can be pulled together for adjustment or tieing into a bow or knot for a fashionable, trendy look.
For Jewelry, concentrate on your wrist area. Statement bracelets will work nicely to bring your look together.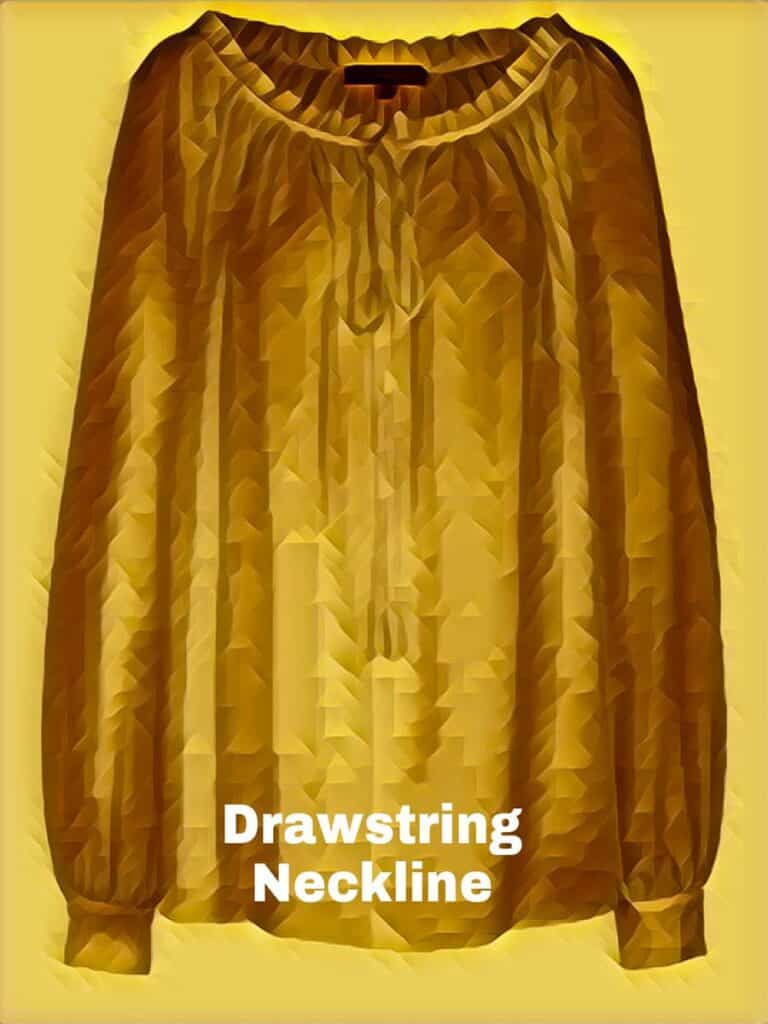 What Are The Types Of Women's Necklines — Boat Neckline
A boat neckline has a horizontally shaped design, that Is high enough to reach the collar bone area. Often mistaken for a Sabrina neckline, but this neckline is higher on the collarbone than the Sabrina neckline.
Jewelry for a boat neckline will show a classy lady on the move with a long layered necklace that sits elegantly on the clothing, showing sophistication.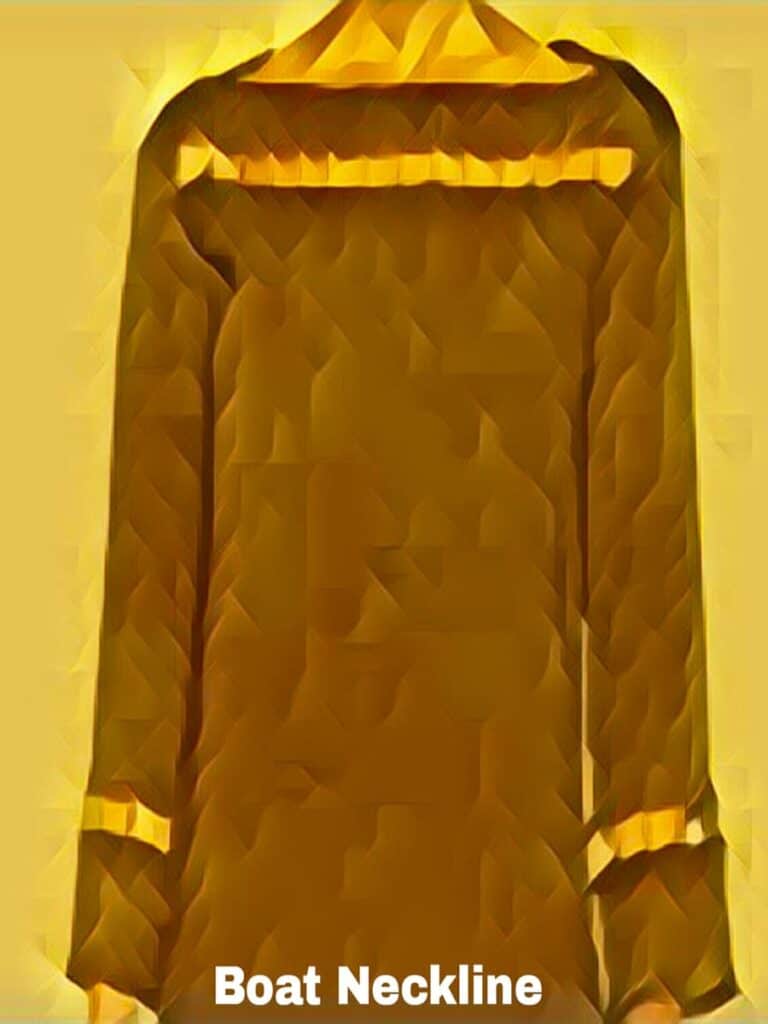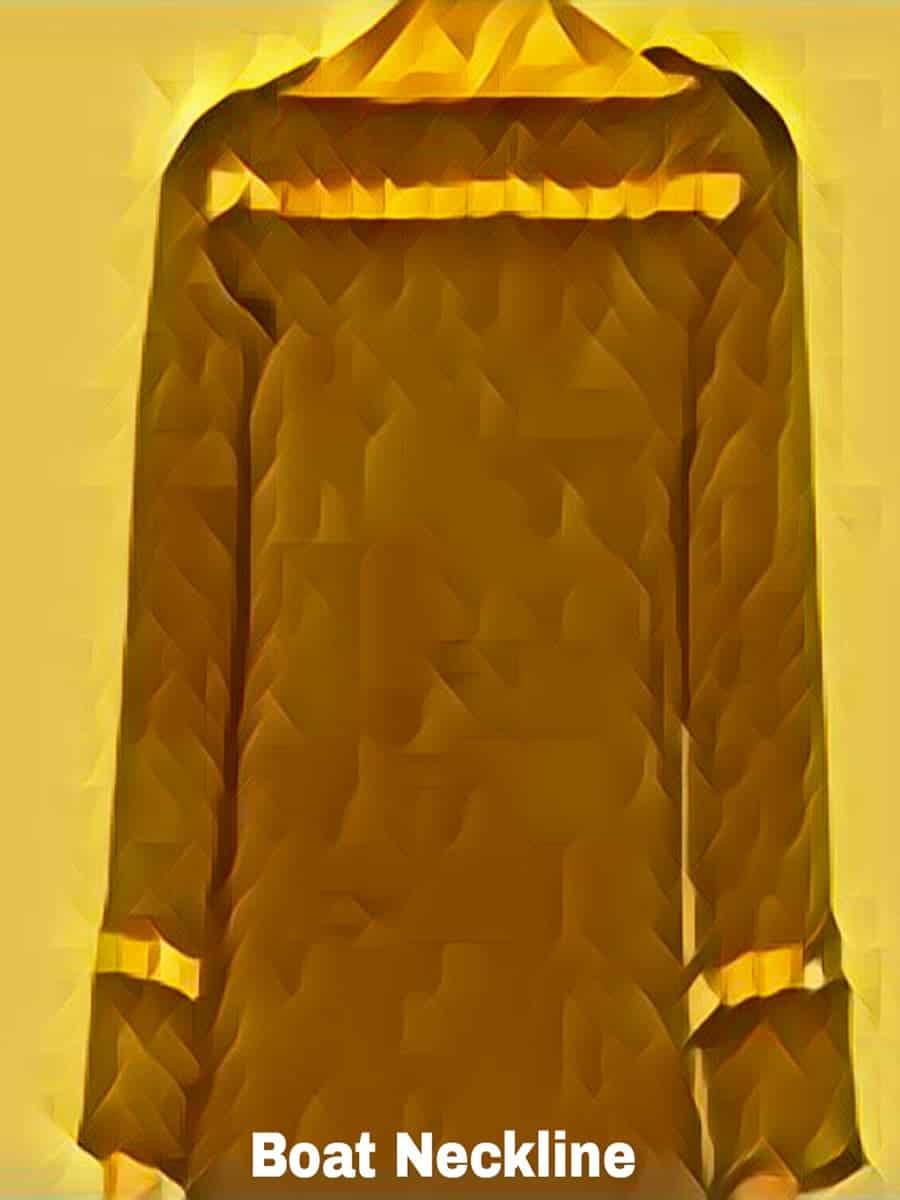 What Are The Types Of Women's Necklines — V Neckline
A V neckline has a shape like a letter V in the alphabet. Suited to all figures, it looks great on all types of clothing. T-shirts, Dresses, Blouses, and Tops.
The V-neck shape is flattering and instantly makes you look taller and slimmer, because of the way it elongates your neck.
For women who love to show a little cleavage to look sexy and sophisticated. This is a neckline you will love.
Jewelry that looks great on a V neckline is statement V necklaces or layering lariat necklaces.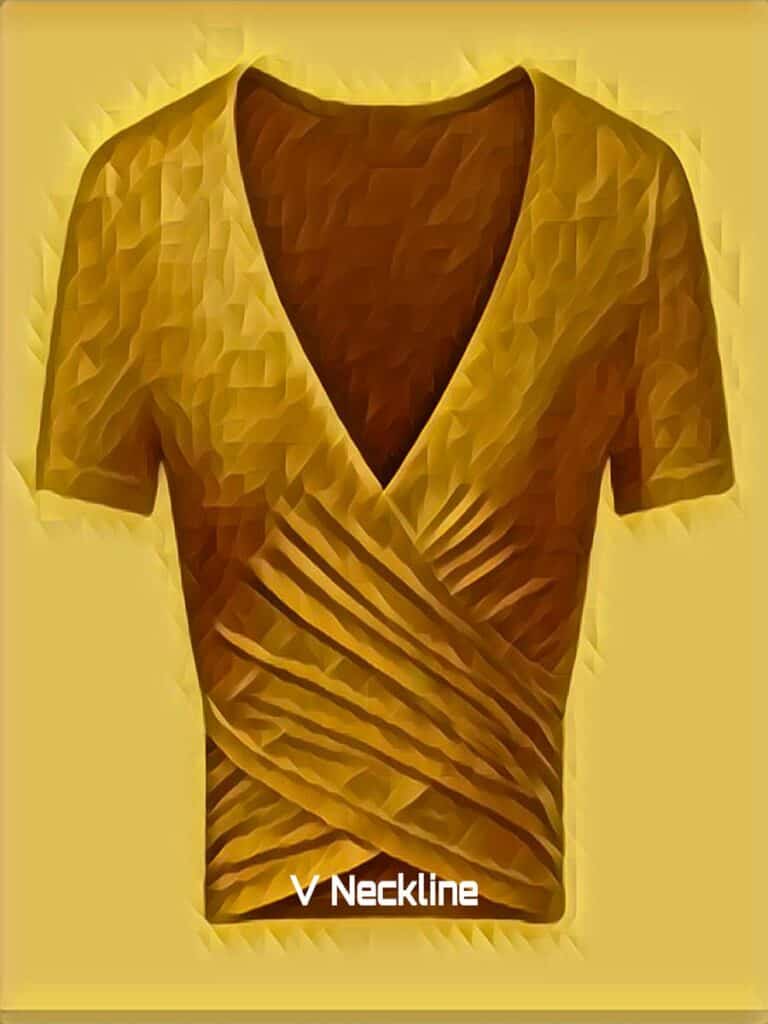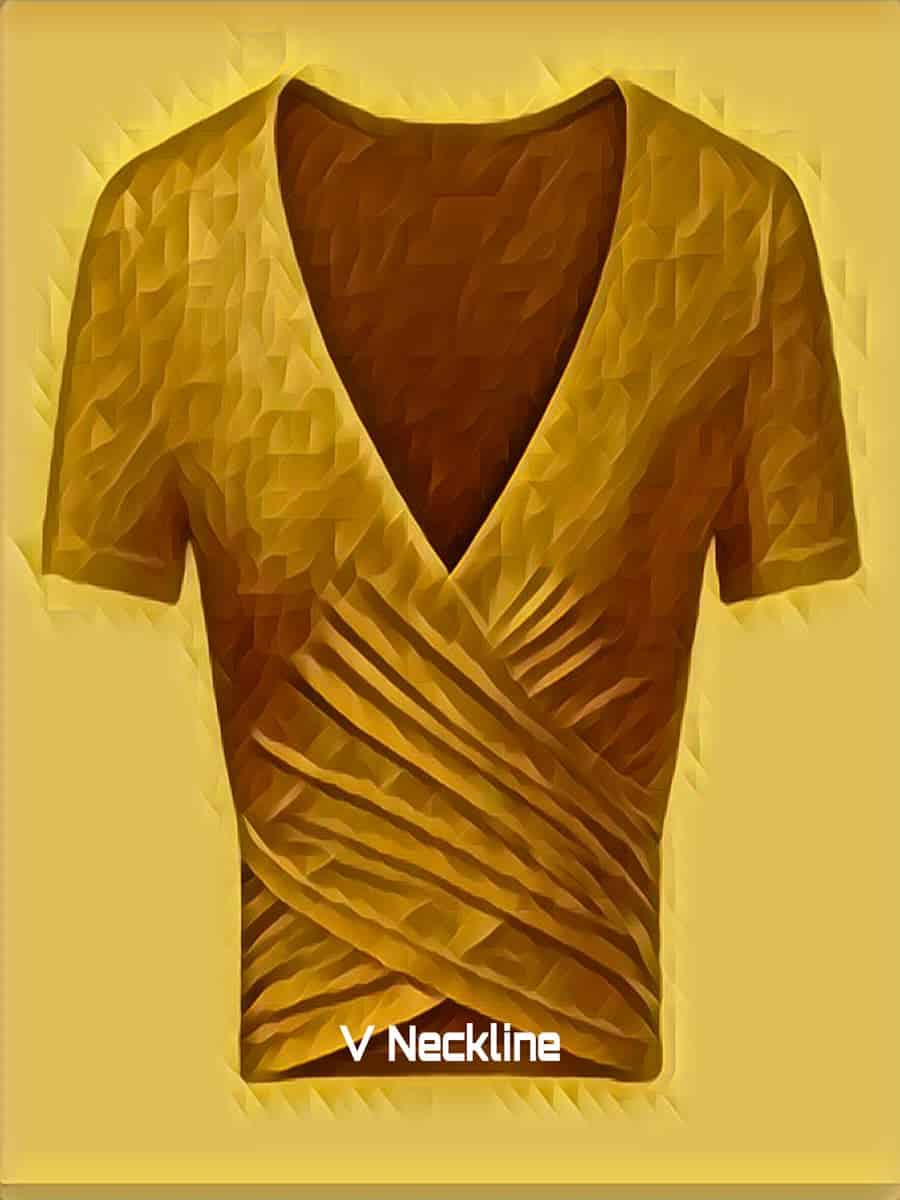 What Are The Types Of Women's Necklines – Square Neckline
The Square neckline is a sharp style, designed as a square as the name suggests, around your collarbone.
The best looking square necklines take influence from Victorian times and bring out a structured look to clothing.
A great choice of jewelry for a square neckline is a choker style or bib necklace.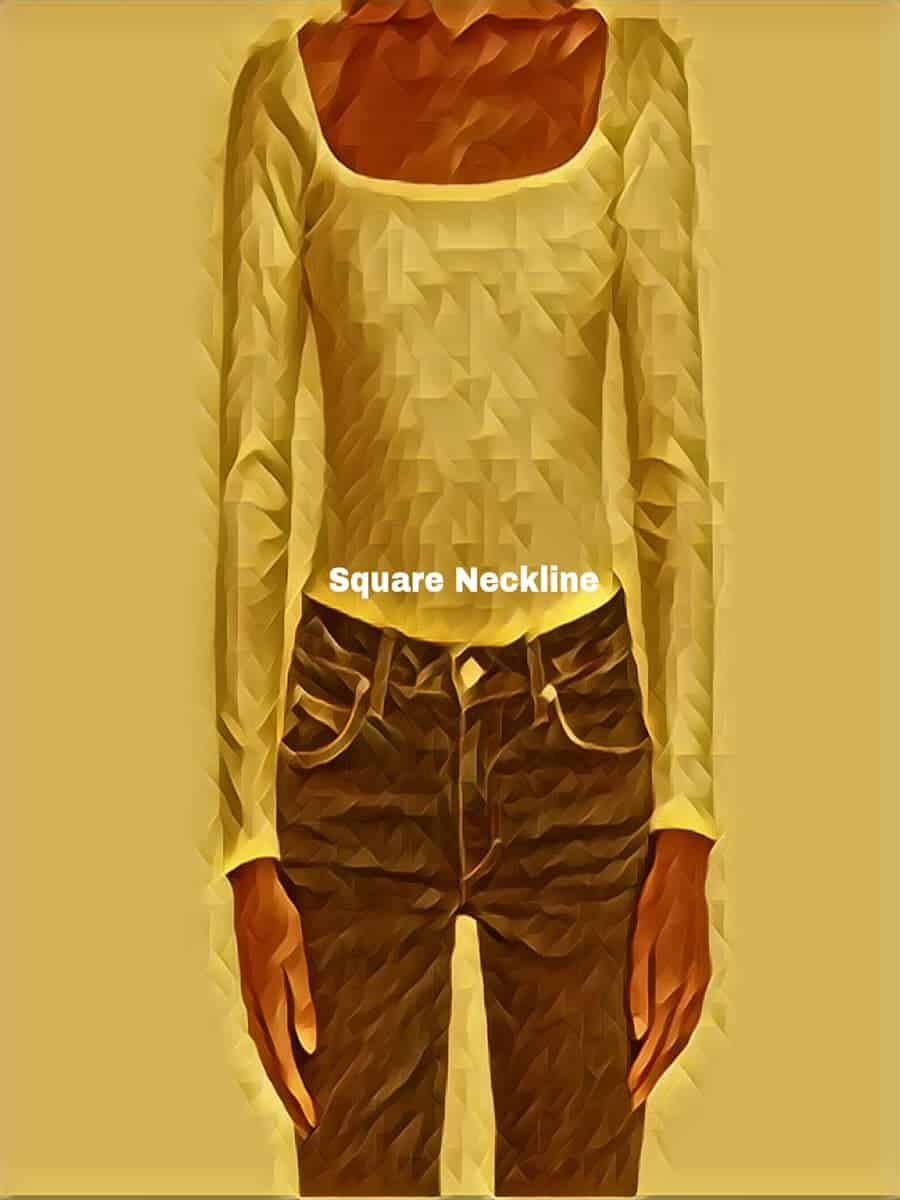 What Are The Types Of Women's Necklines — Slit Neckline
A slit neckline is with an opening in front or at the back of the clothing, enhancing the area by showing a little peep of skin. Sometimes you may find it fastened with a hook or button.
The type of jewelry for a slit neckline because of its high neckline should be targeted towards your wrist or a dainty choker coin necklace dropping at the collar bone.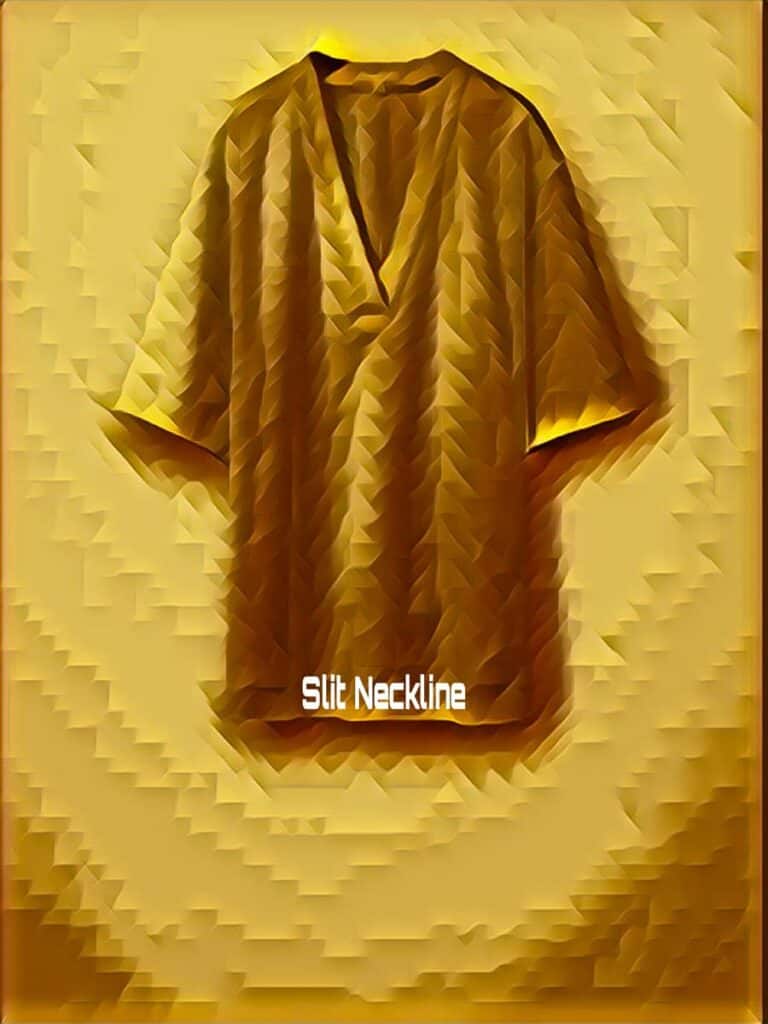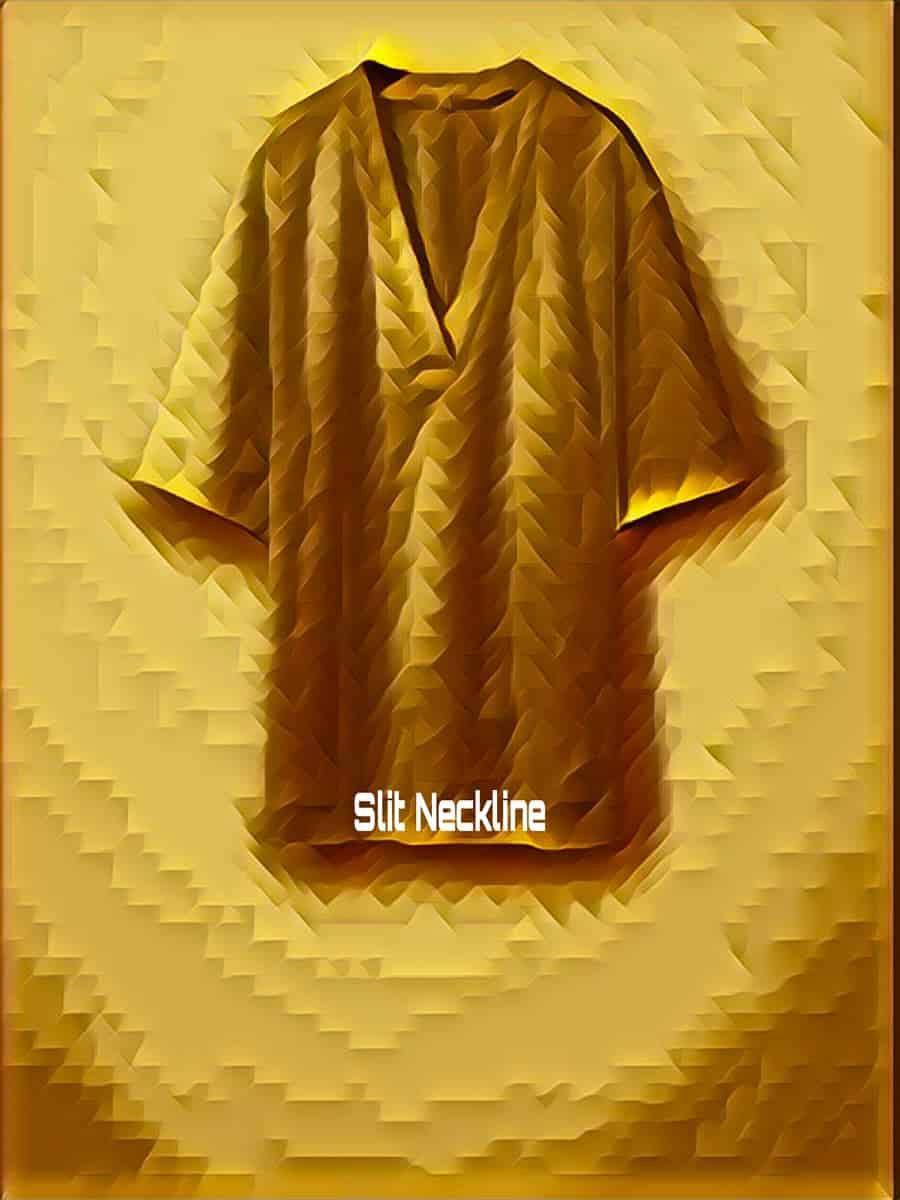 What Are The Types Of Women's Necklines — Jeweled Neckline
The jewel or round neckline is like that of the crew neckline, high up and close to the collarbone, it is mimicked as the jewel neckline because of the easy way it highlights your jewelry.
This neckline is flattering and suits most people.
The perfect jewelry would be a statement piece that tells the world about your personal style.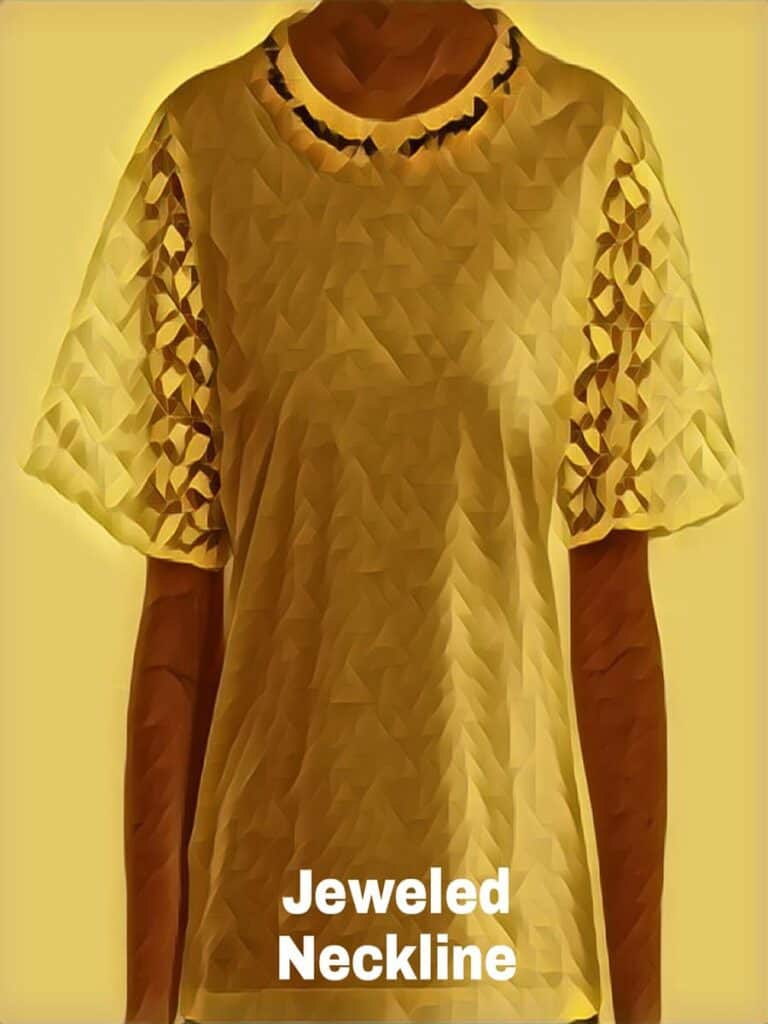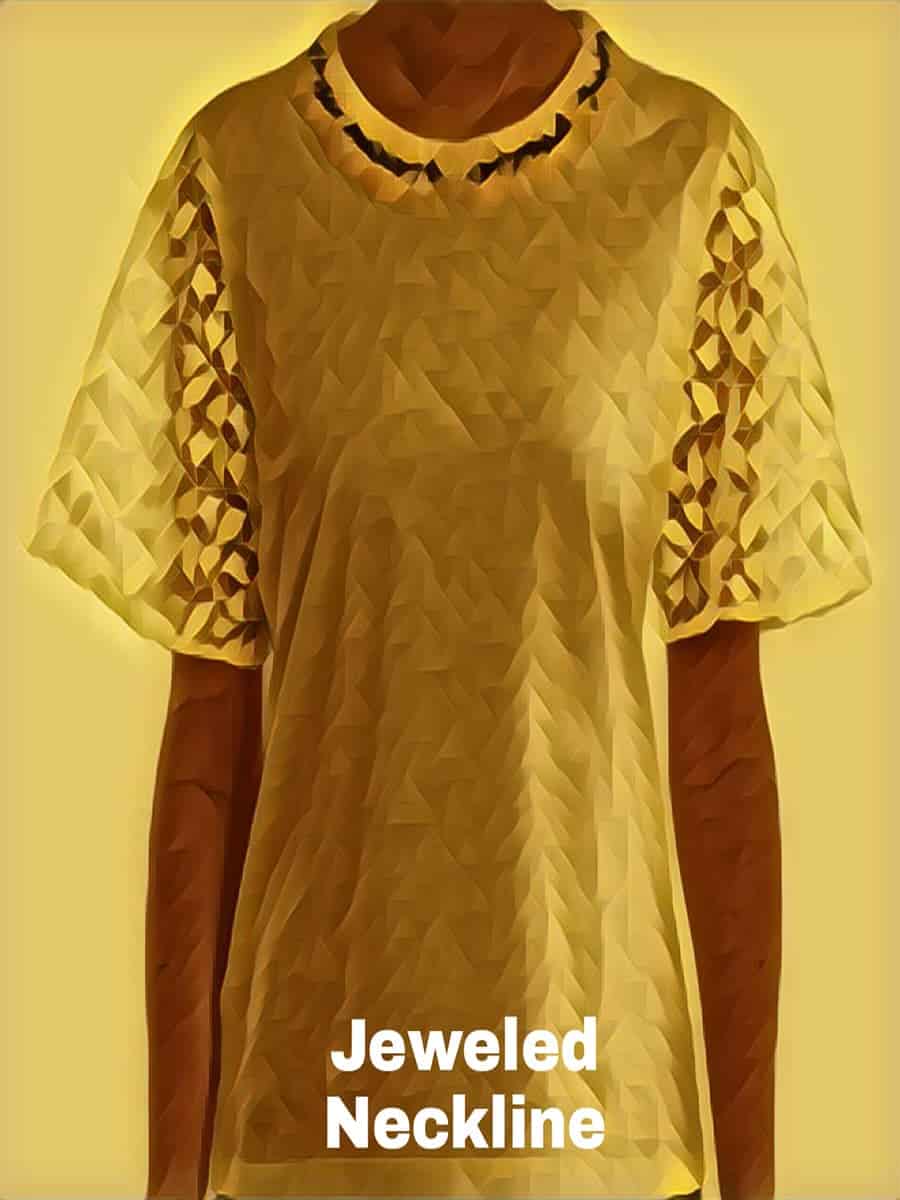 What Are The Types Of Necklines — Halter Neckline
A halter neckline is a style that has straps holding up the clothing from the front to the back of the neck, or it sits high up on your neck fastened by a button or hook.
When thinking of jewelry, an elegant style idea would be to focus on dangle earrings, or a statement ring or bracelet.
If you do decide to wear a neckpiece, because you have an open chest halter style, a slim pendant is an option.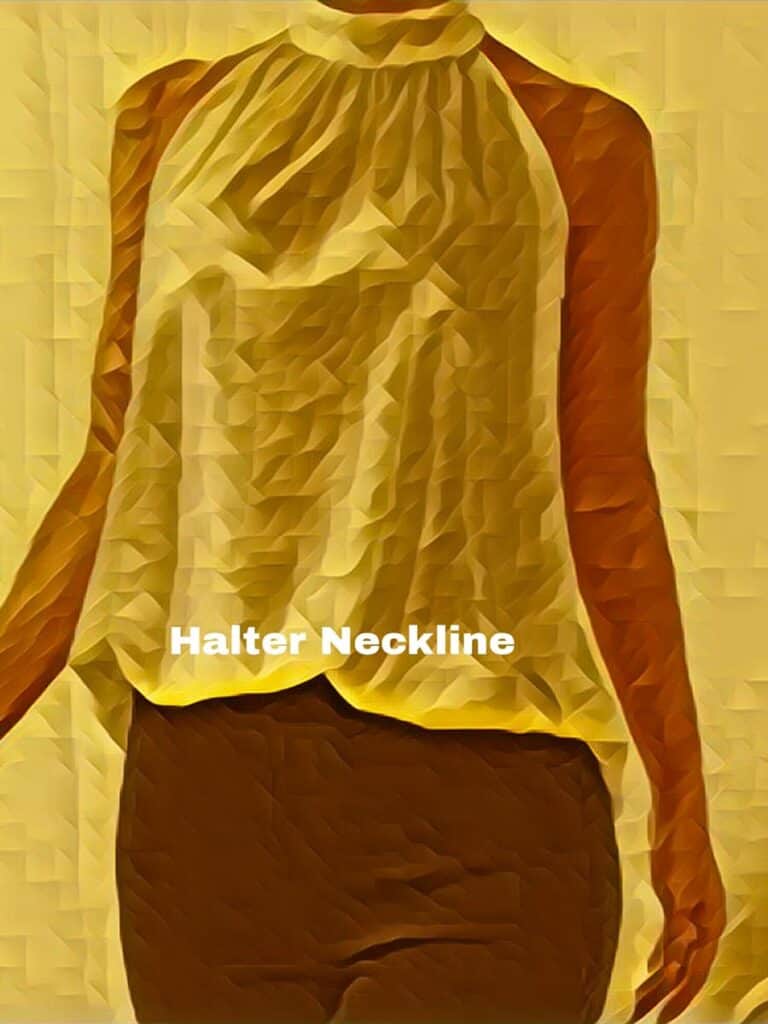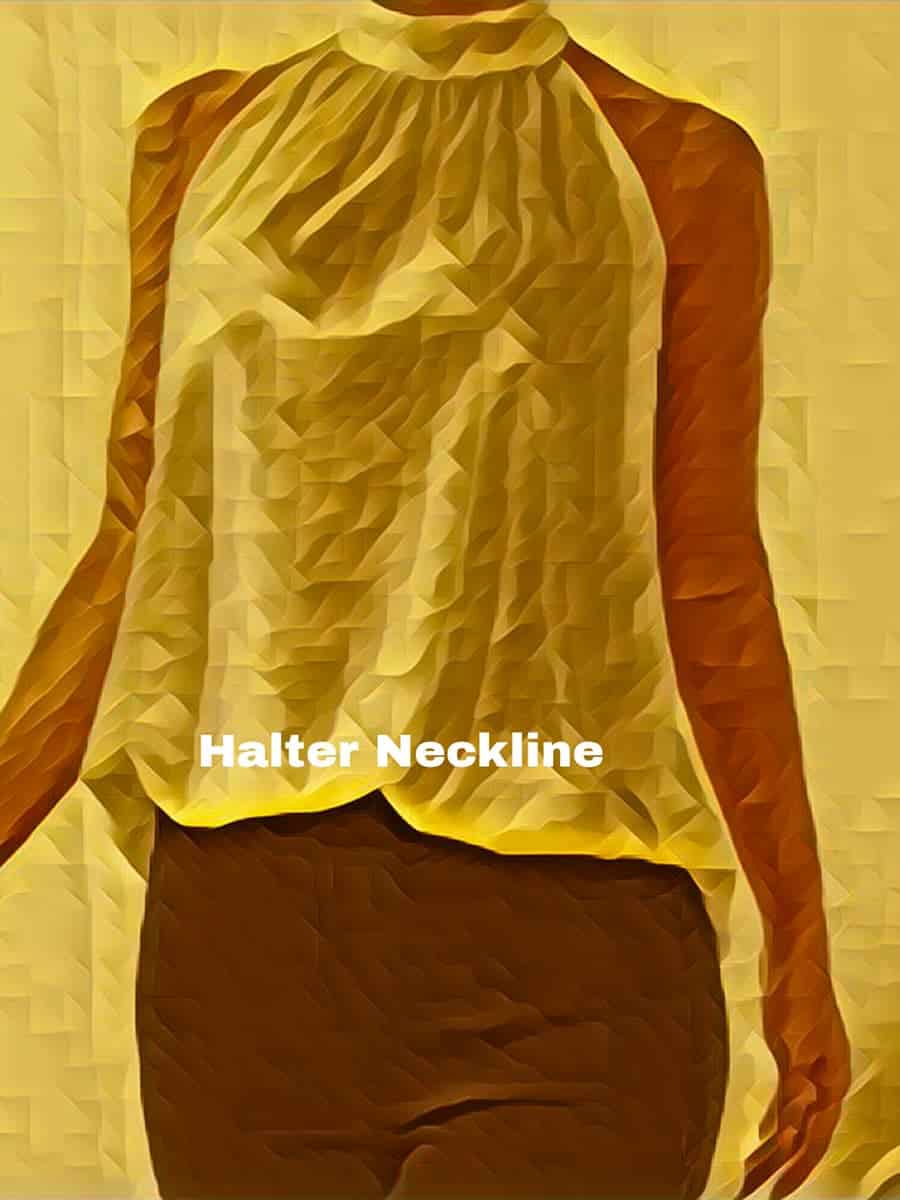 What Are The Types Of Necklines — Off The Shoulder Neckline
The Off the shoulder neckline has no shoulders and is styled to drop off your shoulders. The top part of the clothing will not stay, because it has been made to drop.
If you try to raise the style higher, you will notice it will not have a good look on you, this is because the neckline is reducing and the style of clothing is getting shorter at the top.
It is a style that keeps your shoulders bare and allows emphasis on your shoulders and collarbone.
The perfect jewelry for an off the shoulder neckline would be, a choker, or statement bib neckpiece.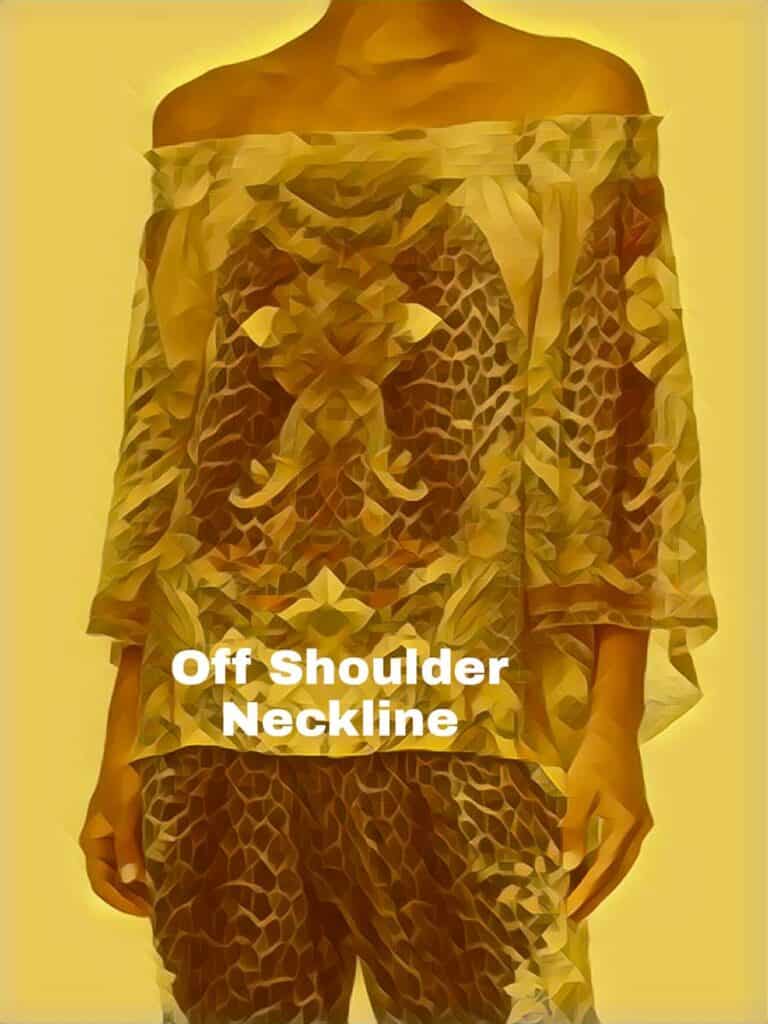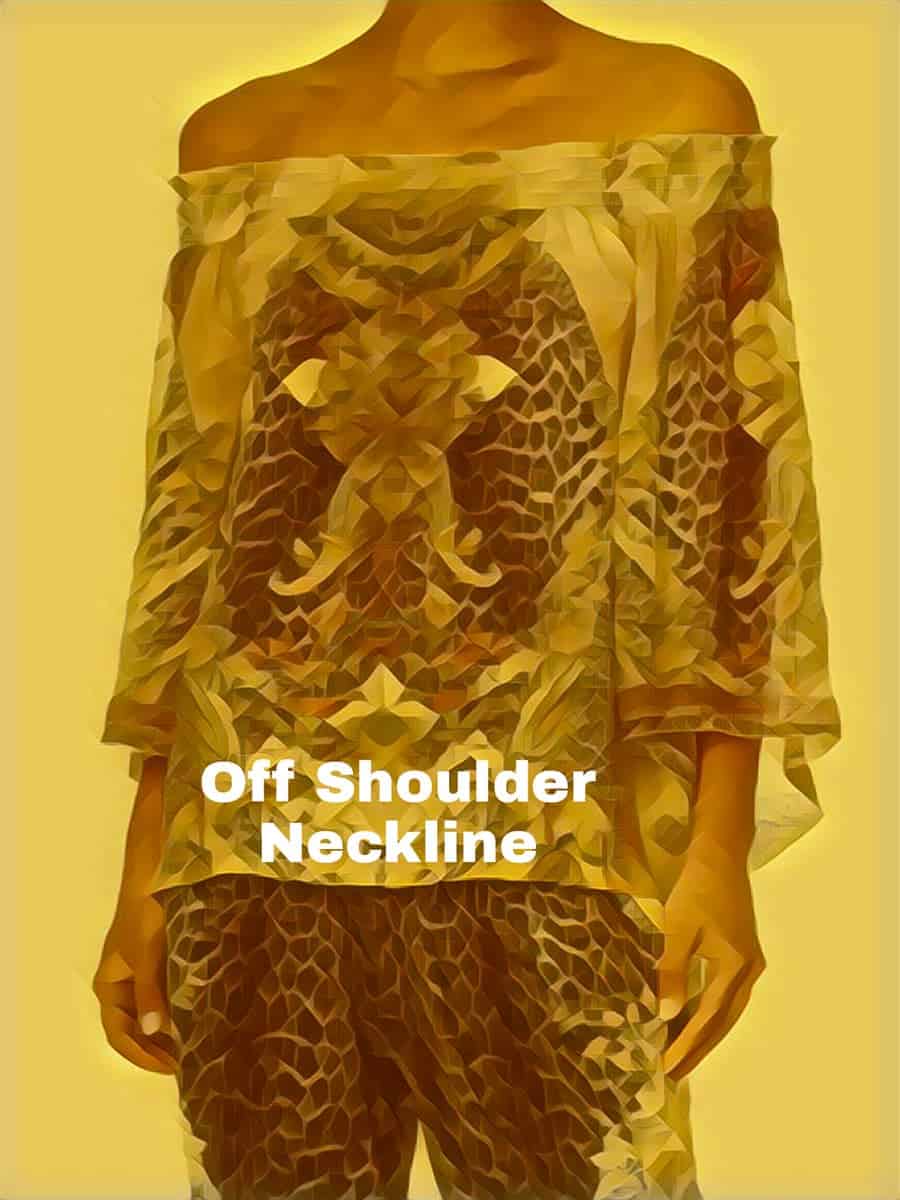 What Are The Types Of Necklines — Strapless Neckline
A strapless style is a neckline that has a band that goes around you without any shoulder straps or sleeves.
A style that enhances the beauty of your neck area and brings a classy style and elegance when worn appropriately.
A choice of jewelry for this neckline would be a choker style, dainty necklace pendant, or chunky bib statement piece,
With the right choice of jewelry neckwear, this neckline will bring out a classy and elegant lady dress style that is effortless.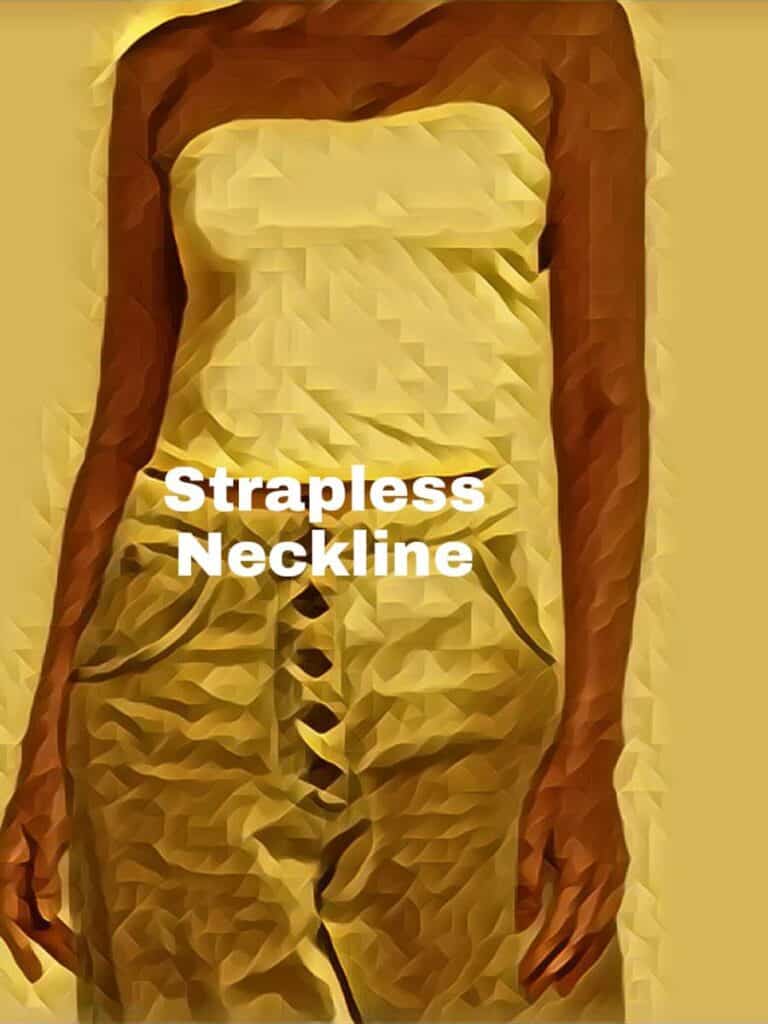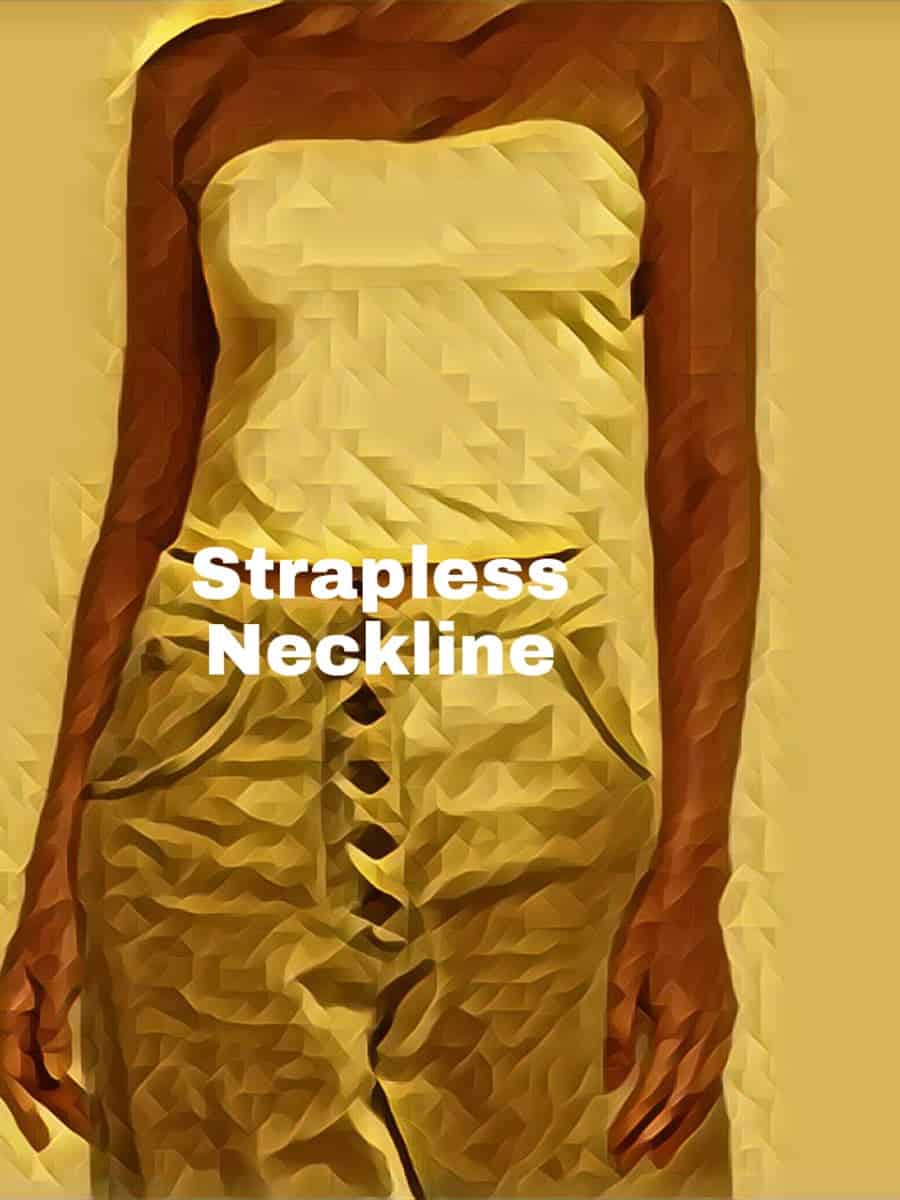 What Are The Types Of Necklines — Keyhole Neckline
The keyhole neckline has been designed with a cutout keyhole in the clothing around the chest area and can be High or low.
The keyhole can be oval or circle and elegantly styled with a hook, button, or two ropes to tie together.
This is an attractive neckline loved by many women that shows some cleavage.
If you are thinking of Jewelry for a keyhole neckline, I would opt-out, as the design of a keyhole shape brings class to the outfit on its own.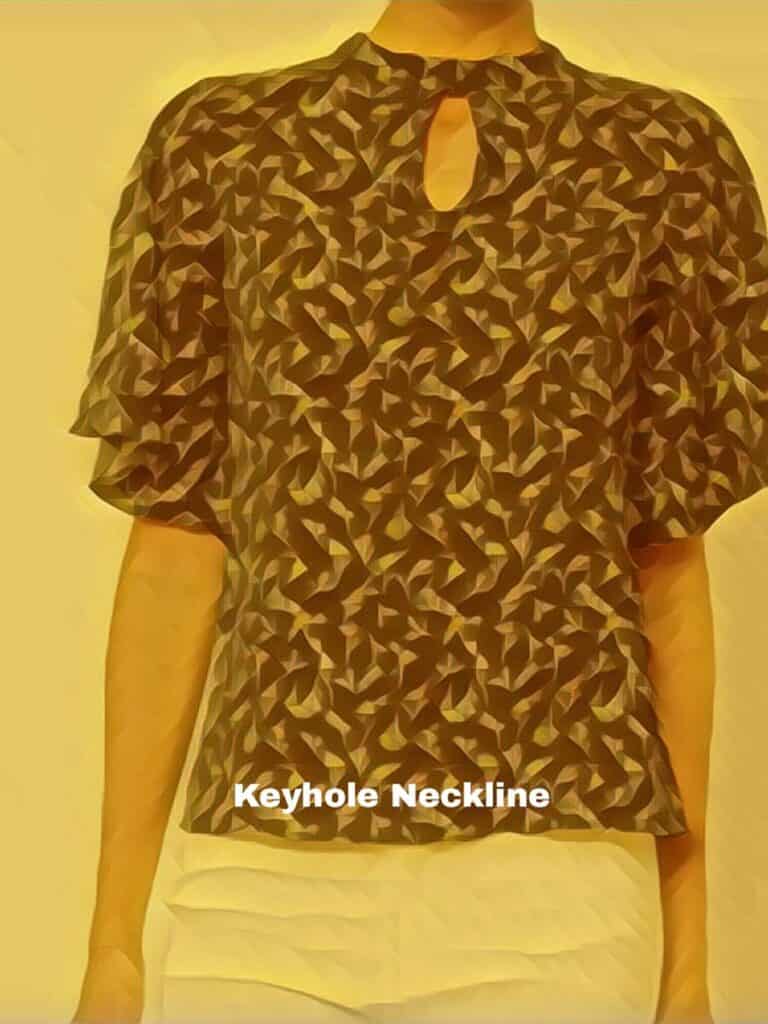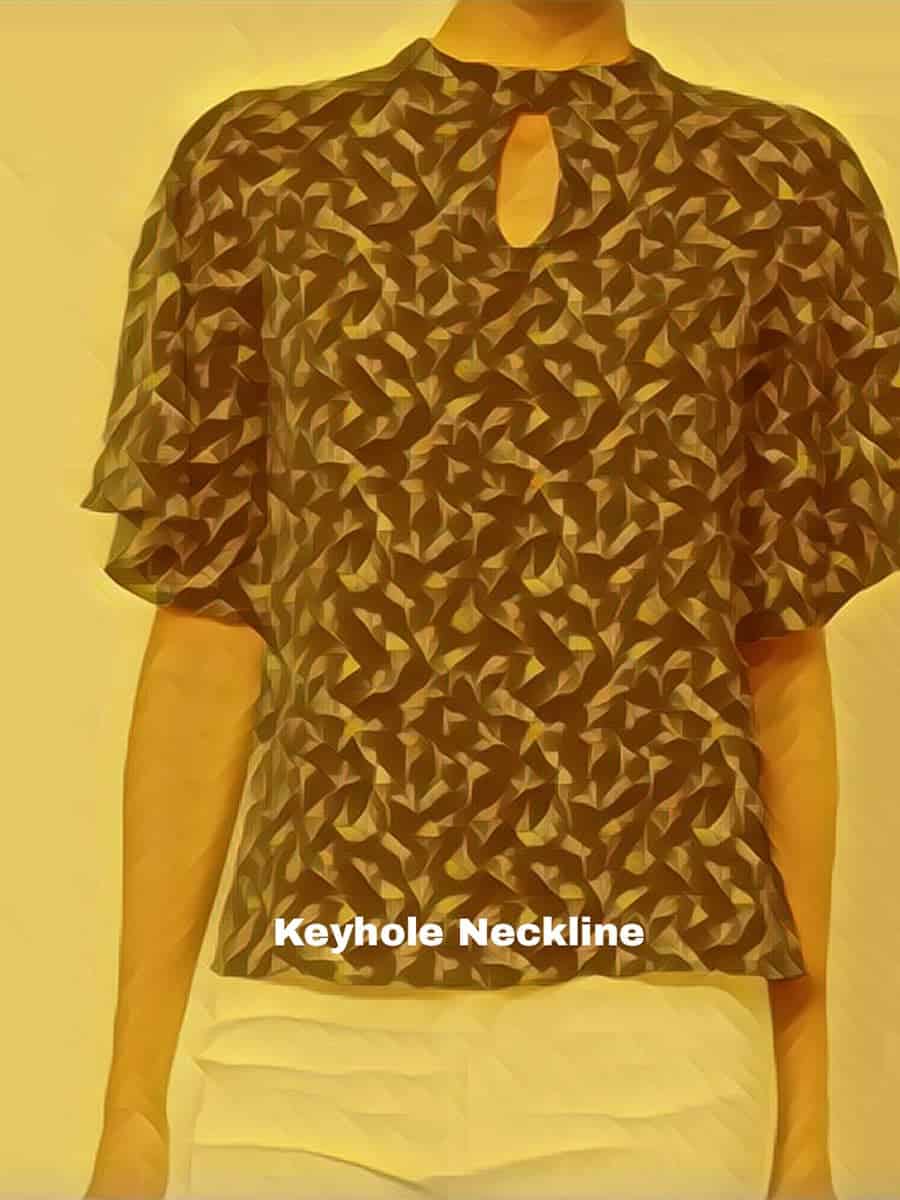 What Are The Types Of Necklines — Sweetheart Neckline
The sweetheart neckline designed in the shape of a heart has a low front that enhances the bust area modestly.
A neckline that shows the perfect amount of femininity in a classy woman's closet.
The jewelry for a sweetheart neckline can be a statement bracelet or dangle earrings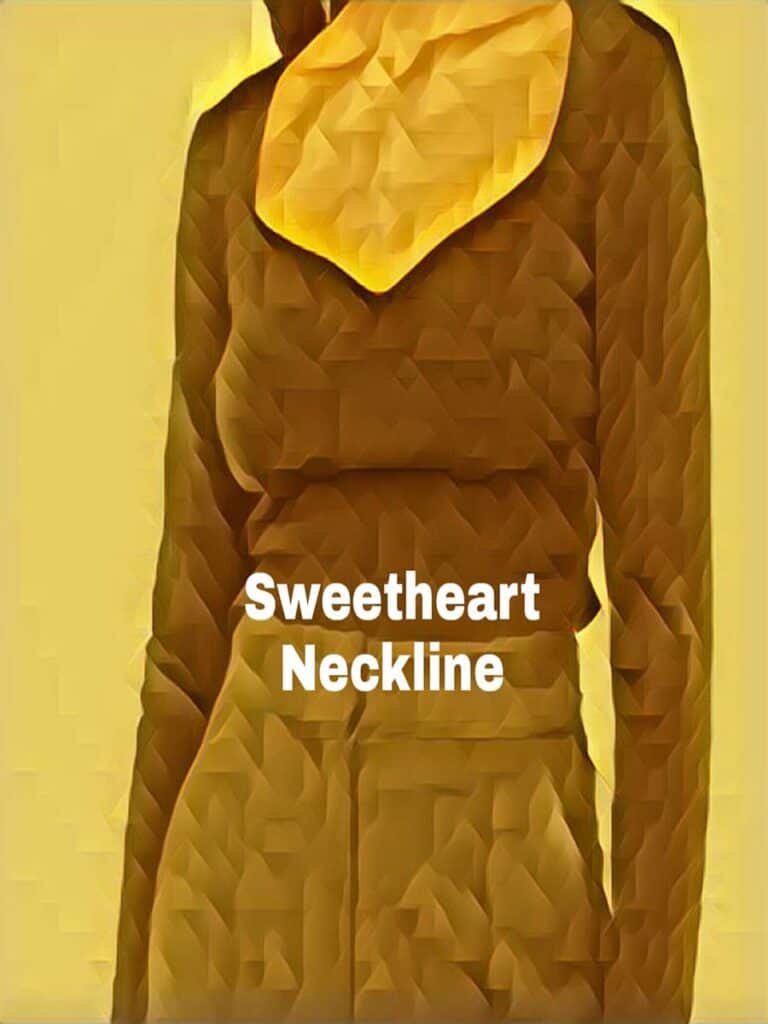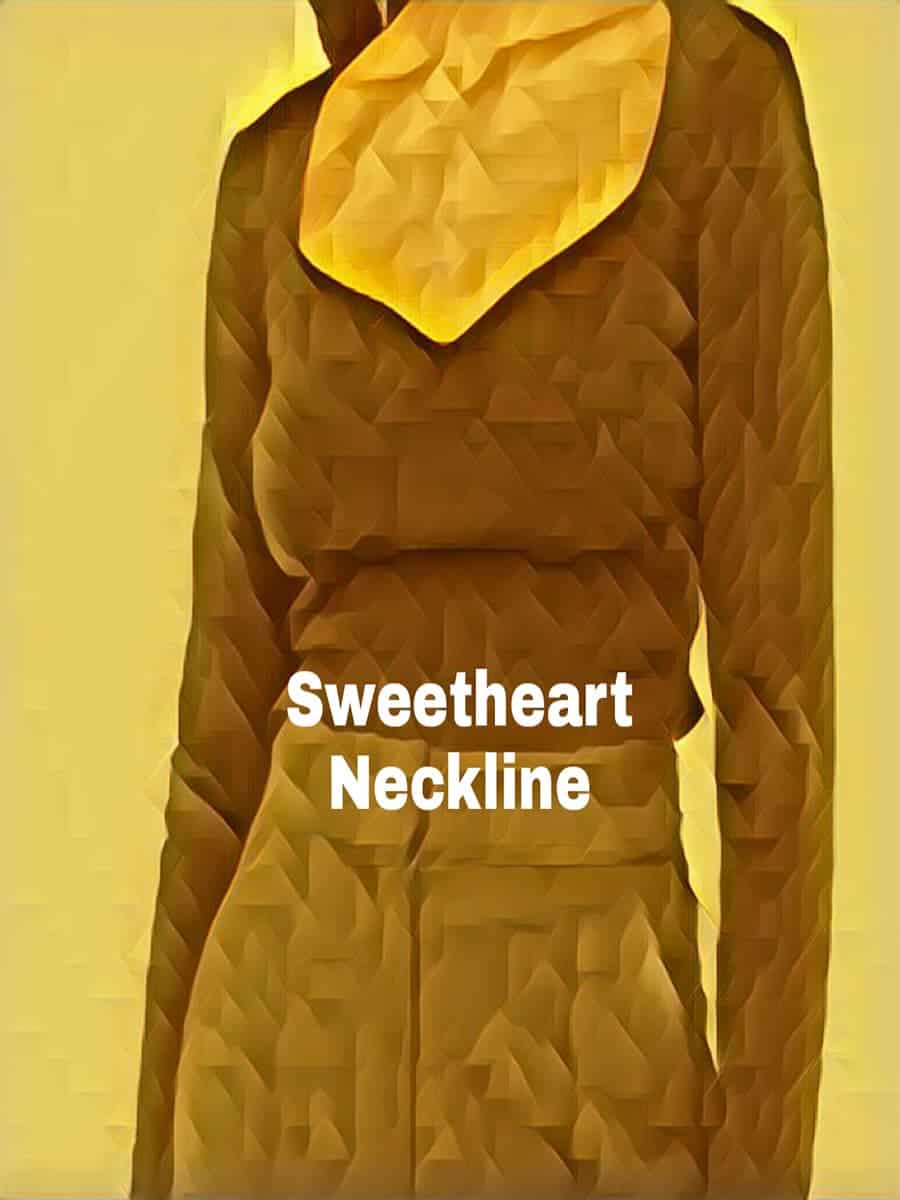 What Are The Types Of Necklines — One Shoulder Neckline
The one-shoulder neckline leaves one shoulder bare without a strap and the other shoulder sleeveless, short or long-sleeved.
The show of this design is the attraction of only one shoulder displaying any detailing to the clothing.
The perfect jewelry for this neckline would be to concentrate on chandelier earrings and a bracelet.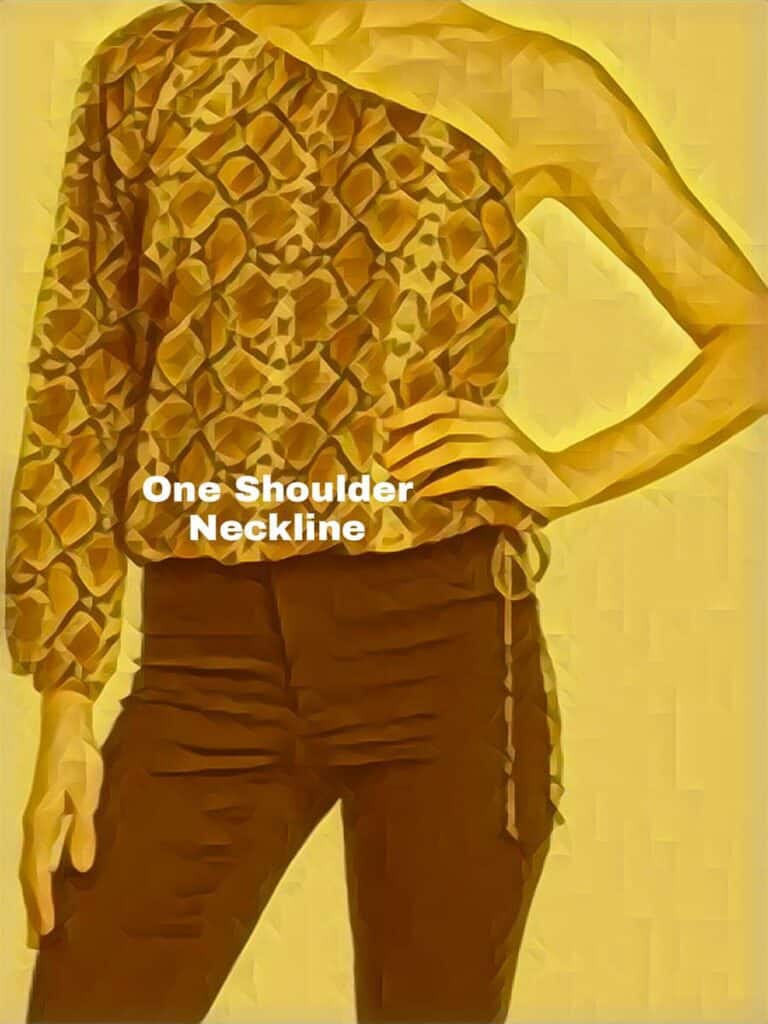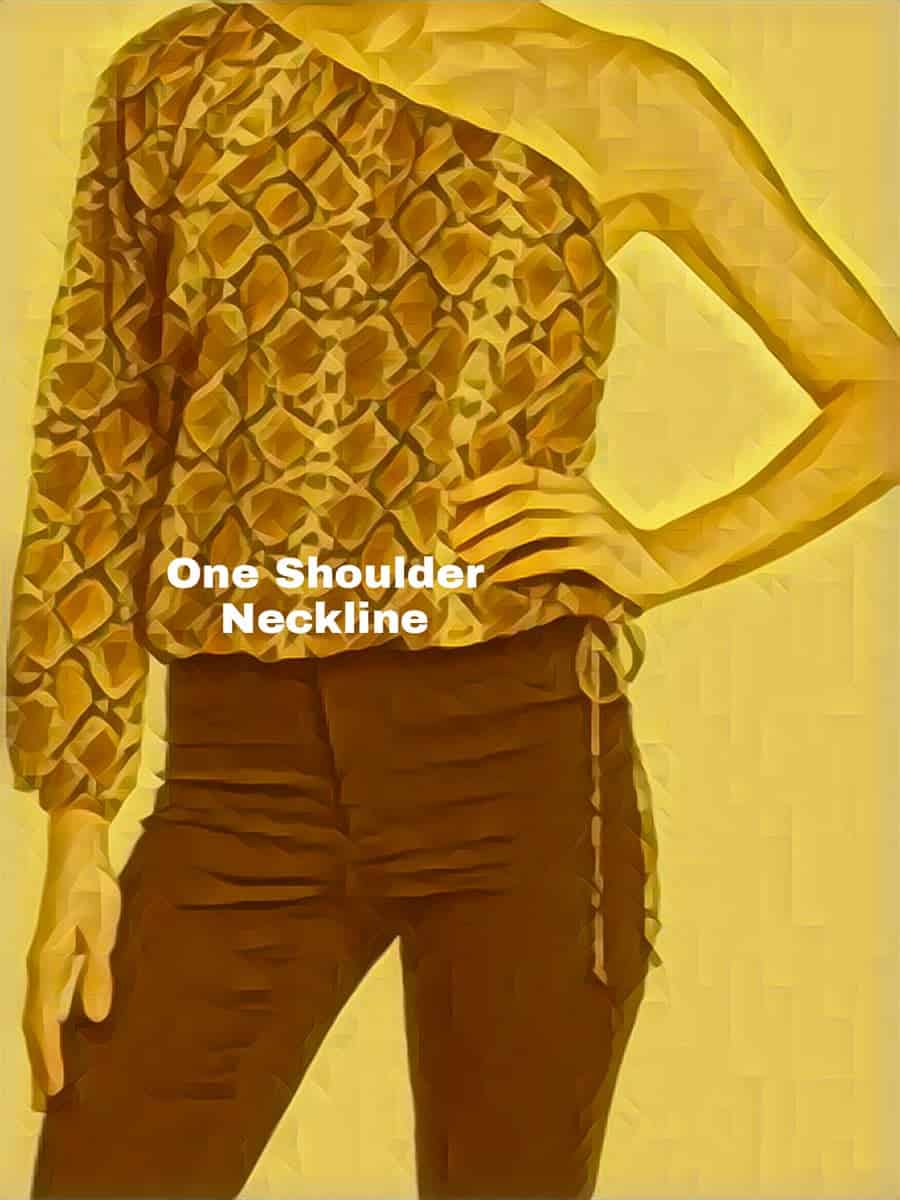 What Are The Types Of Necklines — Plunging Neckline
A plunging neckline is a low-cut neck with a V shape that allows you to enhance your bust area with a classy and elegant cleavage.
Jewelry for a plunging neckline can take your outfit from basic to classy and elegant, and the recommended jewelry to do this justice would be to use a long layered necklace that has a choker extension.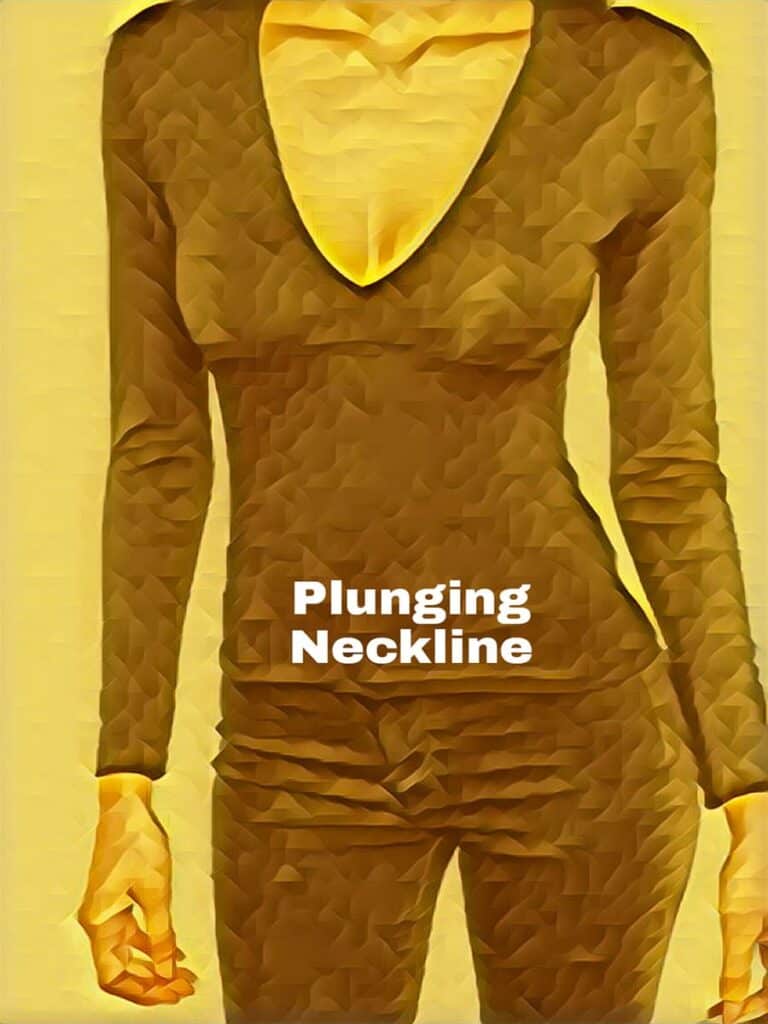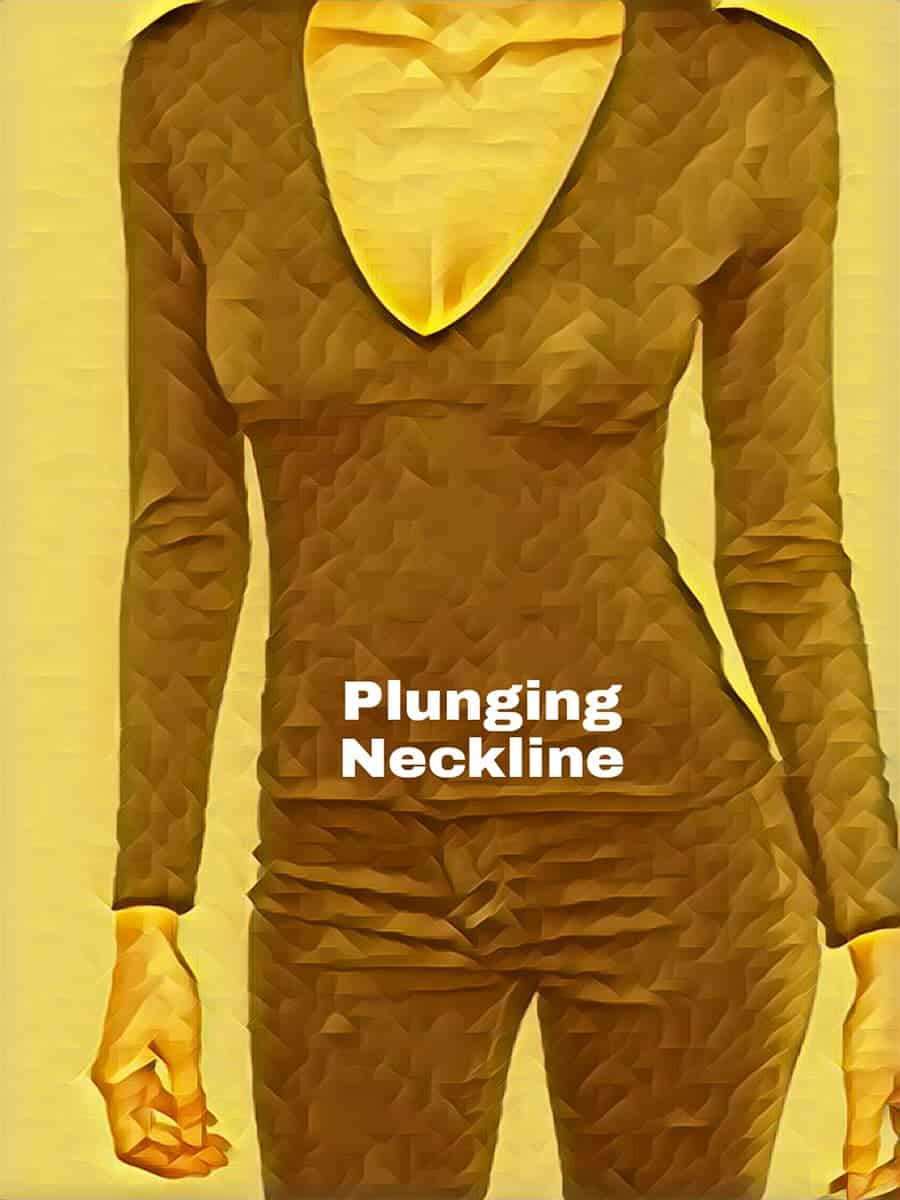 What Are The Types Of Necklines — Surplice Neckline
A surplice neckline is one that is designed diagonally like a wrap style, inside one another, creating a V shape in the front or back of the clothing.
The jewelry that would compliment a surplice neckline and have you looking sophisticated, would be a dainty necklace with a pendant attached to it.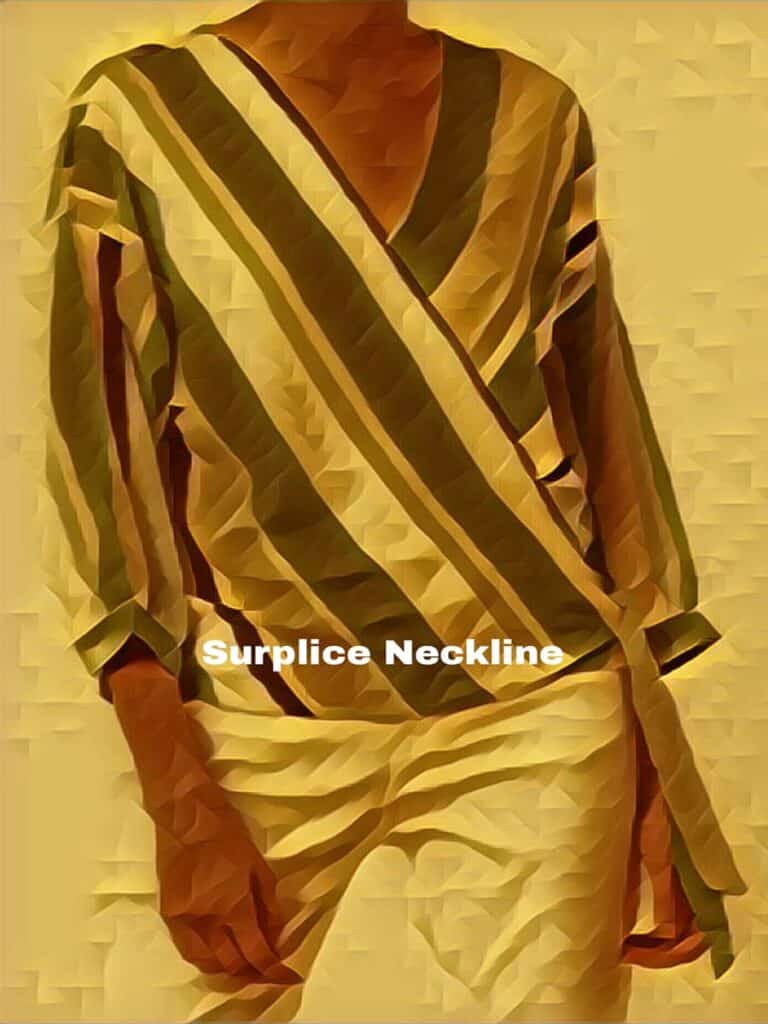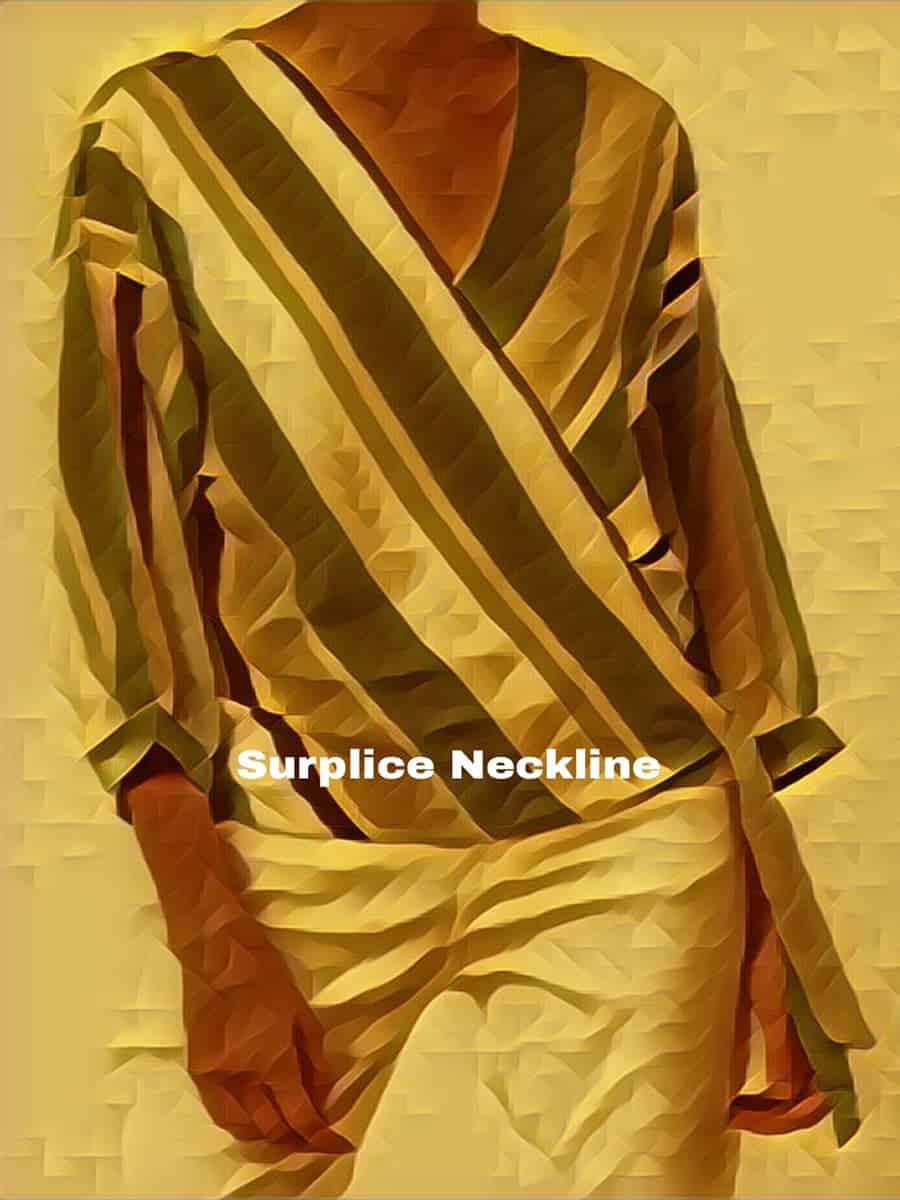 What Are The Types Of Necklines — Décolleté Neckline
The décolleté neckline refers to the area between your neck and chest and is cut extremely low around your cleavage in a v shape.
A neckline that shows the sexy style of a classy woman with elegant style.
When opting for jewelry for this elegant and sophisticated neckline, think of a long chain that drops just above your cleavage.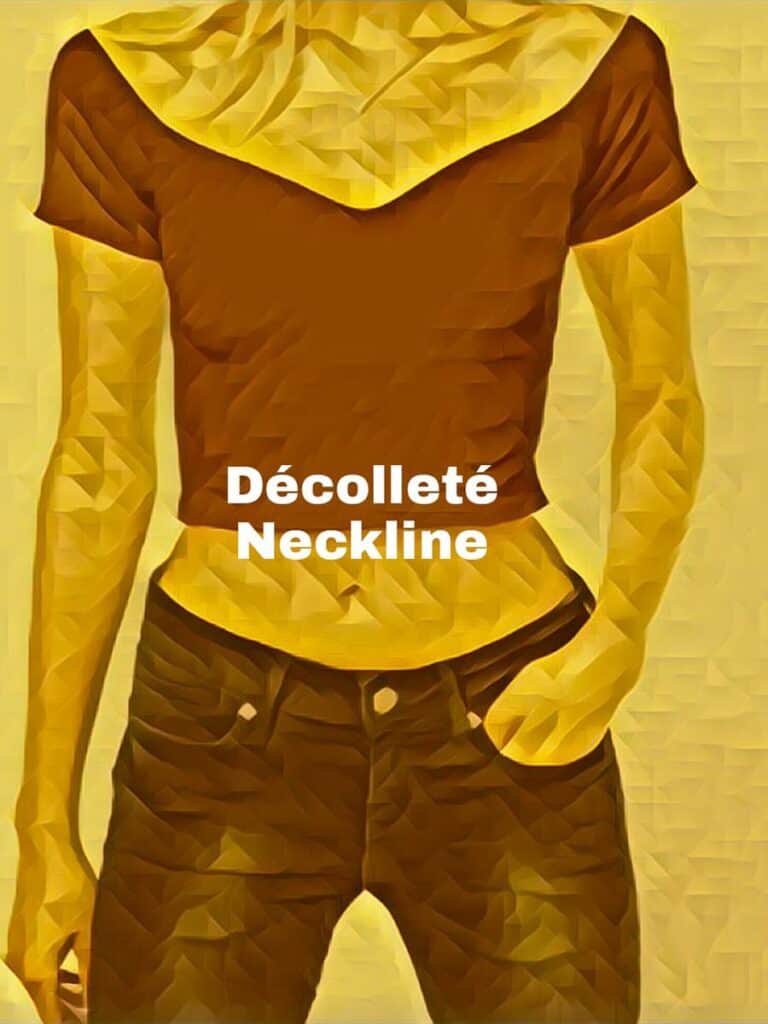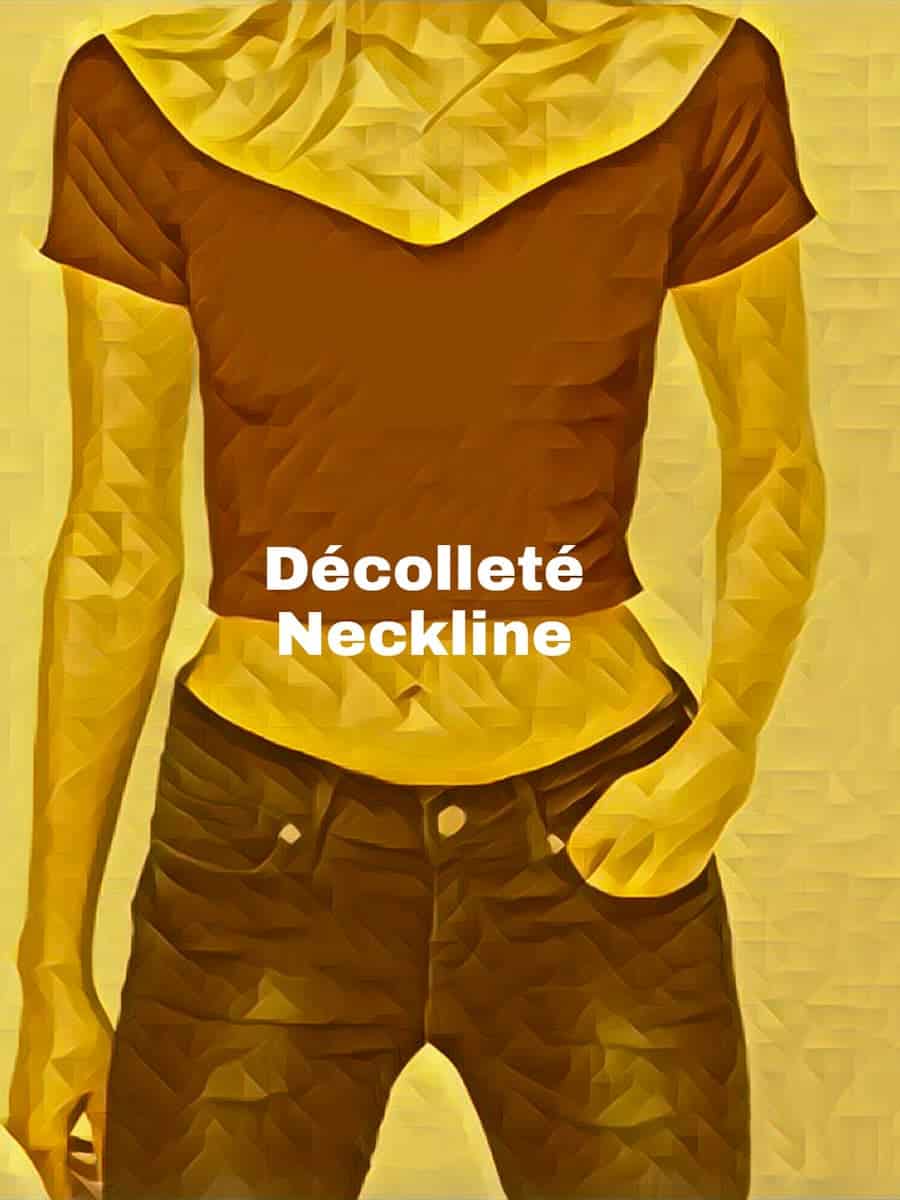 What Are The Types Of Necklines — Yoke Neckline
With your yoke neckline, it refers simply to the top part of your clothing from above the breast area to your shoulders or neckline.
When considering jewelry for this neckline, consider statement drop earrings.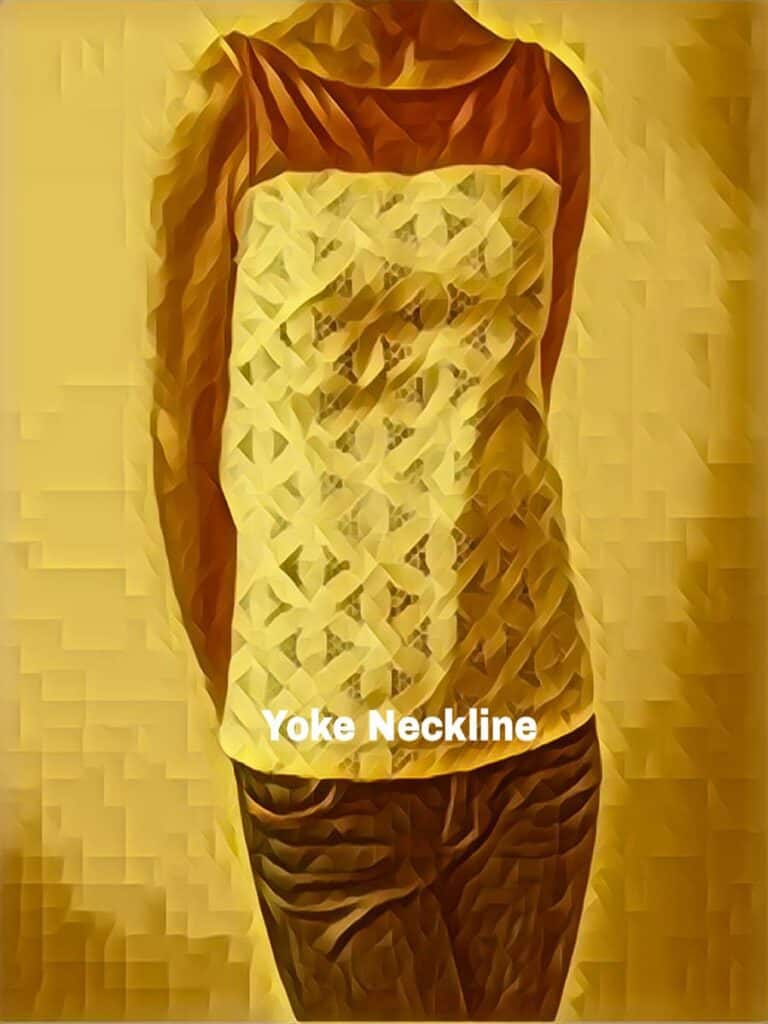 What Are The Types Of Necklines — Horseshoe Neckline
The horseshoe neckline is in the shape of a horseshoe, as the name suggests, with a low curve.
The perfect jewelry for a horseshoe neckline would be hoop earrings or a short statement necklace.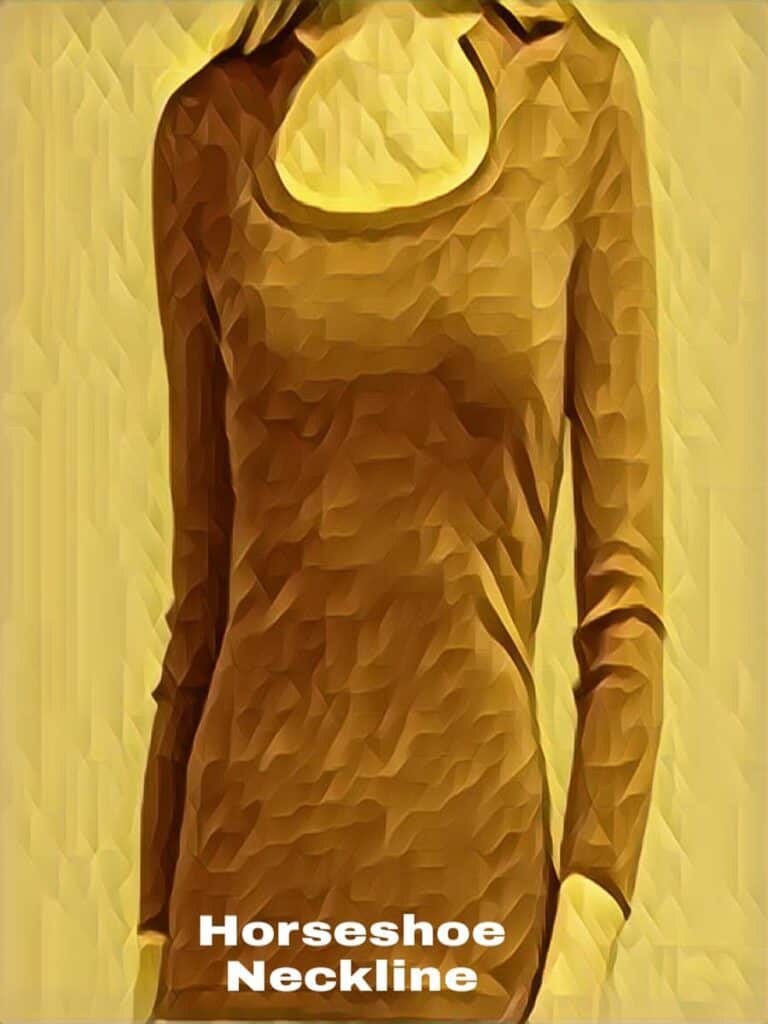 What Are The Types Of Necklines — Scoop Neckline
A scoop neckline is a neckline that has a round shape but is much lower than a round neck.
This neckline can be worn by most, body types and gives gorgeous emphasis on the neck area, accentuating your collarbone and shoulders.
For jewelry accessories, consider hoop earrings, dangle earrings, and short statement pendants or pearls to bring out the elegance of the neckline.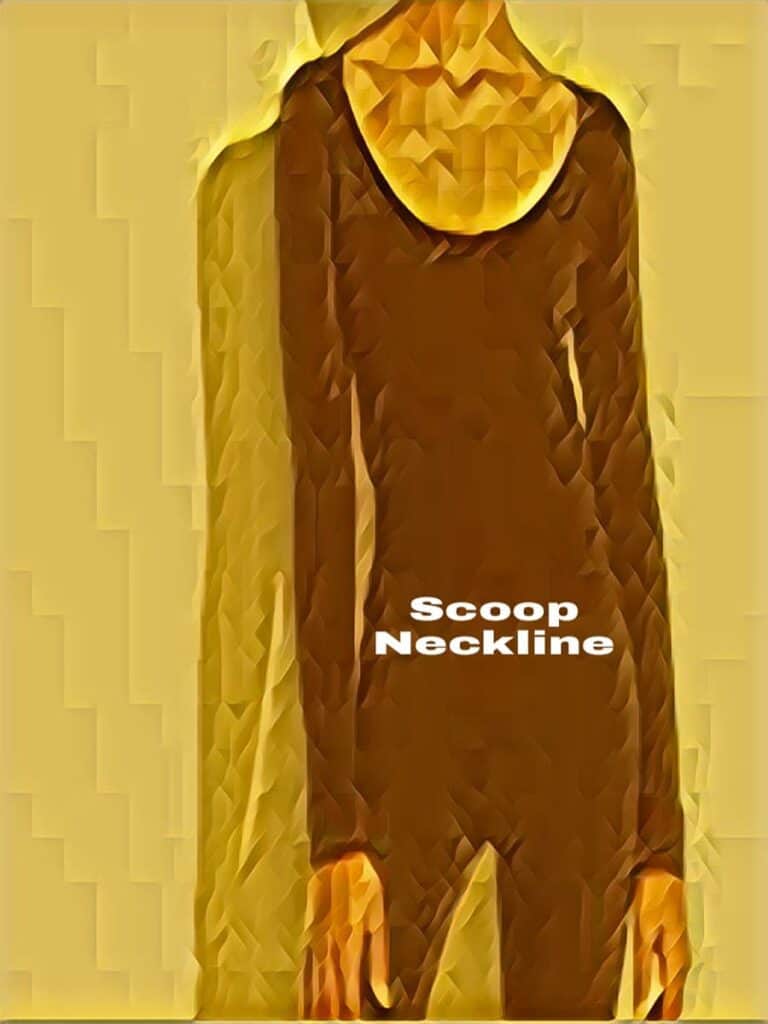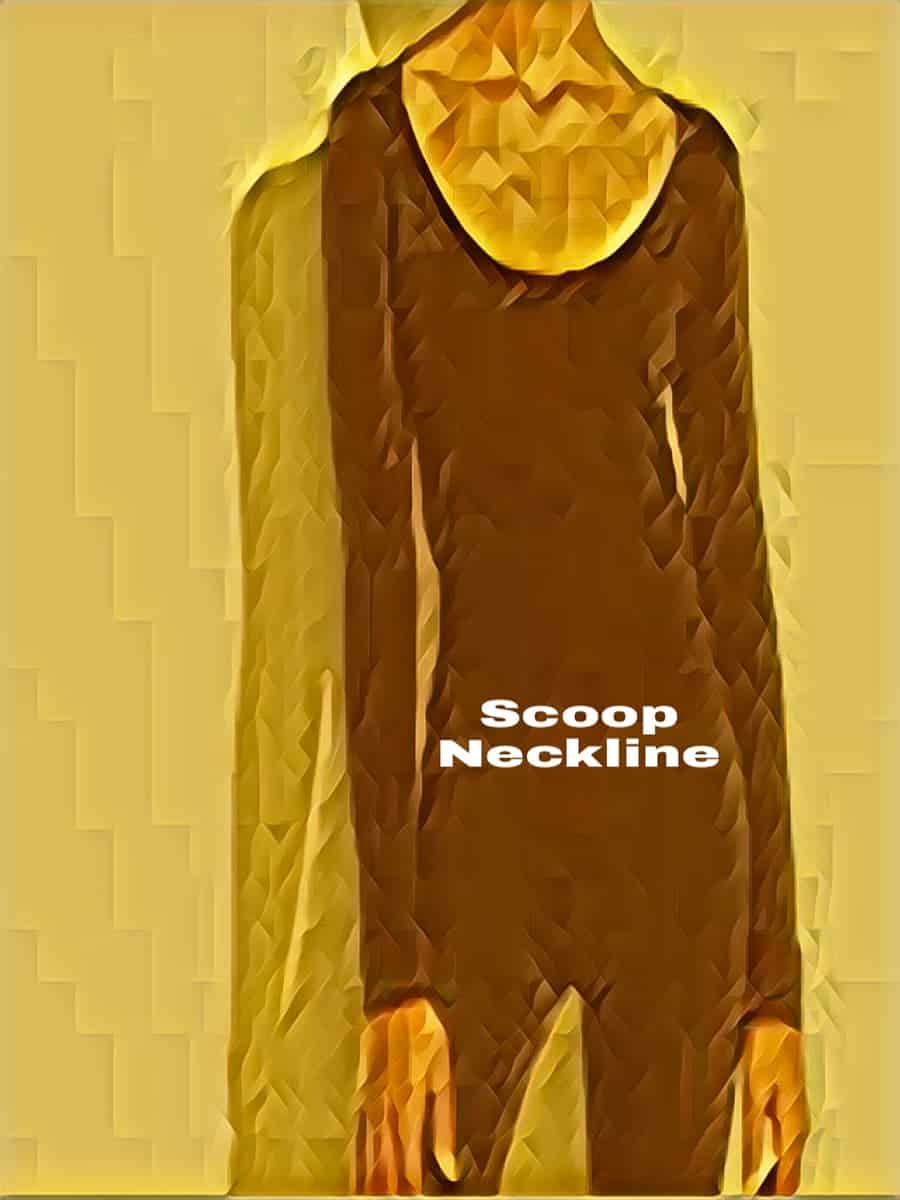 Different Types Of Necklines
In this video, you will view several neckline designs, that will help you, when you want to purchase a top, dress or sew.
Conclusion
With the 21 different types of necklines listed and explained above, you are now able to understand at least 21 of the most popular neckline designs that women wear and have in their closets..
Another good read would be, types of skirts.
Be sure to check out my other categories for even more exciting and interesting posts on Elegant Style, Fashion Tips, Quotes, Affirmations, Bible Verses,  Realities Of Life, and general Self Empowerment. 
Follow me on Pinterest