Personal style is not just about looking great but also about feeling confident. When you feel your personal style is on point, it makes the whole world look different from how it felt before.
Not sure how to dress?
Do you try different styles every day and end up feeling like you don't know who you are anymore? If so, then this article is for you!
This post will help you learn what personal style is, how it differs from fashion style, and how to find your own.
By the time I'm done writing this post, I'll have helped guide your journey towards discovering your personal style!
It could even give you a new perspective on life and career opportunities as well.
There are many ways to go around this issue, of course, but one way is by following these key tips below:
Personal Style Tips
Here are 11 style tips to live by
Personal Style Tip 1
Begin with choosing items that fit perfectly into your wardrobe. If there are things that don't work together because of too much difference in style, then this will be a problem.
Personal Style Tip 2
Choose the right color scheme for your personal style. This is important because not only do colors bring out certain moods or feelings in people, but they can also make you look taller or skinnier if paired correctly.
Personal Style Tip 3
Make sure to choose pieces that are versatile enough. It wouldn't hurt to have additional items of clothing which could work well with another outfit too since they're very easy to mix and match into different styles together.
Personal Style Tip 4
Figure out what shapes work best on your body type and dress accordingly! There's nothing more frustrating than finding something beautiful yet ill-fitting at the same time when trying it on because you chose the wrong shape for your body.
Personal Style Tip 5  
Edit down the wardrobe, so it's not overstuffed. It can be hard to choose from a lot of options, but remember that every piece you have should contribute to making an outfit work well together, no matter how small or insignificant each item is.
Personal Style Tip 6  
Look into what compliments your eye color and skin tone best!
This will not only give you ideas on colors that are flattering against your natural features, but also offers more inspiration for fashion choices in general if there are certain shades that look amazing on them too.
Personal Style Tip 7
Try out different styles until you find the one that suits you most!
There are common mistakes made when selecting a personal style, especially being afraid of not looking as good as other people.
Getting over this fear and trying out different looks without any hesitation is how you will finally find yourself along the way!
Personal Style Tip 8  
Get inspiration from celebrities that you think have a personal style you admire.
These people can be inspiring in many ways depending on how they dress, so it's important to always keep an open mind when seeing what other fashion icons are up to, but don't be a slave to them!
Personal Style Tip 9  
Practice self-care and enjoy the process of finding your own look!
It might seem like a lot of work for personal style, but if there is anything worth trying out, then it should feel like something special for yourself too.
Don't forget about having fun while doing it as well, since this attitude will lead to better results without becoming discouraged along the way either.
Personal Style Tip 10
Join an online community that will give you the necessary information on how to dress properly according to certain occasions, for example a (business casual style.
Personal Style Tip 11   
If you still don't know where to start, consider attending fashion workshops or personal style seminars in your area.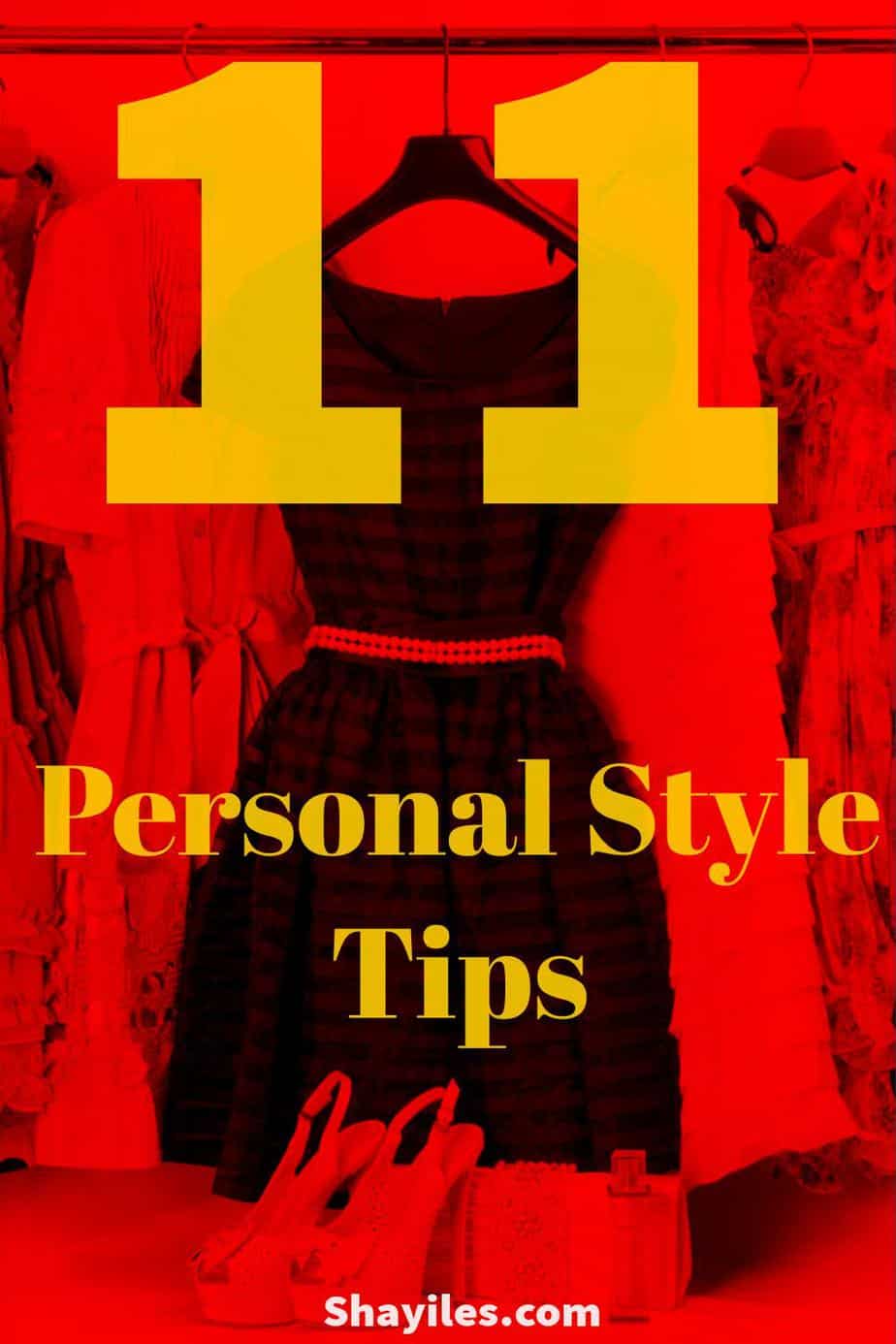 Personal Style and Identity
This Ted Video, gives you an insight into personal style and your identity
How Do Celebrities Dress
Personal Styles Of Celebrities
These are just a few of the many celebrities with great personal styles
Beyoncé Knowles, the fashion queen
Vanessa Hudgens, she can wear anything and look great.
Blake Lively, how does she always look so perfect?
Rihanna, that dress! I want it.
Kendall Jenner, who doesn't like her style? She's young but still looks amazing no matter what she wears. 
Emma Watson, very classy with a touch of edgy here and  there.
Jada Pinkett Smith, Classy on steroids.
Alicia Keys, she always looks so glam and put together with a simple black dress or even jeans and a tee shirt.
Cindy Crawford, her style is perfect for any age woman because it's classic! We all remember when she was the face of that Pepsi commercial in 1991. Even now, you see women who are 40+ wearing outfits like hers from over 20 years ago.
Gwyneth Paltrow, very pref$ppy chic with great accessories to match every outfit both casual and formal wears; classy!
Kylie Jenner, how does this girl look more expensive than most adults? It's difficult not to copy an outfit like hers, regardless of your budget level. She has such good taste.
Oprah Winfrey, this woman knows how to look classy and put together. She's been doing it for years!
Jennifer Lopez, her style has always been a bit flashy, but she never disappoints when you see what she wears on the red carpet or even daytime events like the Grammy Awards.
Angelina Jolie, very boho chic with that hippie flare going on, which I love because not many women can pull it off successfully. It's so risky yet works every time if done right as Angelia. She is fearless in fashion!
See? The list could go on forever…there are so many talented women who have great personal styles from any generation of their lives.
Personal Style Recap
What kind of clothes do you like to wear and why?
Do not think too far outside the box because we all have our comfort zones when it comes to fashion; no one wants to see what someone else is wearing, but rather they want them to look good in something they would never consider buying themselves, which is difficult for most people!
Don't skimp out on accessories either such as scarves, hats, bags, etcetera…the possibilities with those items are endless!!! Just remember that having great personal style doesn't happen overnight; it's something you need to work on over time.
Life is too short, and we only get one chance at this thing called "life" so dress up every opportunity that comes across your path!!! Every day will give you new chances for self-expression through clothing!!
Don't limit yourself by thinking that there is a set rule book out there somewhere from someone else telling us what looks good or bad when in fact, most rules were made to be broken! In other words, be creative and have fun!!
It takes time and practice, since personal style can be changeable based on moods and events.
Personal Style Quotes
Personal Style is also about Self Worth
Personal Style allows you to recognize who you really are
Explore your creative mind, and you will love your personal style
Never be afraid to shine with your personal style.
"Fashions fade, style is eternal." —Yves Saint Laurent
"Dress shabbily, and they remember the dress; dress impeccably, and they notice the woman." —Coco Chanel
Personal style is about a sense of yourself, a sense of what you believe in and wearing what you like. — Ralph Lauren
Personal Style, Is knowing you can feel, touch and smell your style before executing it.
Personal style is not something that is just in the air. It is something you have and that you apply to yourself. — Paloma Picasso
Shine your personal style whenever you can.
The most important thing to remember is that you can wear all the greatest clothes and all the greatest shoes, but you've got to have a good spirit on the inside. That's what's really going to make you look like you're ready to rock the world. — Alicia Keys
Understanding your individual attractiveness enough to know which looks will succeed for you and which will not is the key to personal style.
Your personal style will, definitely, change with age.
Personal Style Conclusion
I hope you found this post helpful and now know that your personal style is all about you and how you wish to execute it!
You just need to know how you want to dress before exploring it any further.
You should know if you are more of a vintage person, or maybe it's the modern style for you?
Be sure to check out my other categories for even more exciting and interesting posts on Elegant Style, Fashion Tips, Quotes, Affirmations, Bible Verses,  Realities Of Life, and general Self Empowerment. 
Follow me on Pinterest
Thanks for reading and have an awesome day!!