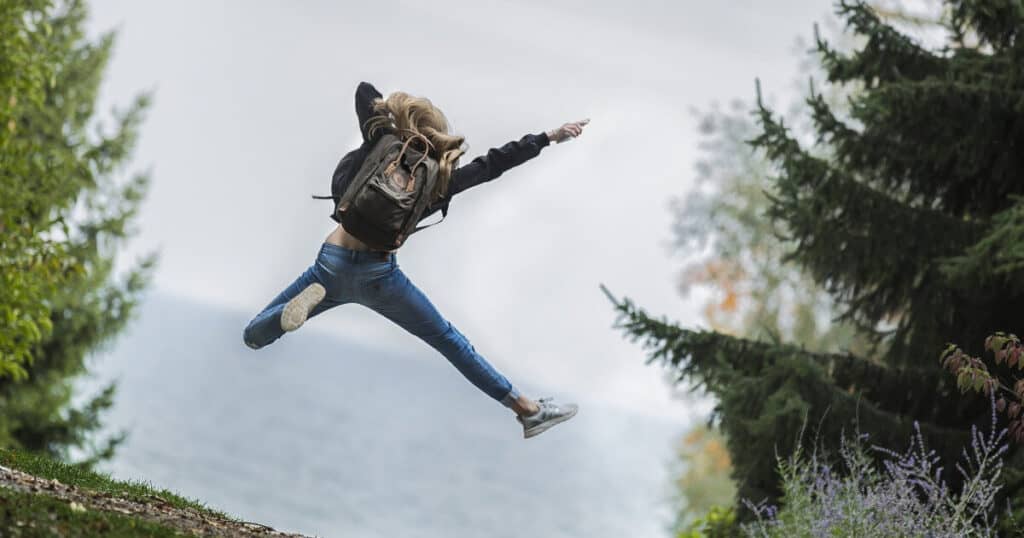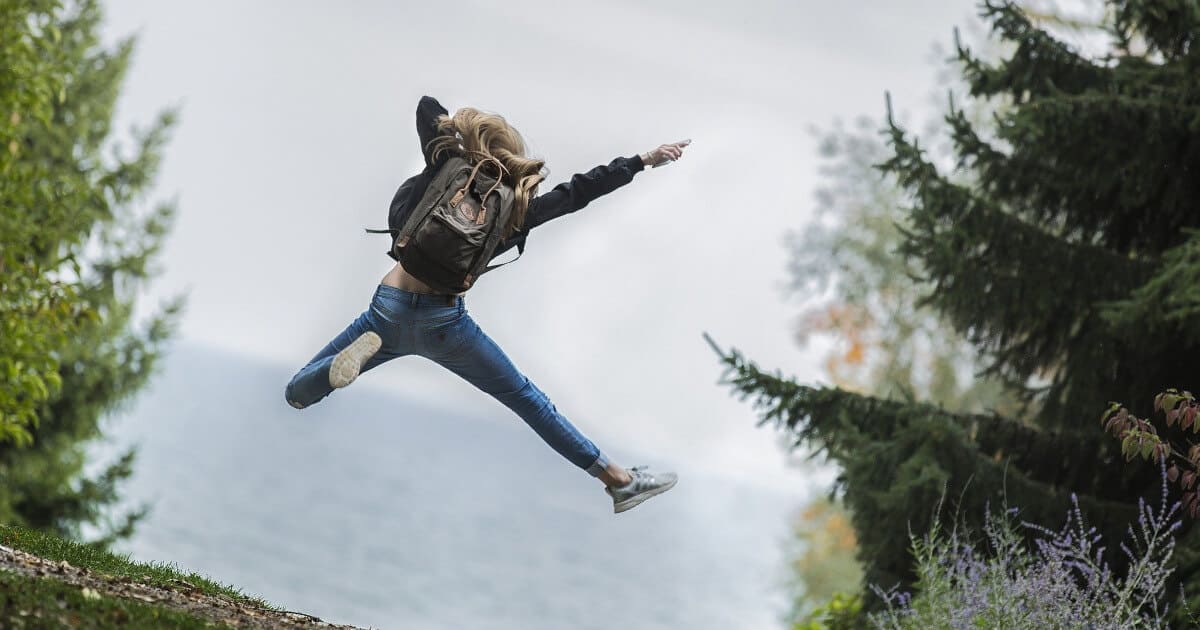 Happy affirmations will change your life into joy, and laughter.
Do you find yourself wishing you were happier at times? Wishing you could find delight in everything you do daily. That is, constantly feeling good no matter what was going on?
Well, with happy affirmations, you can!
What Is Happiness Affirmations?
Happiness is something you have to create yourself, it's not something that you will find dropping on your laps.
No matter what you are going through in life, you can choose to be happy, without making any apologies.
All you need to do is start with reciting affirmations that are positive statements to yourself daily.
Say them aloud or to yourself so that you bring change effectively to create more happiness.
Are you surprised?
Happiness is something you can practice in simple ways every day.
Let's get into the happy affirmations that will bring you joy and self-empowerment.
Happy Affirmations – Practice Tips To Get You Started
Make these happy affirmations part of your daily routine.
Start your day by reciting your affirmation while you take your morning shower
Use sticky notes and post them around you for gentle reminders.
Program your phone to remind you to say affirmations throughout the day. In
Choose your happy and meditate on it for a minute.
Use your daily commute to work or while you are waiting to silently repeat a mantra to yourself
The more open you are, the better the affirmations for happiness will work for you. Keep your mind positive, and keep reciting.
You can tweak the affirmations to work for you. If what you read below, doesn't fit you, change it to suit your own lifestyle.
Speak your dreams into existence by reciting these happy affirmations passionately.
Share with a friend to give them the joy of happiness too.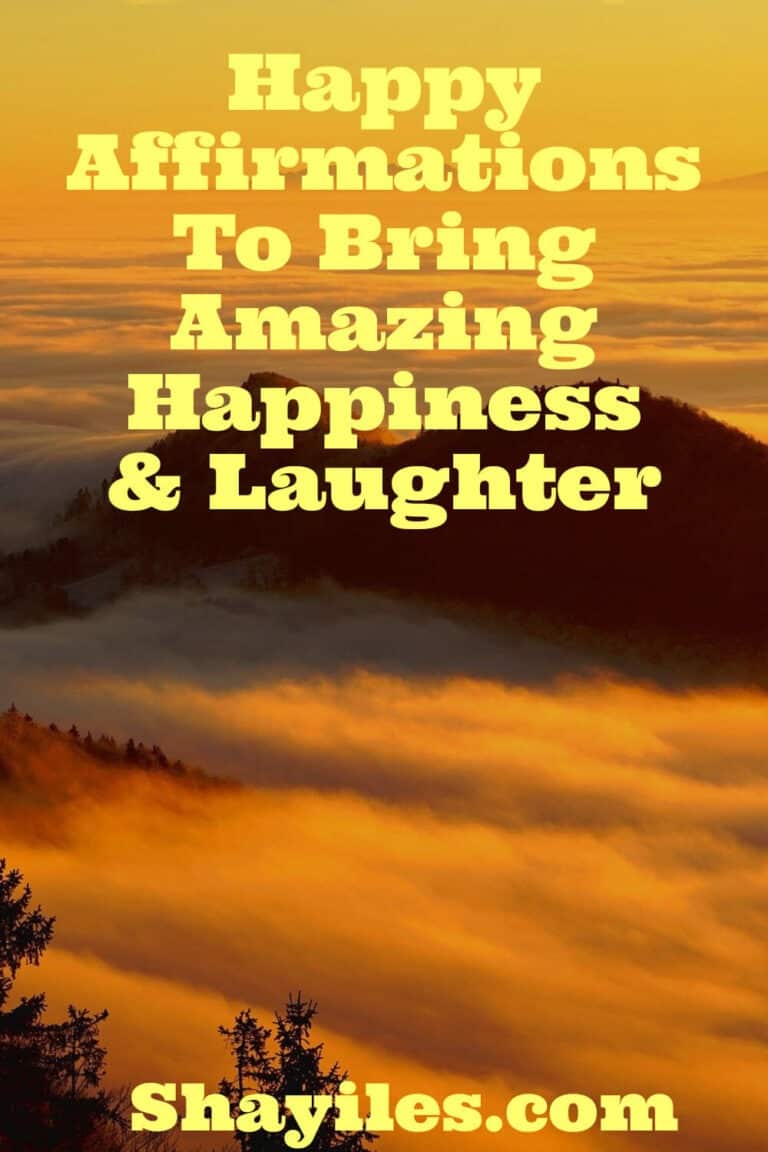 How To Be Happy Affirmations
Today is the day. I'm consciously using my breath to make space in my body, mind, and heart to gracefully attract new levels of happiness. I'm ready to welcome more happiness into my experience.
My feelings matter to me. All my feelings are valid, and I will process them with patience and favor. I will follow what feels best for me, prioritize feeling good, and love myself through the process.
I am open to being happier than ever before.
Every moment gives me a chance to embrace a deeper lever of fulfillment, Joy, and gratitude
I invite happy feelings with openness for my heart.
It is time to experience happiness today and always.
Everywhere I go, I am Happy.
I am a happy person who finds joy and laughter daily.
I am always happy and cheerful.
When I interact with people, I am always pleasant and joyful.
My name is synonymous with happiness.
I always give unconditionally to make myself and others happy
I love looking in the mirror and seeing how happy I have become.
From now on, I'm doing my best to see Joy and abundance available to me. I let go of my self-inflicted restrictions, and look for opportunities to fulfil my potential. I'm ready.
My potential for happiness is limitless.
I can always find new opportunities that bring me happiness.
I honor the hard times that help me appreciate the happy ones.
If I had not felt sadness, I would not know the happiness I now have.
When I put my attention on great things, I notice more, and It brings happiness.
I use my imagination for positive abundance, and It brings so much happiness to me.
Happiness is a natural part of life. Happiness happens without me having to try, or force and manipulate my life or mood.
Today, I choose happiness every day, even if the mood wants to take it to sadness.
I am worthy of feeling happy.
The universe is supporting my happiness.
Happiness flows through me constantly.
Happy people are the ones I spend time with daily.
I have formed a habit of being happy.
A Positive mindset equals abundant happiness for me.
My family bring me Joy and happiness.
Being Intentional brings me happiness.
Reading Inspirational bible verses daily brings me blessings, favor, grace, and happiness
I am ready to receive more laughter, optimism, and joy.
I intend to make plenty of time for laughter and entertainment.
I am willing to push for my happiness than I had yesterday, even if it's just a little more.
I give myself permission to be happy, at work.
I focus on what feels good to me and I let the rest go away.
It's a wonderful feeling to love my life more and more every day.
My happiness is my responsibility
When I let go of negative things, happiness always comes to me naturally.
My relationships will bring me fulfillment and happiness.
My happiest moments are still on their way.
I expect miracles when I embrace my highest joy.
Life flows effortlessly when I think positive thoughts.
Happy Affirmations have brought me a life of Joy and Inspiration.
"Most people are about as happy as they make up their minds to be." — Abraham Lincoln
How To Find Happiness Within Yourself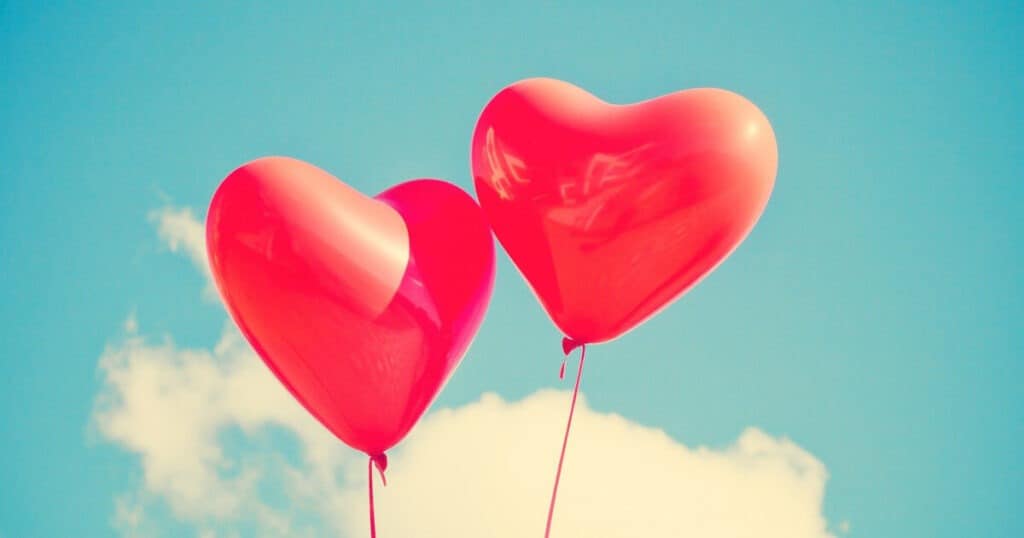 Count Your Blessings Not Your Problems
Happy people choose to focus more on the positive parts of their lives rather than the negative. You have to focus your mind on reasons to be grateful and express it at every opportunity you get because by doing so, you realize there is always something to be grateful for and this makes you a happier person.
Smile Through The Pain
A smile speaks a thousand words of friendliness. So you should always carry a smile to bring out the best in you. Studies have indicated that smiling makes you happier.
According to an article written by nbcnews.com. Science has shown that the mere act of smiling can lift your mood.
Dr. Isha Gupta a neurologist from IGEA Brain and Spine explains to nbcnews.com, that a smile spurs a chemical reaction in the brain, releasing certain hormones including dopamine and serotonin.
This means, In short. You can program yourself to experience happiness by choosing to smile. Plus, when you smile, the world will smile back at you.
Speak Daily Happy Affirmations Into Your Life
Affirmations are positive thoughts accompanied by affirmative beliefs and personal statements of truth.
You recite them in the first person tense ("I am happy")("I live a life of abundant joy and happiness").
Affirmations used daily can build confidence, release stress levels, and improve self-esteem, allowing you the opportunity of smiling and exhaling.
Wake up Earlier
Wake up a little earlier and establish an empowering, meaningful morning routine. Start each day on your terms and not just in time for school or work.
You'll be happier for the extra time.
Choose Your Complaints Wisely
The next time, you want to lash out immediately and make a complaint, to another person, a situation or yourself. For the sake of a happier moment, let it go.
The situation will turn out better, and it won't bring about an unhappy environment where peace and joy should be.
Treat Others With Respect
Everyone wants to be treated with respect and kindness. But more importantly, we want to be treated with respect.

A golden rule is to treat everyone you meet with humility, kindness, patience, and grace. It will bring you satisfaction, joy, and a sense of tranquility. And from there, you will feel extreme happiness with each day.
Find a Personal Development Discipline
Personal development is something that will bring you happiness and fulfillment. Find your discipline and devote enough time and energy to your personal improvement.
Strengths
Everyone has strengths, talents, and abilities they possess. When we use them effectively, we feel joy and happiness from within. Find your strengths and embrace them.

Meditate
Finding time away from all the noise is very important. As your surroundings increase with speed and hustle and bustle, it is important to give yourself room to breathe through it all.

Many studies have suggested the link between meditation and happiness, so take the time with meditation to search yourself inwardly and connect spiritually, so you can improve your happiness.

Balanced Diet
Studies have stated that healthy food such as fruit and vegetables do not only have physical benefits, but mental health too. Eating the right food can make you happy and take away a negative mood.


Happy Affirmations Conclusion
Do Daily Happy Affirmations Work?
Yes, they do work from my personal experience. However, just like everything you do in life. You must be consistent and intentional about repeating your affirmations out loud and to yourself, every day.
Since you are creating a new thought process within you, and perhaps removing an old thought. You have to chant affirmations to improve yourself. And as each day goes by, a little at a time, you will gradually see the changes in your circumstances and behavior.
Thanks for reading. To share your thoughts or questions, drop a comment below.
You may also like to read and share the posts below