You start out on a journey to buy a bottle of fragrance and everywhere you go, you hear the word Fragrance Notes. What are fragrance notes?
It can be daunting and hard to understand what this means, but it's not as bad as it sounds.
A brief insight is this.
Have you ever wondered why the smell of a fragrance you are wearing, changes throughout the day or disappears completely once you've worn the scent for a while and sometimes seconds? well, this is simply because of the notes in the fragrance.
When a fragrance is created, it is done so by the makeup of ingredients of top notes, heart notes, and base notes creating a scent.
The chemistry of our skin in addition to the raw substances used, then causes the perfume to unfold at the pace it does.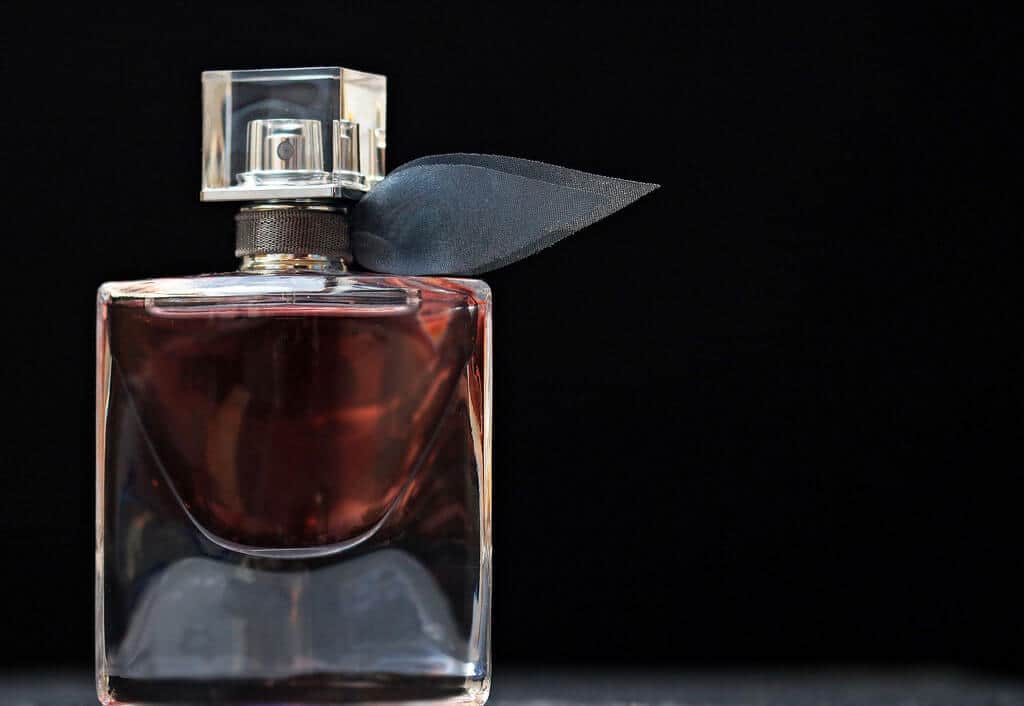 What Are Fragrance Notes
Your fragrance notes always tell a story when it comes to fragrances, without you realizing it.
Whatever you decide to wear as a fragrance, defines your character and personality from the fragrance, so the best place to start when wearing fragrance, is to determine what notes you are most attracted to and explore fragrances from there.
Fragrance notes are to fragrance what classy style is to a classy lady, or what fashion is to a fashionista. They make the fragrance and give it, its uniqueness.
Fragrances are basically blended with three notes.
You have the Top or Head note, Middle or Heart note, and Base or Bottom note.
What are Top Fragrance Notes
Top notes or heart notes are what you smell immediately after spraying your perfume and these are often short-lived, although it can be slowed down by other Ingredients.
These are the fragrance notes that you recognize as soon as you apply the fragrance.
Popular top notes include citrus (lemon, orange zest, bergamot), Light fruits (grapefruits, berries), and herbs (clary sage, lavender).
What Are Middle Fragrance Notes
Middle notes also known as the heart notes are more noticeable as the top notes fade away.
They last longer than the top notes and have more of an influence on the base notes that are to come later.
They are usually a smooth mix of floral or fruity tones and can be infused with spices like cardamom, cinnamon, or nutmeg.
Popular middle notes include rose, geranium, lemongrass, ylang ylang, coriander, neroli, nutmeg, and jasmine
What Are Base Fragrance Notes
Base notes or the bottom notes last a long time and are usually detected 30 minutes or so after the application of the fragrance, but can at times last up to 24 hours depending on the potency of the perfume.
The base notes create the full body of the perfume and what brings all three together.
Popular base notes include cedarwood, sandalwood, vanilla, amber, patchouli, oakmoss, and musk.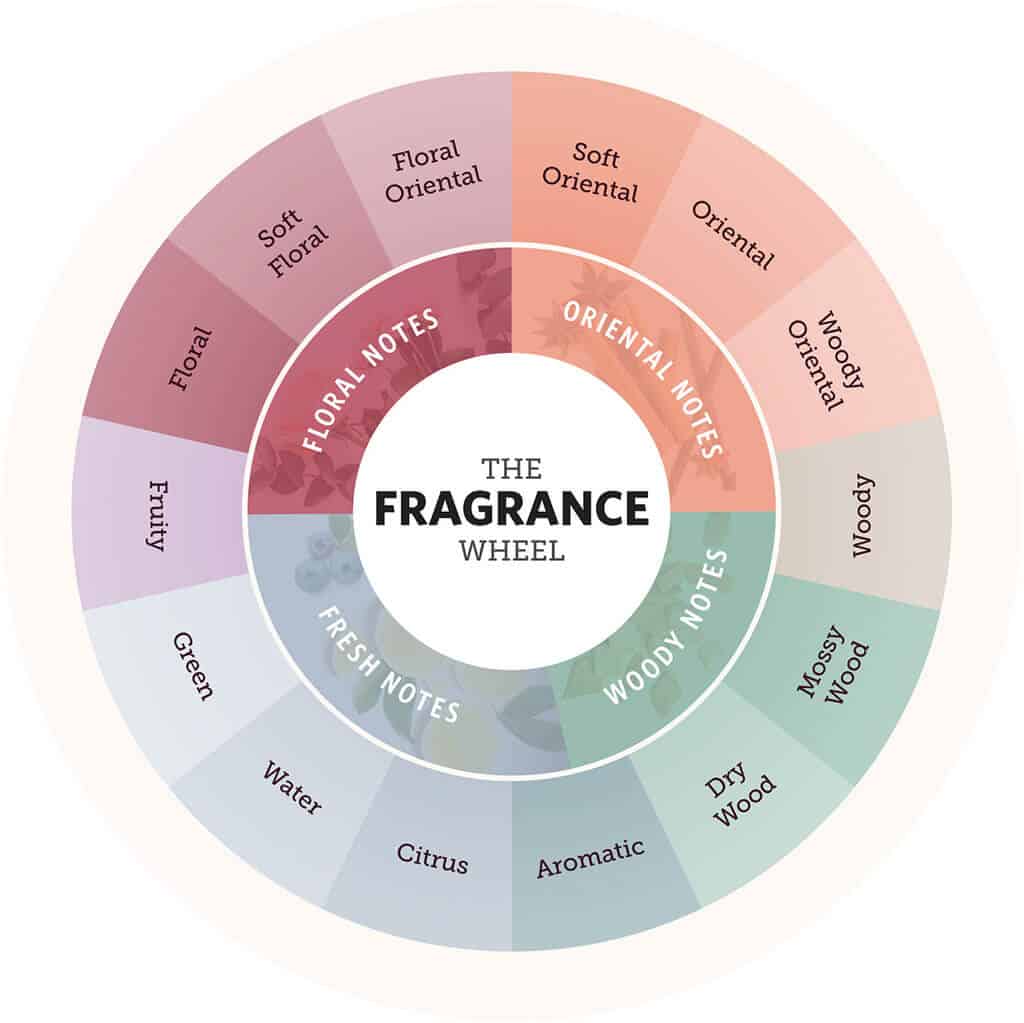 Without the combination of the three levels of notes, a fragrance just wouldn't be aromatically appealing. But together, they create beautiful scents.
The most common fragrance note categories include fresh, floral, oriental, and woods, each of which is typically used in specific note categories.
For example, fresh and floral scents are almost always top notes while woody and oriental scents typically appear toward the bottom of the note pyramid.
There are hundreds of fragrance notes and every perfume contains dozens of them. In no particular order, these are a list of a few of the most popular below.
3 Popular Fragrance Notes
Orange Blossom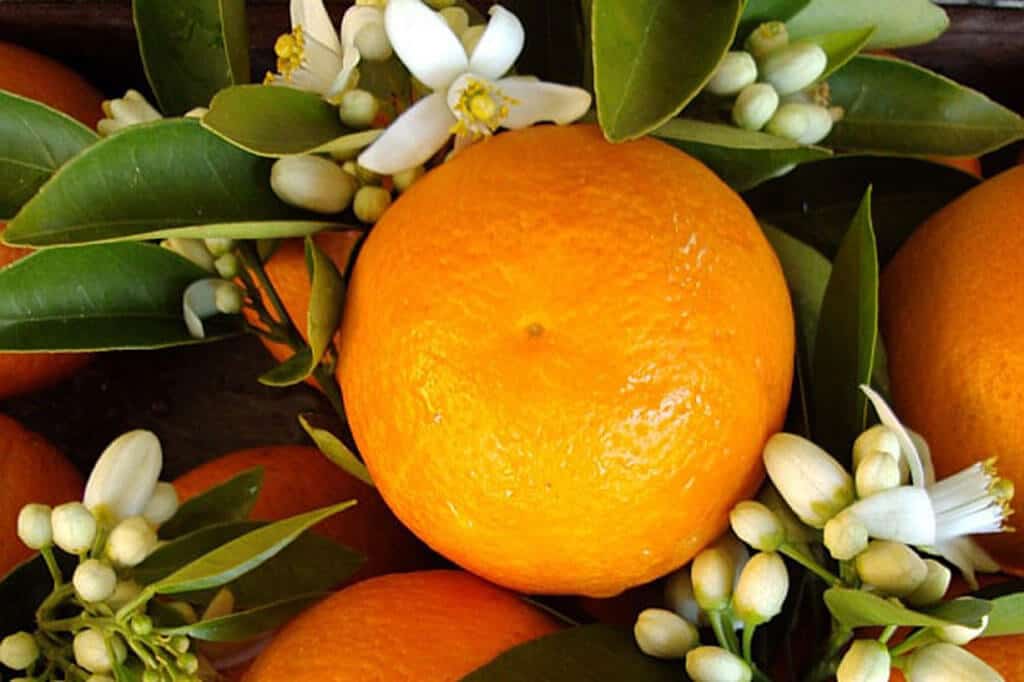 The orange blossom also called "Essence of Neroli", comes from the bitter orange tree with dark leaves. Used in a fragrance, it will make every moment special and every move or smile more seductive.
You can enjoy orange blossom fragrance notes in :
Le Labo – Fleur d'Oranger 27 Eau de Parfum
Narciso Rodriguez – For Her Pure Musc 
Montale – Orange Flower
Diptyque – Eau des sens edition
Vanilla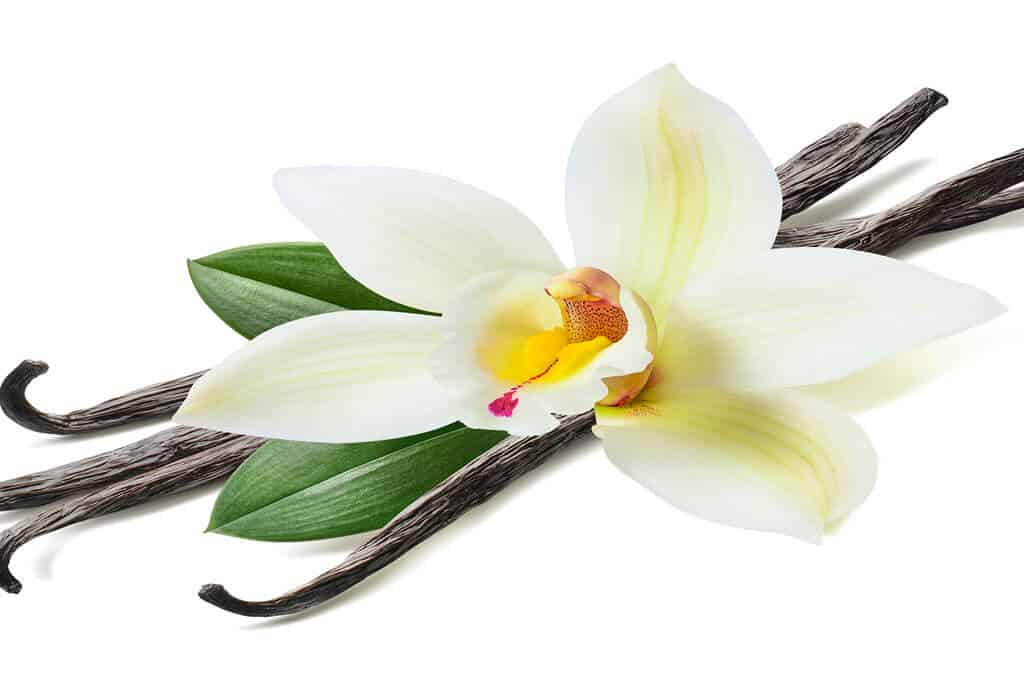 Vanilla comes from the seeds of a dried pod from a climbing orchid-like plant which flourishes well in Madagascar. Used in fragrances, It's flirty and seductive.
You can enjoy Vanilla fragrance notes in :
Dior – Addict
Tom Ford – Tobacco Vanille
Thierry Mugler – Angel
Dolce & Gabanna – The One
Jasmine
Jasminum officinale are evergreen shrubs, that have a sweet scent. Used in a fragrance, it is full of sex appeal and joy.
You can enjoy Jasmine fragrance notes in :
Gucci – Gucci Bloom
Thierry Mugler – Alien
Byredo – Flowerhead
Michael Kors – Glam Jasmine
List Of Fragrance Notes In Favorite Party Fragrances
What are the Fragrance Notes in Chanel No. 5
Top Notes are Aldehydes, Ylang-Ylang, Neroli, Bergamot and Lemon

Middle Notes are iris, Jasmine, Rose, Orris Root and Lily-of-the-Valley

Base Notes are Civet, Amber, Sandalwood, Musk, Moss, Vetiver, Vanilla and Patchouli.
What Are The Fragrance Notes In Coco Mademoiselle
Top Notes are Orange, Mandarin Orange, Bergamot and Orange Blossom
Middle Notes are Turkish Rose, Jasmine, Mimosa and Ylang-Ylang;
Base Notes are Patchouli, White Musk, Vanilla, Vetiver, Tonka Bean and Opoponax
What Are The Fragrance Notes In l'air Du Temps
Top Notes are Carnation, Aldehydes, Rose, Neroli, Brazilian Rosewood, Peach and Bergamot;
Middle Notes are Carnation, Cloves, Gardenia, Jasmine, Ylang-Ylang, Rose, Violet, Orris Root, Rosemary and Orchid;
Base Notes are Spices, iris, Oakmoss, Musk, Sandalwood, Benzoin, Amber, Vetiver and Cedar.
What Are The Fragrance Notes In Amazing Grace
Top Notes are Bergamot, Grapefruit and Mandarin Orange;
Middle Notes are Freesia, Jasmine and Rose;
Base Note is Musk.
What Are The Fragrance Notes In Flower Bomb
Top Notes are Tea, Bergamot and Osmanthus;
Middle Notes are Orchid, Jasmine, Rose, Freesia and African Orange flower;
Base Notes are Patchouli, Musk and Vanilla.
What Are The Fragrance Notes In Black Opium Eau de Parfum
Top Notes are Pear, Pink Pepper and Orange Blossom;
Middle Notes are Coffee, Jasmine, Bitter Almond and Licorice;
Base Notes are Vanilla, Patchouli, Cedar and Cashmere Wood.
What Are The Fragrance Notes In Miss Dior Blooming Bouquet
Top Note is Sicilian Mandarin;
Middle Notes are Pink Peony, Damask Rose, Apricot and Peach;
Base Note is White Musk.
What Are The Fragrance Notes In Pleasures Estee Lauder
Top Notes are Green Notes, Freesia, Pink Pepper, Violet, Violet Leaf, Tuberose and Red Berries;
Middle Notes are Lily-of-the-Valley, Peony, Lilac, Lily, Rose, Jasmine, Geranium and Karo Karounde;
Base Notes are Musk, Cedar, Sandalwood and Patchouli.
What Are The Fragrance Notes In Clinique Happy
Top Notes are Orange, Blood Grapefruit, Indian Mandarin, Bergamot, Apple and Plum;
Middle Notes are Lily-of-the-Valley, Freesia, Orchid and Rose;
Base Notes are Mimosa, Lily, Magnolia, Musk and Amber.


Conclusion
Now that you know what Fragrance notes are, they will help you when buying a fantastic bottle of perfume. Perfumes are released on a daily basis and if you know what fragrance notes you are attracted to, you will not have to spend the entire day smelling scents and smelling coffee beans – You'll know the notes for you, and start smelling beautiful perfumes from there.
Read my post on how to be a classy lady for tips and advice
Thanks for reading
Join in the discussion below and let me know your experiences.