What Makes Women Love The Types of Bags Available?
One item that many women, young and old, will do anything possible to get is a bag.
Over the years, they have invested so much financially and emotionally in luxury bags. And to your delight, a bag is an item every brand globally has been doing everything possible to sustain.
You may have been greeted by an expansive display of a wide variety of bags on the streets, in local stores, or online.

The advent of the internet has impacted the advertising and sale of bags. and you might be wondering what the reason behind the designer bag is?
It's an interesting question, I've asked myself too, but bags are just a craze that has graced the fashion industry for many decades.
For many women, including myself. A bag is a powerful accessory we cannot do without.

You have to accept that fashion-conscious shoppers won't pass a nearby bag store without glancing at the available designs. 
Many will sacrifice a lot to get that dream bag you love. But why? We as women simply love bags because we have so much to carry with us on a daily basis.
I, for one, do not like the idea of putting items in the pockets of my clothing, especially as I conduct myself as a classy woman.
There are so many types of bags out there, that will go with everything.
You can carry one and complement your weekend outfit, winter or summer clothes, date-night clothes, or work outfits. The choices are enormous.

A high-quality designer bag will last many years of use and save you money as you don't have to buy bags every month.
Different types of bags will come and go, and you can still get a design that will never go out of style. Bags hold memories, and you can pass them down as gifts.

In essence, bags are a must-have accessory that will complete your look, your fashion style and personality. 
I just love commuting and while I do that, I love Bag spotting. I love the way women take pride in the different types of bags they carry and how it makes you look so classy with your fashion outfit of the day.
Here are 12 types of bags women should have in their closets — I hope you find your favorite bag.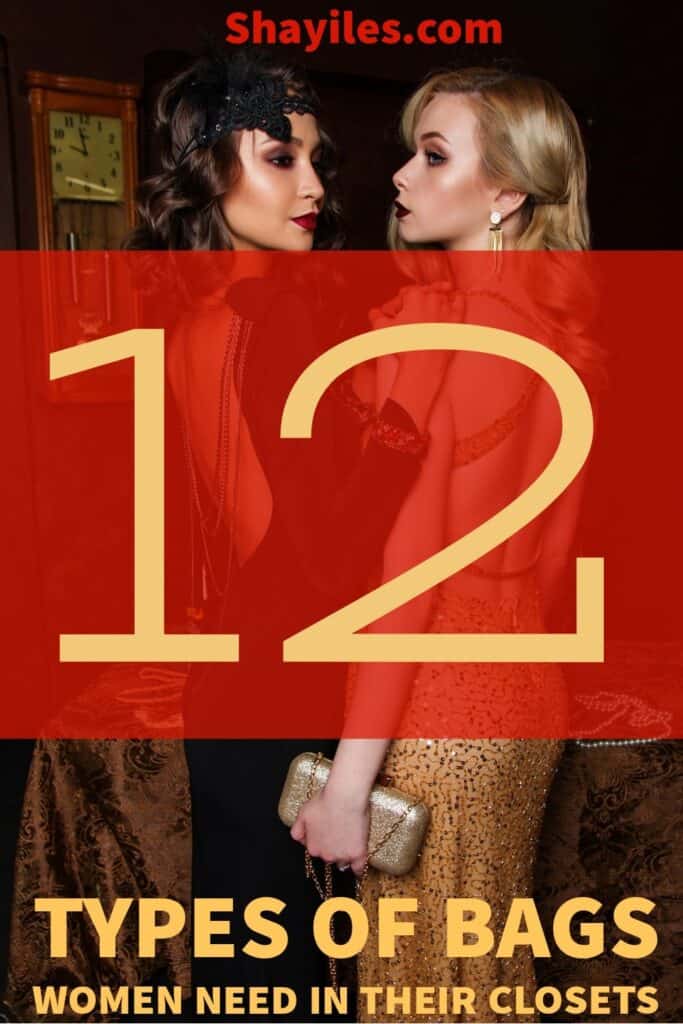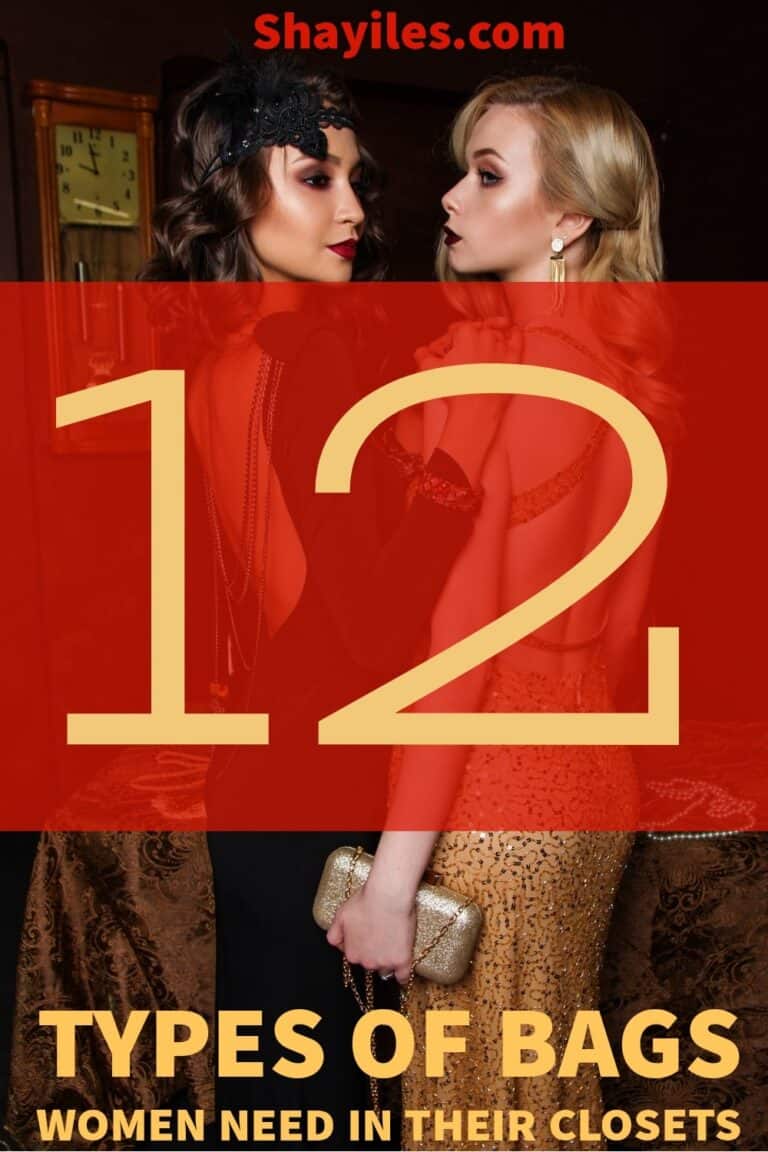 Top 12 Types Of Bags To Invest In Your Closet At A Glimpse
Tote Bag
Purse Bag
Messenger Bag
Backpack Bag
Satchel Bag
Bucket Bag
Bowler Bag
Fanny Pack Bag
Duffle Bag
Clutch Bag
Pouch Bag
Cosmetic Bag
Types Of Bags Quick Guide
Tote Bag
A tote bag is a design of variable size that comes with fasteners, with parallel handles on either side of the bag. You use these handles to carry the bag around when going out on a shopping spree or running errands.

Any bag enthusiast who loves a tote bag will have a functional accessory that is easy to use and guarantees simple versatility.
You can dress it down or up depending on the event of choice. Tote bags come in different sizes, colors, and materials. The classic design is of strong cloth, and standard fabrics include nylon, jute, canvas, and other easy-to-maintain synthetics. 
The recent models of tote bags are a more eco-friendly choice for plastic bags. Therefore, you have the choice even to pick the low-cost designs made from recycled material
Purse
A purse is a classic bag for every woman. They come in different designs, colors, materials, and functionality. To get the most out of your purse, go for the most fashionable type.
Leather purses are a great choice because of their sophisticated look, although you can pick varieties from other materials.
A good purse should be comfortable to carry around, especially on your shoulders or hands. 
Feel free to also invest in a spacious bag with perfect pockets. The size of your bag has to complement a particular occasion and outfit of the day. Look for other incredible features that make the purse stand out.
You may like other posts on Fashion Types
Messenger Bag
Also known as a courier bag, it's a type of bag widely worn over the shoulder with a strap across the chest.

The bag will rest on the back to ensure comfort if you carry bulky items. It is also designed to allow easy access to the items inside it. 
Messenger bags are widely used as a fashion accessory. They are an excellent choice for many commuters and cyclists, and as a general fashion statement.

The weather resistance features of a messenger bag make it an excellent choice for day-to-day use. The shoulder bag can be made of canvas, ballistic nylon, and a water-resistant vinyl oilcloth.
Backpack
A backpack is a common type of bag used by students and hikers.

They are great for carrying heavy items as you can carry them over the shoulders with the help of two durable and thick straps. They have these days become an inevitable trend as you can find them in diverse designs.
Backpacks can also be frameless, have an internal or external frame and bodypacks. These designs help support the pack and efficiently distribute weight across the user's body.

You can also find special-purpose types of backpacks that help carry valuable items like cameras and laptops.
Satchel
Satchel is a bag design that has been in the market for many years and is an excellent choice for carrying stuff. It's entirely made of leather has become a stylish product thanks to its comfort and many uses.

It comes with a strap worn diagonally across the body, leaving the bag hanging down from the shoulder to the opposite hip. 

Another distinctive Satchel feature is its back, which extends to form a flap that covers and fastens in the front section.
The bag is also soft-sided to increase its comfort, and you can carry it in many styles. For instance, you can carry your Satchel in the crook of your elbow to bring out your fashion sense and personality.
Bucket Bag
The bucket bag has become a favorite choice for many women worldwide. It is a classic bag you will, without a doubt, love. It is a tall bag with a circular cross-section you can quickly close using a tough drawstring or zip closure. 
A bucket bag also features long handles and a flat bottom. You don't have to stress carrying this bag around as the handles are sturdy and made from high-quality material. 
The bag has become a fashion fad, and you can match it with your favorite blazer, denim, trousers to bring out your relaxed appeal.
Bowler Bag
The bowler bag is another standout type of bag you can invest in and expand your closet.

This bag comes with long handles for easy carrying. You can get it in various sizes, whether large, small or medium-sized, despite having a distinct dome shape on the top. 
The bag is crafted with different materials, but luxurious leather is a common choice for many people. It perfectly matches your pair of sneakers and different outfits in your closet. A bowler bag will also come in diverse and distinctive colors, and you shouldn't go past a color design you don't have.
Fanny Pack
If you are into belt bags, a fanny pack is a great choice to buy. 
The fanny pack is quite popular thanks to its unique features that include a hands-free nature as it doesn't have a strap to hold. It's an excellent choice for traveling, hiking, or trekking as you can easily strap the belt to your waist. 
You will keep your hands completely free when wearing your fanny pack and travel light. The bag also looks fantastic and exceptionally versatile for daily use.

Get the most stylish fanny pack based on available color choice, the material used, and the design you like.
Duffle Bag
Also known as a gym bag, a duffle bag is a great pick among the top collections of bags in the market today. 
This bag is usually made of canvas or leather and comes with carrying straps and zip closures.

When used as a carry-on, a duffle bag is more convenient than any travel bag you have in your closet. 
This cylindrical bag is a standout choice and not a pain to use for day trips, weekend trips, or any trip you have planned.
It's also a spacious and excellent choice to carry on oddly shaped items like your shoes or sports attires. You can also try rolling duffel bags that are easy to wheel for much convenience.
Clutch
A clutch is a small, slim, and hand-held bag that every woman should definitely have in her closet. 
The clutch is widely used for evening special occasions to carry small personal essentials like credit cards, IDs, cosmetic items, or phones as it doesn't have straps or handles that can be a nuisance.
Its uniqueness will attract you if getting a clutch bag for the first time. This bag is designed to draw attention, and there are incredible ways you can wear it.
You can hold it's with both hands in front of your body, wear it super casually, or under the arm. Always get a clutch bag that complements your attires.
Pouch
Your list of the best types of bags won't be complete without including a pouch. It's a small drawstring bag you can use to carry valuables stress-free on your back.

Common types can be made of leather or satin and have a zip closure. It's up to you to pick the best design.
Picking the best types of bags online or in your local store can be taxing if you don't know where to start.
Regardless of the type of bag, you are looking for, go for a high-quality model, a design made from durable material, colors you love, and the correct size. Feel free to do your research, seek recommendations, and pick a type of bag that satisfies your needs and preferences.
Cosmetic Bag
A cosmetic bag is a small and convenient one that you can carry around your makeup and beauty products.
They are often small enough to be carried inside another bigger bag you are carrying, and perfect for vacations.
Conclusion
Picking the best types of bags online or in your local store can be taxing if you don't know where to start.
Regardless of the type of bag, you are looking for, go for a high-quality model, a design made from durable material, colors you love, and the correct size.

Feel free to do your research, seek recommendations, and pick a type of bag that satisfies your needs and preferences.
Thanks for reading! Pls Spread the love. To share your thoughts or questions, drop a comment below.
You may also like to read and share the posts below